On the birth anniversary eve of India's first President Dr. Sarvepalli Radhakrishnan and Teacher's Day, Let's celebrate and wish your Teachers, Friends, and Social Media Followers by sending the latest Indian cultural best Happy Teacher's Day Wishes Quotes, Images, and Messages. Also pay tribute to your teacher by keeping the teacher's day picture in your WhatsApp, Facebook, and Instagram Status.
With the basic principle of "Basudhaib Kutumbak", India keeps on giving the message to the whole world to stay united and work for humanity. All Indians keep respecting and worshiping all the living and non-living things related to their life. If you are also an Indian then today is the day to make yourself proud. The reason today is 5th September 2021, i.e. Guru Divas. You will not find such a unique day anywhere in the world.
Read More: Free Fire Diamond Hack Trick
Happy Teacher's Day Wishing Message 2021
I do not know how you observe this day, but in today's digital and smartphone world, you will definitely send at least one teacher's day wishing message or photo to someone. That's why I have designed the images for you in complete Desi style. This will make you look different and creative than everyone else.
गुरुर्ब्रह्मा गुरुर्विष्णु र्गुरुर्देवो महेश्वरः

गुरु साक्षात परब्रह्मा तस्मै श्रीगुरवे नमः

Sanskrit
Are you thinking that we Indians observe Teacher's Day only for the Birth Day of Dr. Sarvepalli Radhakrishnan? I do not think, this is the only reason for the Guru Divas celebration on September 5. The relation between Guru and Sisya is inscribed in our history. Even in eras like Vedas, Ramayana, Mahabharata, there was a lot of description about Guru and Siya. And keeping the same relation and respect, today we observe Teacher's Day every year.
Read More:
Why do Indian's Celebrate Teacher's Day on 5th September?
Generally, people talk Teachers are the second parent of a student. They play a vital role in the student's life. From childhood to adulthood, the teacher is the guide. As you know, behind every successful person, their teacher's hand is definitely there. That is why people often say,
Vital Role for Teachers in Nation Building

People Say
In this context, our existing President Shri Ramnath Kovind shared a message last year:
Teachers are guiding force for students and true nation-builders

President Ram Nath Kovind
To pay tribute to Teachers, everyone across India celebrates Teacher's Day Every Year on 5th September 2021. But there is a concept behind there for selecting 5th September as a teacher's Day.
Actually, 5 September is the Birthday of our first President Dr. Sarvepalli Radhakrishnan. He always remembers the contribution of teachers towards society. Once in a year on his birthday, some children and their friends appeared him for the celebration of his birthday. When they asked Radhakrishnan, he said that instead of celebrating my birthday on 5th September, if you observe Teachers' day then it will be a prideful day for me. Since 1965, India is celebrating 5 September as "Guru Divas".
Best Guru Divas Wishing WhatsApp Status Images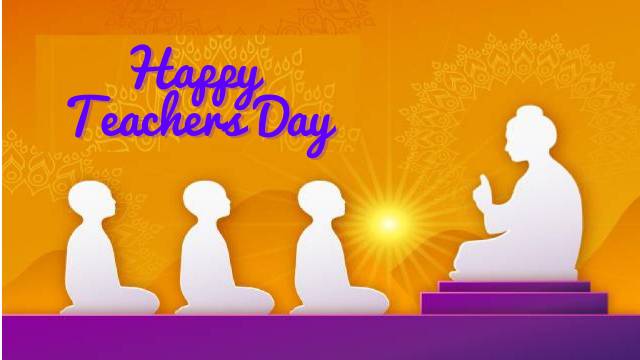 You are a wonderful Teacher Who proved that learning can be a Joyous and Pleasant Experience.

Wish You a Happy Teacher's Day
Teachers have a central role in realising our dream of a 'New India' that is driven by cutting edge research & innovation.

Narendra Modi
School is like a Temple, Where Teachers are immortal, And we are like an empty Bottle. We always try to fill this bottle. But our teacher says It's still an empty total. Whenever we try to do mischief, our teacher catches us like a thief. Always Remember your Teachers, Because they are the only one who creates Future. Wish You Happy Teachers Day.

Smart Kids
गुरु दिवस के अबसर पर, मेरे गुरु के चरणों में मेरा प्रणाम,

मुझे आश्रिबाद देके मेरा जीबन सार्थक कीजिए।

गुरुदिबस का हार्दिक सुभकामना
Source: Freepik, Twitter, Canva