Mukhyamantri Jibana Shakti Yojana (जीवन शक्ति योजना) Apply Online Now
Are you searching for the details of मुख्यमंत्री जीवन शक्ति योजना (Mukhyamantri Jibana Shakti Yojana) and want to Apply Online? You are in the right place to get the proper information and register for the scheme.
Hey Guys, Welcome back to Digital CSC. Today I am glad to inform you, the Government of Madhya Pradesh has recently launched a Mukhyamantri Jibana Shakti Yojana (जीवन शक्ति योजना) Campaign for the women of Madhya Pradesh. The women who were facing financial problems due to the COVID-19 outbreak can earn some money by making hand made masks from home.
What is Mukhyamantri Jibana Shakti Yojana?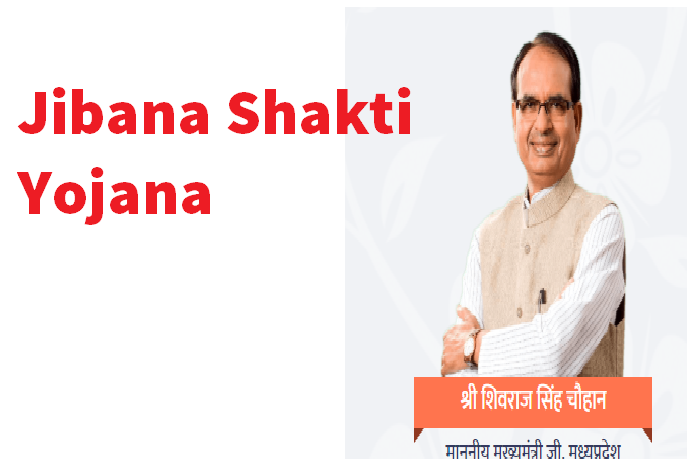 On 25th April 2020, the Mukhyamantri of Madhya Pradesh Shri Shivraj Singh Chauhan announced a new and innovative scheme Jibana Shakti Yojana for the women of Madhya Pradesh. Now the home-sitting women can make cloth masks by using their machinery. After that, they have to call the following helpline number and ask the government agency for the pick-up.
Otherwise, you can register for Mukhyamantri Jibana Shakti Yojana and apply online by visiting the Official Website (Link is available below).
What will be the Cost per masks?
As per the press conference by the Chief Minister, the women will get Rs.11 per masks. The final billing amount of masks will be credited to the beneficiary's bank account directly.
What is the benifits of Mukhyamantri Jibana Shakti Yojana
This scheme is launched by looking at the Corona Virus Outbreak. There is a huge demand for Masks all across India. There are some areas in India, where the masks are being sold at a higher rate. So the Government of Madhya Pradesh decided to purchase millions of masks. It is a wise discission by the Chief Minister to purchase masks from the local people of the State.
This scheme will provide financial support to the poor people who have lost their job during the lockdown. The women will get some part-time order. They can earn some money and their financial Condition will not go down.
Eligibility criteria
All the women across the Madhya Pradesh are eligible to apply for this scheme. But there are some other criteria must be followed:
Must be a citizen of Madhya Pradesh State
Must have a Tailor Machine
Must be living in City or Town
Only Womens are allowed to Apply
Documents Required
Aadhaar Card
Mobile Number
E-mail Id
Bank Account Number
Important Information
How to Apply Jibana Shakti Yojana Online?
Step-1: First of all, you have to visit the जीवन शक्ति योजना official website. (Link is available in the above Box)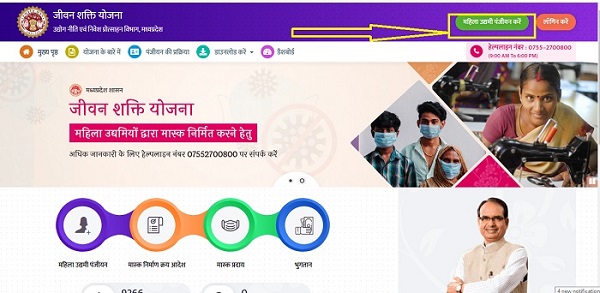 Step-2: Now click on "महिला आदमी पंजीयन" button available in the right side top menu.
Step-3: Next, the server will ask you to register yourself by entering your personal details. In the online application form, it will ask to verify your account through Aadhar Card or Mobile Number. If your Mobile Number is not registered with your number then you can choose Mobile Nunber Verification.
Step-5: You have to fill your name along with your Communication address. After that you have to enter the quantity that you can sell per Month.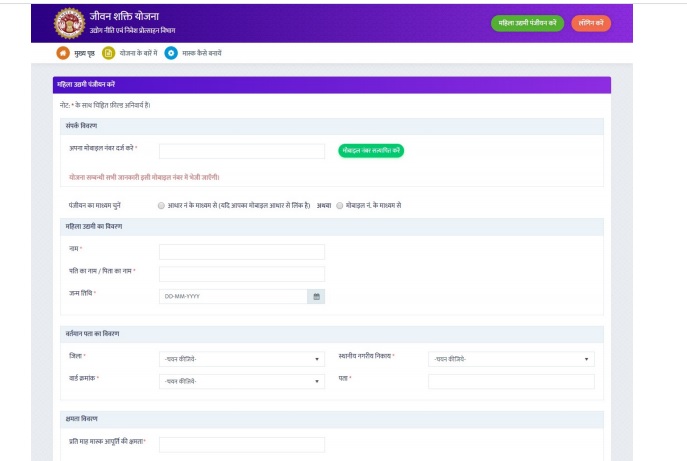 Step-6: Now finally Submit the Online Application. After Submission, you will get the minimum 200pc mask order. You will also get the user Id and Password in your registered mobile number. You can log in to your account and request for pick up.
Helpline Number
Any help, registration, and support related query you can call on 07552700800