Odisha 10th Result 2022: Know your BSE 10th Marks Now
Odisha 10th Result 2022: Board of Secondary Education BSE Odisha is going to announce the 10th class matric exam result. Students who have appeared on the Odisha Board Examination can know their final marks through the official website orissaresults.nic.in.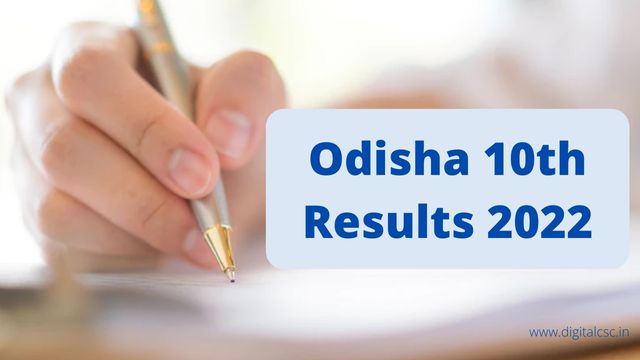 BSE Odisha Matric Examination 2022
The final BSE Odisha 10th Board examination was conducted between 29 April 2022, to 06 May 2022. More than lakhs of students appeared in the 10th examination. The board conducted the valuation process just after 1 week of the examination. Now every student is eagerly waiting for their Matric result.
Odisha 10th Class Exam Pattern 2022
Keeping the Koran Virus in sight, the Government decided to change the complete 10th Class exam pattern. First of all, the BSE reduced the HSC syllabus to 30%. Also, you will find out some other changes in the exam pattern as follows:
Like every year, students will be evaluated out of 100 Marks in each subject.
Out of 100 Marks, students have to appear in 80 Marks Theory paper and the rest 20 Marks will be awarded for Practical examinations by their respective schools.
There will be 50 Marks for objective-type questions and the remaining 30 will be subjective-type questions.
Students have to secure 15 marks out of 50 to pass the exam and the total marks should be 30 out of 100.
Hence, the total marks should be 180 out of 600 and 90 out of 300 marks
Odisha HSE Exam 2022 Spotlights
| | |
| --- | --- |
| Examination | HSE Examination 2022, Odisha |
| Conducted By | BSE Odisha |
| Mode of Exam | Offline |
| Result Publication | Online |
| Official Web Portal | orissaresults.nic.in |
Odisha 10th Result 2022
Like every year, the board is going to release the Odisha 10th result 2022 through online mode. The results will be available through the official result portal www.orissaresults.nic.in and bseodisha.nic.in. You can keep your Roll Number, Registration Number, and Date of Birth to check your result.
Also, you can fill out the form below to get instant notification regarding Matric results and many more things.
Matric Result 2022 Publication Date
| | |
| --- | --- |
| Exam Date | 29 April to 6 May 2022 |
| Valuation Start | 14 May 2022 |
| Result Publication Date | 22 June 2022 |
| Rechecking form Start Date | 25 June 2022 |
| Rechecking form last date | 01 July 2022 |
| Supplementary Exam Date | 10 July 2022 (Expected) |
How to check BSE Odisha 10th Result 2022 Online?
The BSE Odisha result 2022 checking is now pretty simple than earlier. You just have to follow the below-described steps for proper guidance:
First of all, visit the Odisha result website. (i.e: orissaresults.nic.in).
Then, click on the Odisha Annual HSC Exam Result 2022 link on the Home Page.
Now the Odisha 10th Result checking page will appear on your screen.
Start filling in all the details like AHSC Roll Number, Date of Birth (Format should be DD/MM/YYYY), and the captcha image text.
Now press the Submit Button and your HSC Odisha Matric Result will appear.
Now Download and take a printout of the Odisha 10th Class result.
If you have any wrong in your 10th result 2022 Odisha result, you can opt for the rechecking form.
Here is the sample page of orissaresults.nic.in AHSC 2022 result page.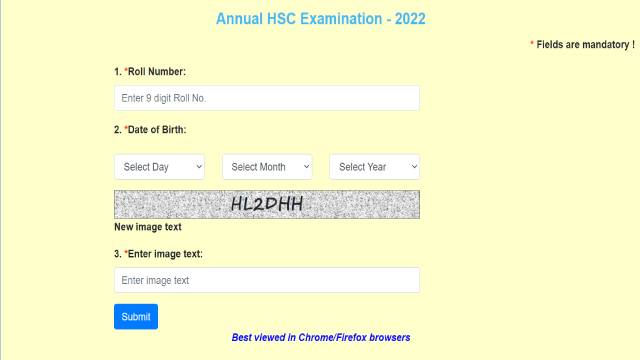 Check Odisha 10th Result Via SMS
If you are in a low internet connectivity area, then also you can check the matric result Odisha 2022 through SMS. Use the guide provided here to see your Odisha 10th result 2022.
Firstly, open the SMS app on your phone and create a text message.
Now type OR10 <Your HSE Roll Number> and send it to the 5676750 number.
When the BSE Odisha result 2022 will be available, you will get your result through SMS.
Information available in the bseodisha.nic.in Results 2022
The BSE Odisha Matric Result 2022 will be available online through the official portal bseodisha.nic.in. This is only to show that you have secured a certain percentage of marks. Your final mark sheet will be available in your school after 7 days of result publication. Before that, you should verify some information that is specified on the www Odisha 10th result nic in 2022 result page.
HSE Roll Number
Candidate's Full Name
Father's Name
Mother's Name
Date of Birth
School Name
Marks Awarded Subject Wise
Marks Secured Objective and Subjective Wise
Total Secured Marks
Grade
This is how the mark sheet looks like: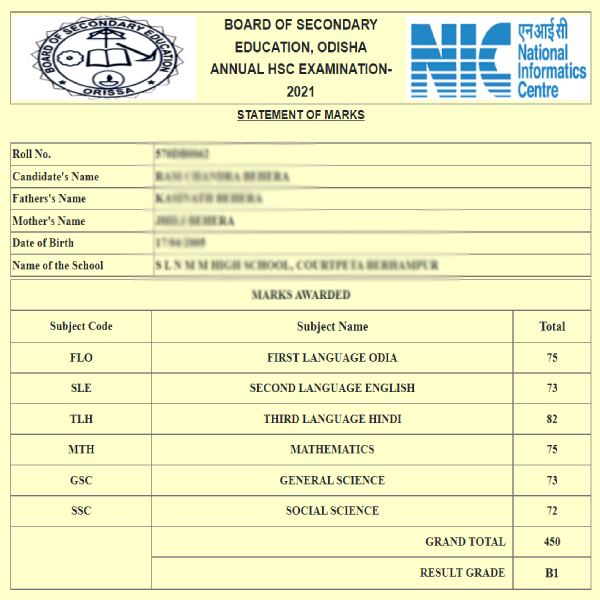 Rechecking/Revaluation of Odisha 10th Result 2022
Once the Odisha 10th Result gets published, four to five percent of students don't get satisfactory marks. It may be due to human error or technical error. Hence, to give 100% satisfaction, the Board of Secondary Education, Odisha allows students to apply for the Odisha 10th rechecking form 2022.
You can follow the steps described below for applying the rechecking form:
Firstly, visit the BSE, Odisha's official website (www.bseodisha.nic.in/www.bseodisha.ac.in)
From the Notification section, click on the Odisha 10th rechecking Direct link.
Now, you will be redirected to the Rechecking online Application form-2020.
Here you have to choose the Forget Password/ Get Password link.
Next page, Enter your Roll Number and Mother's name to get Password
After that, you should create a new password, and fill in all other details.
Next, fill out the application and provide details like Roll Number, Examination Name, Address, Centre Code, Name of the Centre School, Pin code, Subject Name, etc.
Finally, submit the Odisha 10th rechecking application form 2022.
Odisha 10th Rechecking Application Fee
The Board of Secondary education (BSE) Odisha will collect individual application fees for rechecking, re-addition, and Answer sheet photocopy. However, you can expect the following application fee.
Readdition of Subjective paper, the application fee is Rs.100/- per subject
Readdition of the Objective paper, the application fee is Rs.100/- per subject
Photocopy of the Answer Sheet, the application fee is Rs.200/- per subject
Odisha 10th Result Rechecking 2022
Odisha 10th Supplementary Exam is the second opportunity given to every student who fails to secure the minimum qualifying marks in one or two subjects of the board examinations. These students can apply for the supplementary examination by paying the examination fee. You can follow the proper guidance for applying to the Odisha Supplementary Examination.
First of all, visit your school with your Aadhaar Card.
Collect the Supplementary Examination form from your school Headmaster and fill the form correctly.
Pay the Supplementary Examination form fill-up Fee.
Now start preparing for the examination. The board will conduct the examination by the mid of July.
The Odisha 10th supplementary results will be declared by the end of July.
The final Odisha BSE Supplementary results will be available at orissaresults.nic.in
Odisha 10th Mark Grading System
The BSE Odisha has divided the Odisha 10th Class marks into 8 different grades. They are as follows: A1, A2, B1, B2, C, D, E, and F. Candidates will be awarded any grade based on the secured marks in the final examination. You can follow the Odisha Class 10 Result 2022 Grading System table below:
| Marks in Percentage | Grade |
| --- | --- |
| Above 90% | A1 |
| Above 80% and Below 90% | A2 |
| Above 70% and Below 80% | B1 |
| Above 60% and Below 70% | B2 |
| Above 50% and Below 60% | C |
| Above 40% and Below 50% | D |
| Above 33% and Below 40% | E |
| Below 33% | F |
FAQ @orissaresults.nic.in
When Odisha 10th result 2022 will be declared?
As per the news and media report, the BSE Odisha 10th Class result 2022 will be declared on 25th June 2022.
Can I apply for the Odisha 10th rechecking process immediately after the publication of the result?
Yes, once the Odisha Class 10th result 2022 gets published, you can apply for rechecking form.
What is the passing percentage for the Board examination 2022?
As per the new grading system, you need to secure at least 30% marks in each individual subject and your total mark should be 33% out of the total marks.
When the 10th class revaluation result will be available?
The 10th class revaluation result will be available by the end of July. You can visit orissaresults.nic.in for updated marks