TNPDS Smart Ration Card Status 2021: Apply Download Card Online
Are you a resident of Tamil Nadu? If yes, you will be happy to know that the Tamil Nadu Government has started the digitalization of the Ration Card. TNPDS Smart Ration Cards will replace the old cards. Check the Application Status, Download the Application form, Add or Remove Family members, manage food supply quantity through the www.tnpds.gov.in portal online.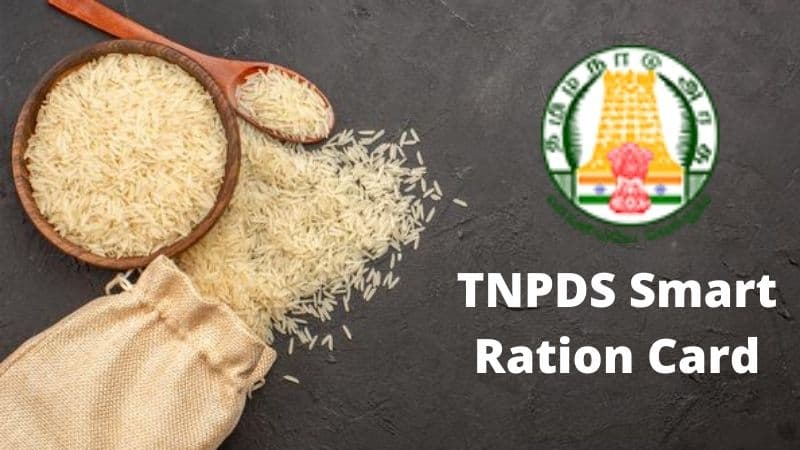 If you do not have a Ration Card, you should apply for the new Tamil Nadu PDS Ration Card Online Application form at www.tnpds.gov.in. Or, if you have already applied for the Ration card, check your application status online.
We have described all the step-by-step procedures to get your Tamil Nadu State Digital Ration Card on this page. In addition, you can see all the activities to check the status of your smart Ration card online. So, let us begin with the benefit of the Tamil Nadu Ration Card.
What is TNPDS Smart Ration Card?
TNPDS stands for Tamilnadu Public Distribution System. It is a subsidiary body of the Food Supply and Consumer Protection Department, Tamil Nadu Government. Under the food security act of India, all low-income families will get food and nutritional security at a subsidized rate. The Tamil Nadu Government has issued Ration cards to all the beneficiaries for the smooth supply and well-managed distribution.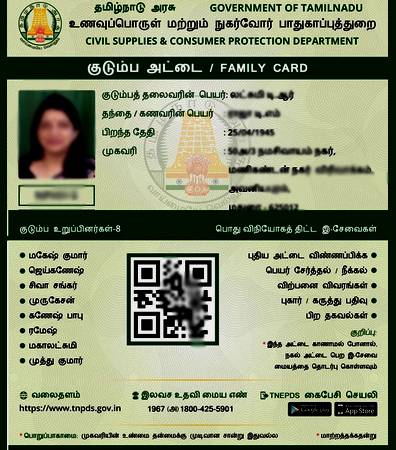 To make transparent and corruption-free Ration cards, the Government is now upgrading the standard paper Ration cards into Smart ration Cards. All the systematic procedures are getting automated. The Government of Tamil Nadu issuing Digital Ration cards to the poor and labor families. Hence, they can receive subsidized food products without any problem.
Why Ration Card Upgraded to Smart Ration Card?
The old Ration card list had lack transparency. However, the actual low-income family was not getting the actual food supplied by the Government. Many peoples, including PDS dealers, were making corruption. Hence, the central government ordered the creation of a transparent Ration Card list.
Overview of TN Smart Ration Card
| | |
| --- | --- |
| Name of the Yojana | TNPDS Smart Ration Card Yojana |
| State | Tamil Nadu |
| Beneficiaries | Poor Resident of Tamil Nadu |
| Price of Food | Rs.2/Kg |
| Quantity | 5Kg/ head |
| Official Website | https://www.tnpds.gov.in/ |
| HelpLine Number | 9498039133 |
Benefits During COVID-19 Pandemic
During the COVID-19 pandemic, both Central Government and Tamil Nadu State Government took various steps for Ration Card holders. The Government declared the Free Distribution of food under PM Garib Kalyan Yojana. TN Smart Ration Cardholders were provided subsidized daily food products like rice, wheat, Sugar, Dal, Carolin for free of cost. Apart from this, every BPL family was given Rs.1000/- cash in their Bank Accounts..
TNPDS Sugar Card to Rice Card Conversion
More than 67946901 ration card beneficiaries are getting the benefits of the Ration card. As in the previous year, now the Government of Tamil Nadu has issued a notification for converting ration card foods. Now, users can submit the application form mentioning the food details.
First of all, visit the official website of the Tamil Nadu Ration card.
Download the modification application form from the given link.
Fill in all the details correctly and mention the Sugar card to the Rice card request.
Attach family head, Aadhaar Card, Ration card photocopy.
Submit the application form to the Block Development Officer.
தமிழக அரசின் அறிவிப்பின்படி, அனைத்து பசுமை மற்றும் வெள்ளை ரேஷன் அட்டைதாரர் குடும்பங்களுக்கும் அரிசி, கோதுமை, பருப்பு, சமையல் எண்ணெய், சர்க்கரை மற்றும் பிற உணவுகள் இலவசமாக கிடைக்கும். இவை தவிர, ஒவ்வொரு அட்டைதாரருக்கும் ரூ .1000 / – நிதி உதவியாளர் கிடைக்கும்.
Ration Card Tamil Nadu Important Links
TNEPDS Login Page, E-Card Address Change/Name Change/ DOB)
, Add/Remove Family Members, Change Your card Type

Click Here
New Ration Card Apply
Apply Now
Electronics Card Status
Check here
Download Authorized form
Download Now
Important Links
Types of Digital Ration Card
The Tamil Nadu Public Distribution System has issued four types of cards for the resident of Tamil Nadu.
Light Green cards
White cards
Khaki cards
No commodity card
Light Green cards: The Light Green card is only for poor and lower-income families. By using this card, they can draw food grains from their nearest Ration shops.
White Cards: White Cards are issued to the poorest people of the state. This cardholder family will get an additional 3Kg of Sugar than light Green Card holders.
Khaki Cards: The name Khaki refers to that is related to Police officers. Yes, this card is issued to the Police office of Tamil Nadu (Up to Inispactor Level)
No Commodity Card: Rest families who are not eligible for all the above cards are considered No Commodity Card.
Also Read: Amma Two Wheeler Scheme- Application Form Download
How to Apply TNPDS Ration Card Online?
All the eligible Tamil Nadu resident people should follow the following steps to Apply TNEPDS Ration Card form online:
Step-1: First of all, visit the official website of the Tamil Nadu PDS department website.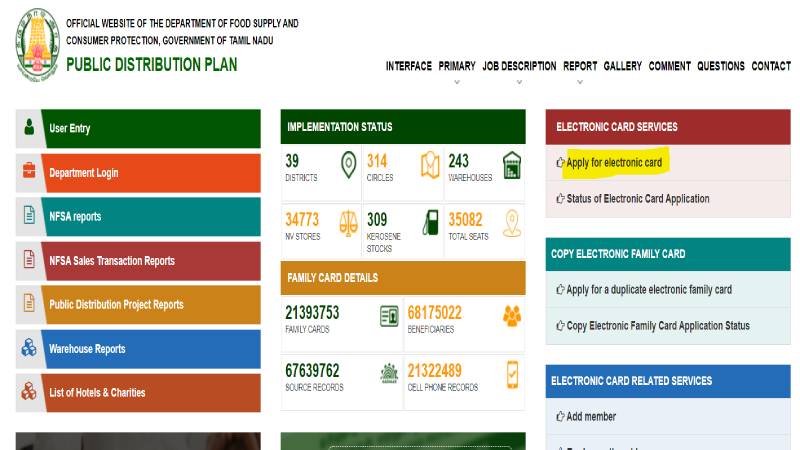 Step-2: Now, from the home screen, click on the மின்னணு அட்டை விண்ணப்பிக்க (Apply for Electronic Card) link.
Step-3: Next, fill in all your details like Name of Family Head, Father's / Husband's Name, and Permanent Address both in Tamil and English.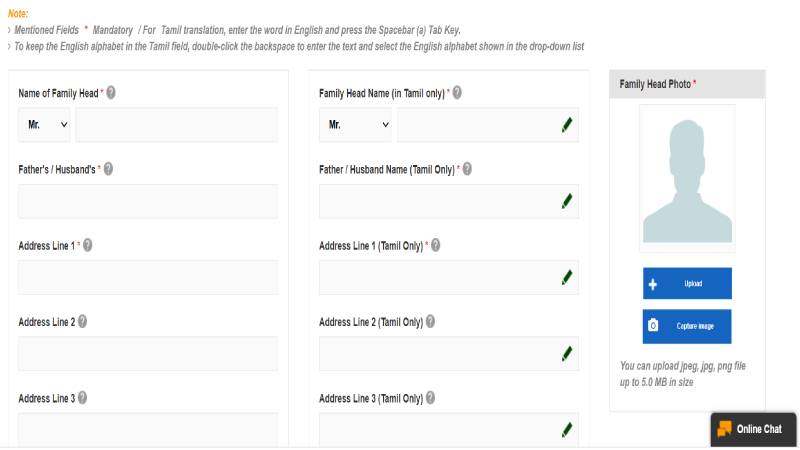 Step-4: After that, upload your passport size photo by clicking the Upload Button.
Step-5: Next, Choose your Card type and upload the residential address proof. The List of accepted residential proof documents is available below.
Step-6: If you already have a Gas Connection, click on CheckBox and fill in all your Gas Details.
Step-7: Finally, confirm all your details and click on the register button. After submission of your application, you will get a reference number. Just Note down the number for further use.
Required Documents
Aadhar Card
Recent Passport Size Photo
Bank passbook
Caste Certificate (Optional)
Income certificate
Gas Connection Details (If Available)
Smart Ration Card Application at Ration Shop
There is an offline way by using which the applicant can apply for the Tamil Nadu Ration card.
Firstly, visit your nearest local Ration Dealer.
Secondly, Ask for a TNPDS Ration card form.
Also, you can download the Application form Online
Then, fill in all your details and paste a passport size photo in the specified space.
After that, enclose all the documents.
Finally, submit the application form to the Authority.
After submitting the application, collect the Application reference number. It will take some time for approval of your ration card. Meanwhile, you can check your Ration card status online by using your registered mobile number.
Tamil Nadu PDS Mobile Apps Download
Besides the Web Page, you can download TNEPDS's official android and ios Applications. By using this application you can subsequently check your ration card status as well as remove add and family members.
Check TNPDS Smart Ration Card Status Online
If you have applied for the fresh Ration card then, you must check your Tamil Nadu smart Ration Card status frequently.
Very firstly, visit the official Tamil Nadu PDS website.
Then, click on the Status Checking Direct link from the Home Page.
After that enter your mobile number and login to your PDS account.
Finally, after login, your new Ration card Application status will be shown.
Apart from Ration card status, additionally, you can add, remove as well as edit your Ration and wheat quantity.
Add and Remove Family Member from Digital Ration Card
The official Portal allows you to add or remove your family members from your Ration card. Just follow the below steps:
Firstly, visit the PDS Portal
Now, click on the Direct Add Member Link from the Home Page.
Use your registered mobile number to log in.
Now click on the Add Family Members
Here fill all details of the Member.
Upload the appropriate Documents.
Finally, Submit the application
Apply Duplicate Electronics Family Ration Card
First of all, visit the Public Distribution, Tamil Nadu Website.
From the home page, click the Apply for Duplicate Electronics Family Card Link.
Now use your Registered Mobile Number to Sign In.
After that, an application form will appear on your screen.
Fill the application, and upload appropriate supporting Documents.
At last, Don't forget to submit the Application form.
Check Tamil Nadu Ration Card Service Request Status
In Step-1, visit the Government PDS Department Page.
To check Check Tamil Nadu Ration Card Service Request Status click on the Direct Link.
Here, it will ask you to enter the reference number.
Entering the appropriate number, click Register Button.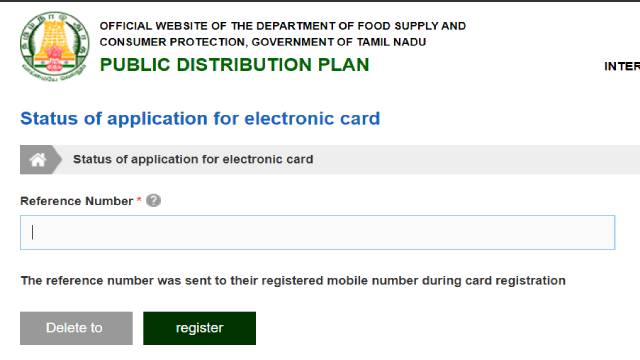 Steps to reprint Smart Ration Card Status
You can re-print your Smart Ration card from the official portal i.e: https://www.tnpds.gov.in/. Just follow the steps:
To Reprint your Digital Ration Card, browse the PDS Official web page.
A Home page will appear in front of you.
Just click the Reprint Card link.
Now enter your Registered Mobile number in the form.
Finally, fill the captcha code and click the Submit Button.
Now, you can Re-print your Tamil Nadu Ratio Card.
Register any PDS Complain
If you are not happy, with the PDS services, or have any complaints to register, you can use the following steps:
As Usual, visit the Index Page of PDS Web Page
Now click on the Register a Complain Direct Link.
After that, fill in all details like Name, Mobile Number, E-Mail.
Lastly, Submit the Complain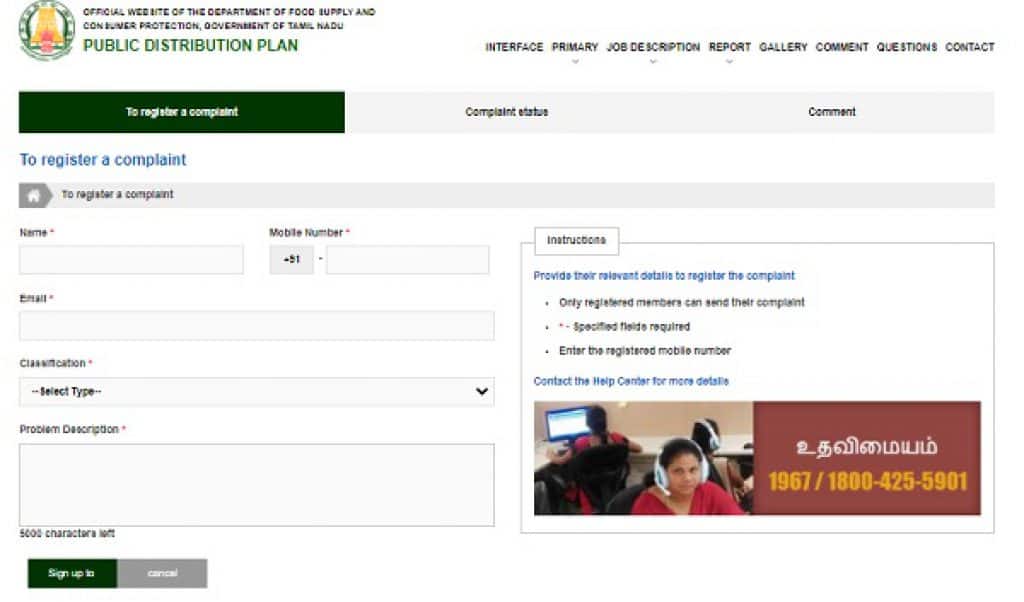 PDS Helpline Number
For any query, clarification, questions, you can either visit the PDS Question page, or you can Dail 1800-425-5901 or 1967.
Email Id- [email protected]
Alternatively, you can type the following SMS in your message box and send it to 9773904050.
PDS <space> 101 – Item Details in Fair Price Store
PDS <space> 102 – Fair Price Store Status (Open / Closed)
PDS <space> 107 – For complaints about fees
TNPDS Family Smart Ration Card Statistics
| | |
| --- | --- |
| Family Card | 20945676 |
| Beneficiaries | 67621965 |
| Source Recovered | 67147119 |
| Cell phone records | 20870556 |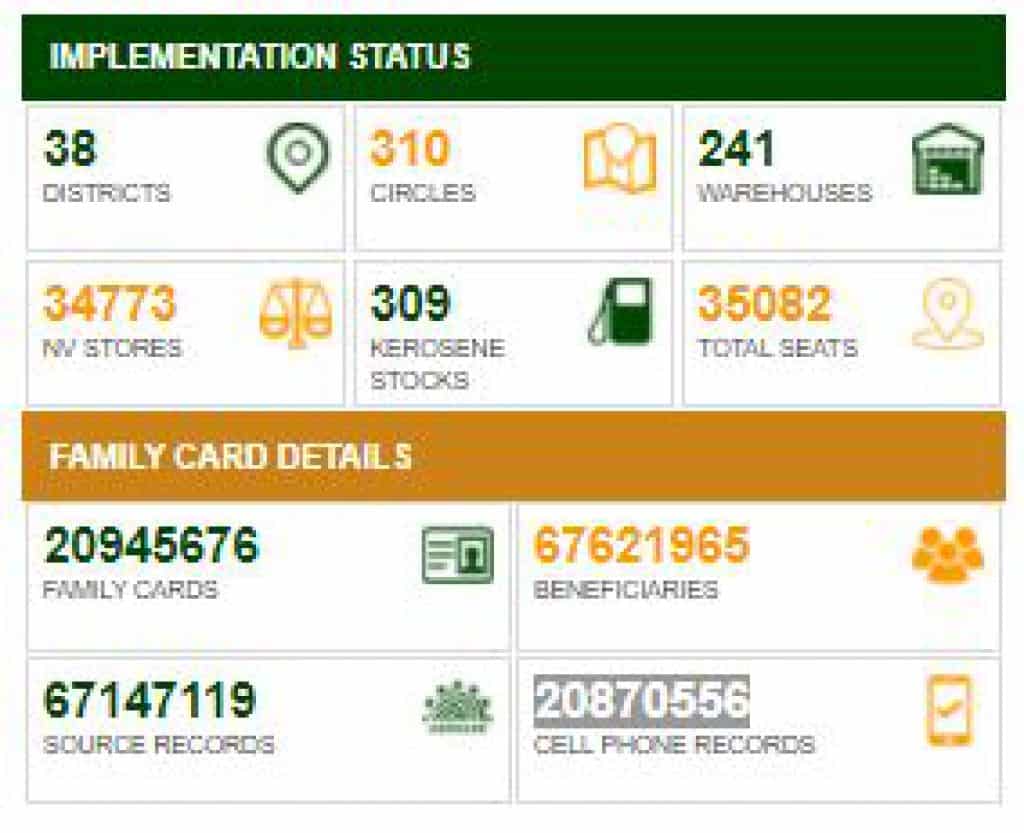 FAQ
Tamil Nadu Ration Card Change Address
Any domicile of Tamil Nadu state can change their Ration card address by using the official portal. Simultaneously, you can also, change the Ration shop location. You just follow the below steps:
Step-1: You should visit the Authorized Government portal using the above link.
Step-2: Now you will land on the home page of the portal. Click on the "Change Address" link.
Step-3: After that, it will ask you to log in to the portal. Use your registered mobile number and OTP for it.
Step-4: Next, click on the updated address. Now type your new address.
Step-5: If needed upload the Address Proof. Choose your PDS shop as per your location.
Step-6: At last, submit the application form. Within 7 working days, your address will be updated.
G2G Login
The g2g TNPDS login is available in a separate portal. Any Government officer can use the https://g2g.tnpds.gov.in/ link to log in. Use your user id and password for the login process. If you forgot the g2g password, then call the 1800-425-5901 help desk number.
District Consumer Complaints Commission
Registrar,
State Consumer Complaints Commission,
Select Road, W.O.C. Nagar, Parkanagar, Chennai-600 003.
Phone: 044-25340050
Assistant Registrar,
Madurai Circular,
State Court Complex, State Consumer Complaints Commission, Madurai – 625 020
Phone: 044-25340050
Conclusion
In conclusion, We will say it's a wonderful process launched by the Tamil Nadu Government. However, the Aim of the Government is being fulfilled. Poor people are getting the actual funds. If you have any doubts or need clarification regarding TNPDS Smart Ration Card, feel free to put your comment below.