Corona Virus Helpline numbers (State and UT-wise)
Corona Virus Helpline numbers: Are you searching for Corona Virus helpline numbers (State and UT-wise)? Then here we have updated all the important Helpline numbers.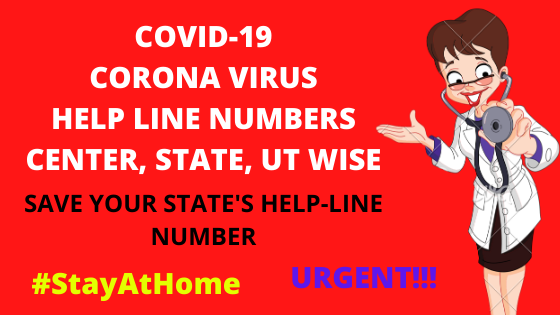 Corona Virus Helpline numbers
Now the whole earth including India is fighting with the epidemic named Corona. In this hour it is the duty of the entire human society that we all unite and fight against the epidemic.
To combat the Corona epidemic, everyone from the WHO to the local administration is busy with their own work.
As you know, no medicine has come out for this disease yet. The only preventive for this disease is social distancing and isolation of the patient.
For this, many helpline numbers have been issued by the Government of India, State Government, and local administration. So you have to know the correct Corona Virus State-wise Helpline numbers.
Before going to Corona Virus Helpline numbers, we here want to assure you that these numbers are issued by the Ministry of Helth and Family Welfare Department Government of India.
WHO Whatsapp Helpline Number
This is the WHO official WhatsApp number. You may just click on it or you can save this number and send the "Hi" message to get the Corona Virus latest update.
Website
https://www.who.int/health-topics/coronavirus
National Corona helpline Number
This Corona Virus Whatsapp helpline number was launched by the Priminister of India on 25th March 2020. When you will save the number and send the "Namaste" or "Hi" message then you will receive all the updates regarding Corona Virus.
List of Central Help-Line Number
Corona E-mail Help
Website
Corona Virus Helpline numbers State-wise
Corona Virus UT wise help-line Numbers
Also Read: How to apply pan card NSDL and get Pan Card in 1 Hour
These are the important helpline numbers state and UT wise. If you see any symptoms of Corona Virus as described by the Health Ministry of India, then you must stay at your home in self-isolation and call your respected administration on the above number. They will come to your home with proper precautions.
Please share this post on social media like Facebook, Twitter, WhatsApp and help others to get this information.
You may like: How to make Voter ID Correction Online?
Finally, I will request you to stay at home and take care of yourself and your family's health.