Are you positively looking to get the latest working Free Redeem Codes by using Free Fire Diamond Top-up Hack tricks? In this post, we have described some hacking tricks to get up to 90% off and double Diamonds top-up on your next Diamond recharge.
After the ban of PUBG Mobile in September 2020, Garena Free Fire witnessed a substantial surge in its user database in India. With the absence of PUBG Mobile, Free Fire quickly gained popularity among Indian e-sports enthusiasts. The game's continuous updates and improvements, especially concerning guns, skins, characters, abilities, and weapons, have contributed to its rising fame.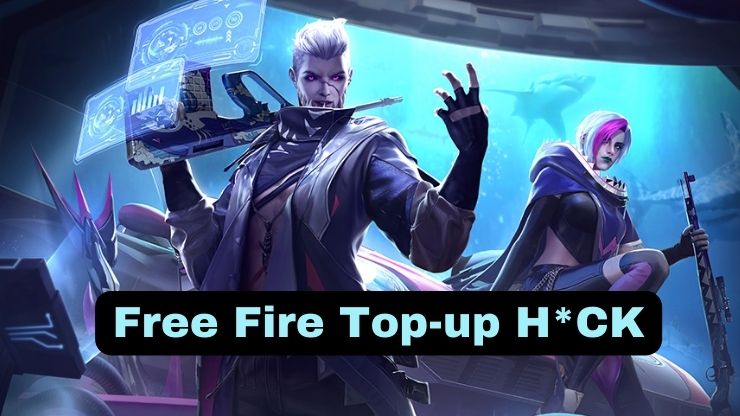 items like characters, guns, and skins can only be unlocked through FF Diamond Top-Up, which requires spending real money. Free Fire Diamonds serve as the in-game currency used to make these purchases. While Diamonds are not available for free within the game, there are indeed apps and websites on the internet that claim to offer Diamond top-up redeem codes at discounted prices.
However, players need to exercise caution when dealing with such third-party sources, as there is a risk of scams or illegitimate methods that could lead to account issues. It is always recommended to use official and legitimate means to acquire Diamonds to ensure the safety and security of one's Free Fire account.
Topics Covered in this Post
Free Fire Redeem Code Trick (Upto 90% Off)
| | |
| --- | --- |
| Post Name | Garena Free fire Redeem Code |
| Category | Gaming |
| Game Name | Garena Free Fire |
| Last Updated | 1 Hour Ago |
| Official Portal | https://ff.garena.com/ |
Free Fire Diamond Top up at a low price
The standard prices for Free Fire Diamonds are as follows: Rs. 80/- for 100 diamonds, Rs. 250/- for 310 diamonds, Rs. 400/- for 520 diamonds, and so forth.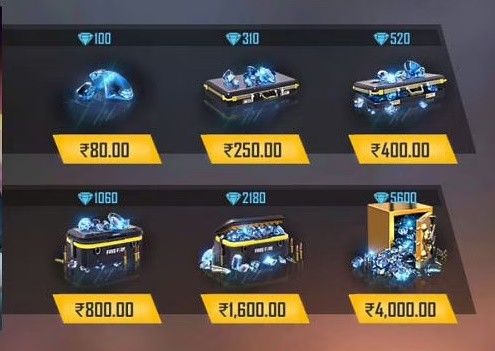 Numerous apps and websites provide Free Fire Diamonds at discounted prices, allowing players to acquire them through secure and safe payment options. Some of the popular websites and application lists include:
In-Game Top-UP Centre (Official)
shop.garena.sg (Official)
Games Kharido (Direct Top-Up)
CodaShop (Direct Top-Up)
Paytm App (Google Play Codes)
Amazon Pay UPI (Google Play Codes)
PhonePe (Google Play Codes)
Google Pay (Google Play Codes)
Free Charge (Google Play Codes)
Airtel Thanks App (Google Play Codes)
Mobi Kwik App (Google Play Codes)
Similar Topics for You
Free Fire In-Game Top-Up Method
The Garena Free Fire Offers in-game Top-Up vouchers. You can access this section by clicking the Diamond Icon from the Home Screen. Here, you can use a voucher or Coupon Code to avail of up to an Rs.100/- discount. Here are the steps to Top-Up Diamonds using in-game-events:
First of all, open your Garena Free Fire App on your Mobile phone.
Now log in to your free fire ID using your Facebook Account.
After that, click on the Diamond Icon from the top menu of the App.
Several Diamonds Top-Up options will pop up on your screen.
Now choose Diamonds as per your requirements.
On the next page, use the Discount Coupon if you have any.
Finally, Pay the requested amount to avail of the top-up Voucher benefit.
You May Like: Free Fire Diamond Hack 2023- Free 99999 Diamonds Generator App
Free Fire Diamonds from Games Kharido
A significant number of Free Fire gamers prefer topping up their diamonds with attractive discounts. Among the top options, Game Kharido portal stands out as an excellent choice for diamond purchases. Players can enjoy a fantastic offer on Game Kharido, receiving a 100% bonus on their first diamond purchase. This means that for their initial transaction, they get double the diamonds they pay for, making it a highly appealing and rewarding deal.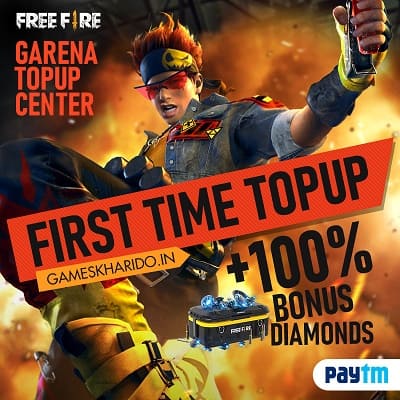 Upon topping up Diamonds in your Free Fire ID, you will receive bonus diamonds as outlined below: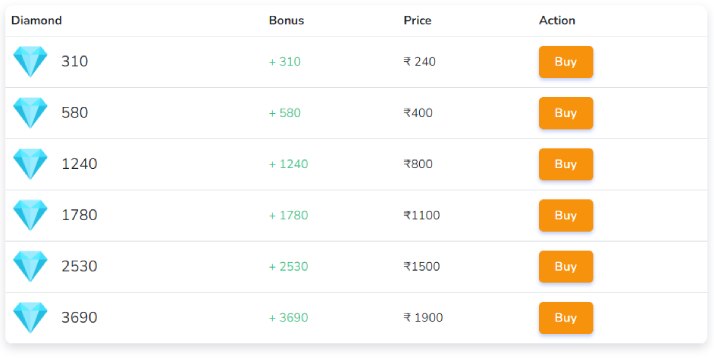 Below we have described all the steps to purchase Double Diamonds Free:
Step-1: First of all, Visit the Verified Games Kharido Portal by typing https://gameskharido.in/ domain in the Address Bar.
Step-2: Now, you will be landed at the home page of the Portal.
Step-3: Here, it will ask you to log in to Game Kharido using your Free Fire ID.
Step-4: Choose your required Diamond Top-Up Amount.
Step-5: Finally, Pay the amount using Paytm or ICICI bank payment gateway.
Check it: Free Fire Advanced Server Access 2023: Download Android Apk
CodaShop Free Fire Diamond Top Up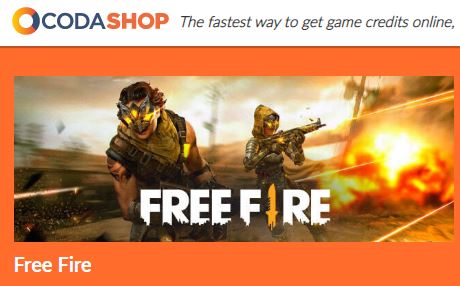 CodaShop is a versatile game currency top-up portal that caters to various in-game currencies for numerous games. Additionally, it offers Free Fire Diamond Redeem Codes at discounted prices. For your Free Fire Diamond top-ups, you can conveniently visit CodaShop.com/in and enhance your Free Fire ID with ease.
Trending on Web: Free Fire India Championship 2023 Spring: Win Flat Rs.35 Lakh Rupees
Garena Redeem code Using PhonePe Amazon Google Pay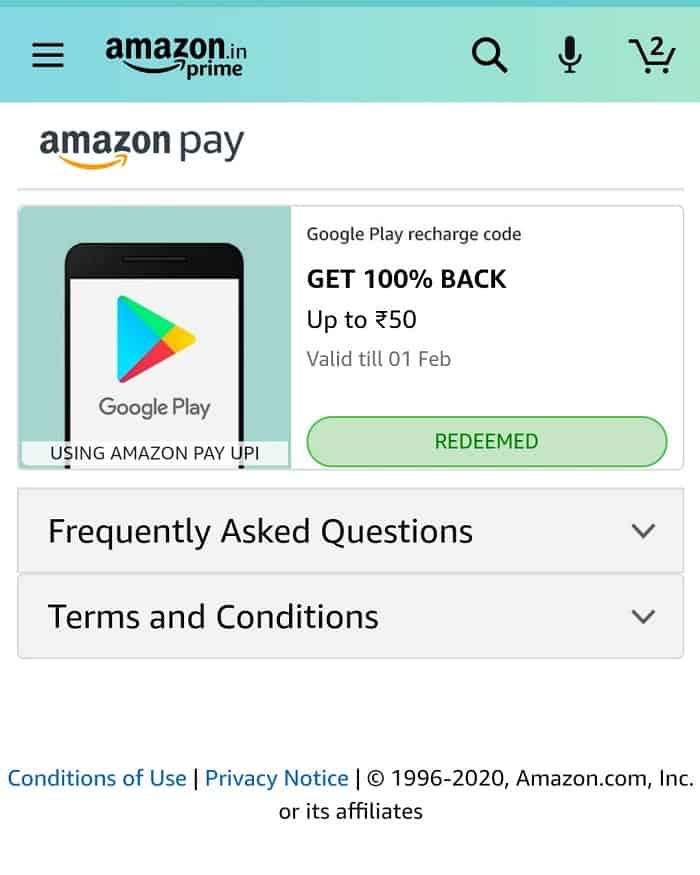 Indian mobile wallets such as PhonePe, Amazon Pay UPI, Google Pay, and Airtel Thanks App periodically provide Free Diamonds Redeem Codes, which players can use to acquire in-game rewards. Stay updated on the latest offers from this page to seize these opportunities. Moreover, you can enjoy significant discounts of up to 100% on Google Play Redeem code vouchers, making it a fantastic chance to enhance your gaming experience without breaking the bank.
Also See: 5 Best Characters in Free Fire: All you need to Know
Woohoo Free Fire Top-Up
Woohoo, an online portal, offers discounted Google Play Top-Up vouchers for purchase. By using the GOOGLE coupon code at the checkout, you can avail yourself of a flat 5% instant discount and receive 1000 Woohoo coins. The platform provides various payment gateway options, allowing you to choose your preferred method of payment. Take advantage of this opportunity to acquire Google Play Top-Up vouchers at a lower cost and enjoy the benefits for your gaming needs.
Redeem Code Gift from Digital CSC
CGBMZ2R7AKAXXXX
4EV9PLLT18GD5B08
F2GNEHC293DL3JXH
HE9HJ3-XXXX-3JNWVC
HVGB4Z0RMLWZ3-XXX
8BYUB6TAD-XXXX
8H8KS4XP3Z6882AM
0EMCK88V9J4JGKBT
For More, Redeem Codes Please Follow the Latest Updated Google Play Redeem Codes List Here
Frequently Asked Questions

How can I top-up Free Fire Diamonds legally and securely without using any unauthorized methods or hacks?
Free Fire Top-Up hacks or any kind of hacking to obtain resources in Free Fire, or any other game, is strictly illegal and goes against the policies of Garena and other game developers. Engaging in such activities can result in severe consequences, including the risk of having your account permanently banned.
Where to Top-Up Free Fire Redeem Code at a lower cost?
The Google Pay app is offering up to 50% off on Free Fire Redeem code purchases. You can open Google Pay App and do your top-up.
How to redeem the Free Fire voucher Code online?
Visit Google Play Store> Click on the Side Menu> Payment method> Click redeem code> Paste your Redeem Code> Click the Redeem button.
How to get 25000 diamonds in Free Fire for Free?
No one is giving 25000 Diamonds free. You just do some extra work to get 25000 Diamonds Free.
Free Fire me Diamond Top-Up Kaise Kare?
Garena Free Fire Me Top karne kelie aap bahat sare trick aur Tips ka upyukta kare.