Download CSC Certificate 2022: All Apna CSC agents download VLE Certificate and Download Digital Seva Certificate. Know the process How to Get CSC Certificate, Digital Seva Kendra Certificate online. Take the VLE certificate printout from this page.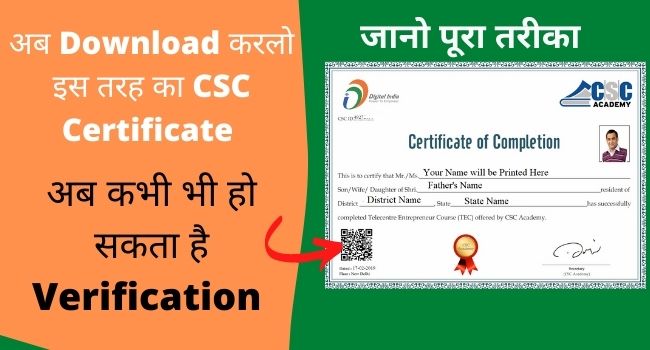 Topics Covered in this Post
What is CSC VLE Certificate?
My dear VLE, ​​Digital Seva Certificate is a kind of identity card of a public service center. This certificate shows that you are a government-recognized VLE agent. This certificate looks something like this.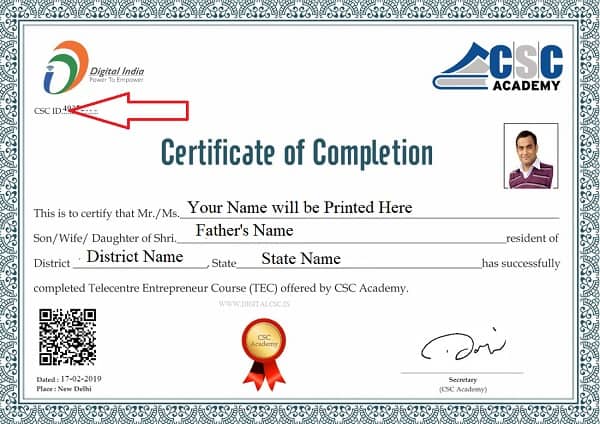 The VLE Certificate is an authorization certificate issued by CSC Academy.org. This certificate is one type of verification document for all the VLE agents. All the VLE agents should paste this certificate on the front wall of their Jana Seva Kendra.
You have to increase the confidence of the people by showing the Certificate of your Janaseba center. Through this certificate, people can stay away from fraud and fake service centers. That is why in this post, I will tell you the complete method to Download CSC certificates. Also, I will tell you the process of applying for this certificate.
If you do not have a CSC ID, you can see How to Apply for a new CSC Center Online in India
Why does VLE need a valid Jana Seva Certificate?
Digital CSC centers deliver a considerable number of services like Birth Certificate Applications, death Certificate Applications, Income Certificate Applications, PM Kisan Applications, Driving Licence applications, Voter ID Card applications, PAN Card Applications, Labor Card Applications, etc. A few days before, the Government has issued a Digital Kendra Certificate for those who have a Government-approved Common Service Centre ID.
As you know, many people are creating clone types of Computer centers and declaring as a CSC VLE agent. They are committing fraud and in-suspicious activities. To overcome this type of problem, the Government is now issuing a particular type of certificate for the verified VLE agents.
Check Out: Digital Seva CSC Connect Portal Login
Benefits of Digital Seva Certificate
The Digital Seva Kendra certificate shows that you are the Authorized VLE Operator of your area.
This will help you get various particular types of Government Tenders
Any CSC-related Police cases and Judicial cases will help you.
You can use this for any financial loans against your CSC Point.
The trust of people in you will enhance.
This paper will also help with the approval of the Bank Mitra/ BC Agent.
How to Download CSC Certificate online?
Step-1: First of all, you have to visit the official CSC portal. i.e., register.csc.gov.in.
Step-2: From the Home Page, click on the My Account link from the main menu.


Step-3: Now enter your CSC ID, fill in the captcha, and click on the Submit button. Before that, click on the CheckBox of Terms and Conditions.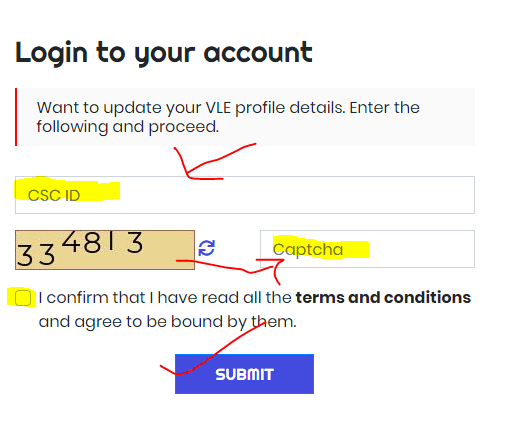 Step-4: After Clicking on the Submit, an OTP will be sent to your E-Mail Id. Verify your Process by entering the OTP.
Step-5: Now authenticate your Aadhaar Number by using the Bio-Metric Device.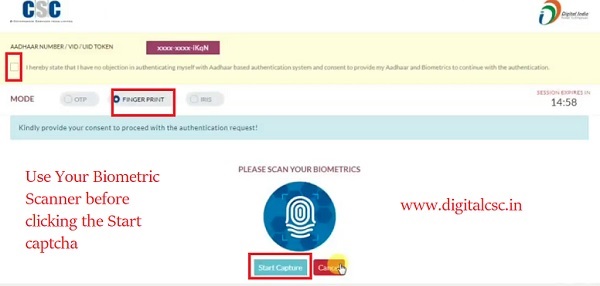 Step-6: Finally, you will be able to see your CSC Certificate on your screen. Now press Ctrl + P to take the CSC Certificate Print out.
If you still unable to Download the Certificate, then you can download your certificate with the help of this video.
FAQ
Are all VLEs required to paste the CSC certificate in front of their shop?
Yes, all Jana seba centers have to print and paste the CSC certificate inside their shop and at the door of the shop.
Can there ever be a verification of CSC center?
Yes, anytime the District Magistrate may visit for verification of your center.
Is it necessary to affix the CSC certificate with QR code?
Yes, it is necessary to affix the CSC certificate with QR code. Because your certificate is verified by QR code.
Conclusion
Lastly, I would like to say, you should download your VLE Certificate now. Take a print out a copy and paste it in front of your center.
If you feel any problem, comment in the comment section. I will try my best to provide you the resolution.