The government has launched the PM Garib Kalyan Yojana. with a 1.70 Lakh crore relief package. All the BPL, Ration Card users, can do online registration for PMGKY Scheme and check the beneficiary list from here.
The link for PM Garib Kalyan Yojana is active now. Here in this blog, we will elaborate on the process & eligibility criteria to apply and discuss PM Garib Kalyan Yojana.
Topics Covered in this Post
What is PM Garib Kalyan Yojana?
The PMGKY scheme was firstly launched on the 26th of march in 2020 in view of the Covid-19 pandemic. The honorable Finance Minister Nirmala Sitharaman, who is heading the economic task force to combat the covid crisis, outlined a bailout package of 1.70 Lakh for poor farmers, migrant workers to help the battle of any economic disruption.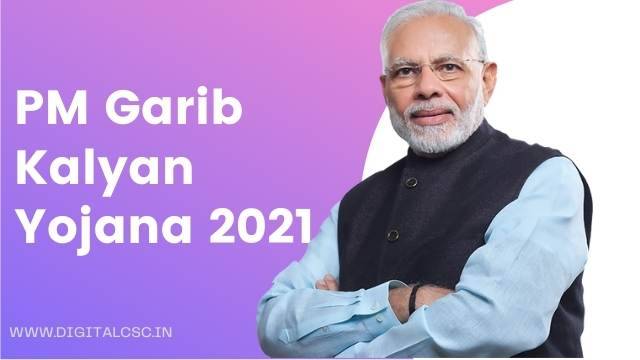 Initially, Pradhan Mantri Garib Kalyan Yojana is a financial help package announced by the Union Finance Minister, for the 80 corer poor people across the country to overcome the economic collapse, due to lockdown. This scheme was launched for three months with the oral commitment that No One Will Go Hungry. As per Prime Minister's Ration Subsidy Scheme, 80 crore Indian citizen beneficiaries are provided with 7kg of the free ration on a monthly basis.
Latest Update
With rising cases of Covid-19 and viewing the exponential number of deaths, PM Narendra Modi announces to provide free ration to those needy families in 2021 also. This scheme also comes under the Atma Nirbhar Bharat scheme worth 20 Lakh corer in total. Again, this will also be benefitted for those poor senior citizens, widows, and persons with disabilities. This massive extension of the plan will cost approximately 9000 crore extra.
Central Government requests the state government to use their district mineral fund to augment medical testing and screening. There are more than a sum 33 crores of Citizen are already benefited by this financial aid worth 31,235 crores.
In view of these positive impacts, Pradhan Mantri Narendra Modi addresses extending this scheme in 2021 on the Maan ki Baat session. For the massive outbreak of the covid pandemic, most of the families come under BPL (Below Poverty Level). To save these economic crises, PM Narendra Modi takes action in the Pradhan Mantri Garib Kalyan Package form. More than 22 lakh of health workers are covered in the scheme.
If you are willing to apply in the PM Garib Kalyan Yojana, then you must satisfy the eligibility criteria given below. Afterward, in this article, we also provide a step-by-step guide of the process to apply in the PMGKY Yojana. You can fill the application on all your own, or you can opt for a nearby e-Mitra platform of your locality.
Related Topic for You
Benefits of PMGKY Yojana (Pradhan Mantri Garib Kalyan Yojana)
Pradhan Mantri Garib Kalyan Yojana is a financial aid package worth 1.7 lakh crore for 80 crores of Indian citizens by the union of the finance ministry. The eligible beneficiary of the scheme will get several supports regarding daily ration, ex-gratia, etc.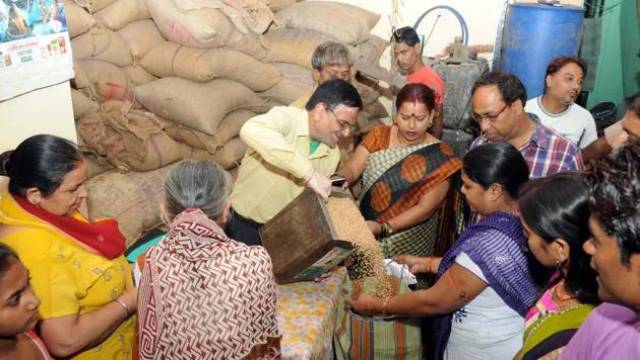 All Ration cardholders are provided two times of ration free of cost. Under this scheme, 80 crore people across India will get 5kg wheat or rice and 1kg of preferred pulses every month.
Poor senior citizens, widows, and physically challenged persons will get an ex-gratia of Rs.1000.
The daily wages for the worker under Mahatma Gandhi National Rural Employment Guarantee Act (MGNREGA) has been increased to benefit five crore workers,
The farmer existing in PM Kisan Yojana will get financial aid worth 2000 INR. 
The beneficiaries under the Ujjawala LPG yojana scheme have been received free cooking gas for three months.
Front Line warriors of Covid pandemic such as Doctor, Nurse and Medical Staffs are claimed to have a 50 Lakh insurance benefit. 
SHGs holders are also offered an extra 10 Lakh collateral loan to apply regarding this scheme. 
For the organized sector, the government will pay employees and employers contribution to PF 3 months for an establishment with 90 percentile of staff with 1500 INR. Wages.
Jan Dhan Yojana beneficiaries are provided 500 Rs. Per month for the next three months.
Note – Below is the table of content; you can also check out the table to learn more.
Eligibility Criteria for PMGKY
Before you start filling your application for Pradhan Mantri Garib Kalyan Scheme it is essential to check out your eligibility criteria. We are simplifying each of the eligibility criteria you must match to opt for Apply Online. It would be helpful if you can also check out the official website of PMGKY, where you can find out all of the info regarding this scheme in several regional languages.
If the below-mentioned criteria match with you, you can apply for the pmgky scheme using the following steps we have mentioned in the next segment.
Ration Card Holder can avail for 5 kg ration free of cost.
Any individual frontline warrior like Doctor, Nurse, Medical staff can apply for PM Garib Kalyan Yojana.
Farmer under Pradhan Mantri Kishan Yojana can apply for this scheme.
Anyone who comes under Ujjawala Gas Yojana is free to apply for this scheme. Poor Senior citizens and widows are also can get financial aid through the PMGKY scheme.
The persons with physical disabilities are also eligible to fill this scheme.
Any beneficiaries from Pradhan Mantri Jan Dhan Yojana are eligible to Apply Online for Garib Kalyan Yojana.
Any wage earner with less than 100 workers and earns less than 15000Rs. /month or having and labor cardholders can avail benefits of this scheme.
Family members of daily workers are also eligible to fill the application form.
Note- You can check out the table of content at the end of this blog to learn more.
Also Check this: Pradhan Mantri Shram Yogi Mandhan Pension Yojana
How to Apply Online for PM Garib Kalyan yojana online?
If you are eligible for the criteria mentioned above, you just need to follow the steps below to benefit from Pradhan Mantri Garib Kalyan Package. You can apply online either through DSC or EVC as per your convenience and flexibility.
Here is the step by step guide to Apply Online for pmgky scheme-
At first, what you need to do is to open the official website for Pradhan Mantri Garib Kalyan Yojana; you can redirect to the official website by simply tapping on this link
By tapping on the above link, you directly land on the apply page for PMGKY scheme 2021. Where you can see this interface
(Here, you should add an Image of the PMGKY apply Page)
There is a simple registration process where you have to put all the personal data precisely. 
After that, you can fill the application form with all your personal details and bank details. All beneficiaries are provided with the dispensable amount through bank transfer; that is why it is essential to fill your bank account number and IFSC code with extra care. 
Now you have to upload the entire supporting document along with your application form. It would be best if you can upload the most recent document and photo. All the documents uploaded should be in jpg or pdf format. You can use an online converter to change the layout of your doc files. 
(here, you can add one more Image of the uploading document) (And you also enclosed the format here)
Now, it would be best if you take a proper review before agreeing with the terms and conditions of the application.
Then you can submit the application by simply tapping on the submit button.
For your sake, you can take a printed copy of the submission document for further requirements and processing. 
You can check the status of your application from the same portal. As we have mentioned before, all financial aids are serving via DBT (Direct Bank Transfer), so you must have an active bank account.
If you are still facing any problems regarding the online application, you can comment that down, and I'll resolve all of the issues as soon as possible.
If the link is not working, you can write down www.pib.nic.in on your chrome browser.   
Short Overview for PM Garib Kalyan Scheme
(Here in the table we give am quick overview of the whole set of events for a better experience of your audience)
| | |
| --- | --- |
| Name of the Events | Description and Details |
| Scheme Name | Pradhan Mantri Garib Kalyan Yojana (PMGKY) 2021 |
| Launched Date/Application starts from | 26 March 2020 |
| Launched by | Government of India |
| Name of the eligible states | All states in India are eligible for PMGKY |
| Objective | Provide support to the poor people in the covid pandemic |
| Last Date of application | NA |
| Official Website Link | www.pib.nic.in |
Necessary events regarding the PMGKY Yojana
| | |
| --- | --- |
| Eligibility of Beneficiaries | Benefits of the PMGKY Scheme |
| Ration Card Holders (Scheme by Central Govt. and State Govt. of India) | Up to 80 Cr. Needy citizens will get (3+2) kg. Wheat and Rice & 1kg. of preferred pulses free of cost on a monthly basis |
| Frontline Covid Warrior (A Scheme by Home Ministry of India) | 20 to 50 lakh health insurance for Doctor, Nurse and medical employees |
| Poor Senior Citizen, Widow, PWD candidates (A Scheme by Central Govt. of India) | ex-gratia of 1000 Rs. |
| Beneficiary Farmers of Pradhan Mantri Krishi Yojana | 2000 INR. Through DBT(Direct Bank Transfer) |
| Beneficiary Families of Ujwalla Yojana(LPG) | Free cooking gas for the next three months |
| The Beneficiary of Jan Dhan Yojana | Each beneficiary will be provided 500 Rs. For the next three months |
| Building and Construction Workers (A BOCW Scheme) | A fund worth of 31000 crore released to provide support; Daily wage under MNREGA (Mahatma Gandhi National Rural Employment Guarantee Act) increased Rs.202 from Rs.182 |
| SHGs (A scheme by the Finance Ministry of India) | An extra allowance of 10 lakh collateral loan |
| EPF (A Scheme by Finance Ministry by India) | The govt. will be paid 24% for the next three months |
Pradhan Mantri Garib Kalyan Yojana List of Beneficiaries along with benefits (pmgky list)
This initiative is taken by the central government of India (especially the Finance Ministry, Home Ministry) to provide support to the needful citizens in view of the Covid crisis. This also comes under Atma Nirbhar Bharat Abhijan. Finance Ministry and Home Ministry take a major role in pmgky scheme. This is a complete blueprint structured to recover the economic crash due to the Lockdown/Janta Curfew. The entire transaction of Financial Aids is being made via Direct Bank Transfer/NEFT.
Read More: Pradhan Mantri Balika Anudan Yojana 2021 [PMBAY] Apply Now
Frequently Asked Questions
Why Government Announced the Garib Kalyan Yojana?
Due to COVID-19 Pandamic and lockdown in India, people were not going for work. Their daily income was decreasing gradually. Hence, the Government Announced the Garib Kalyan Yojana with a great package.
One state's residence Can I avail the benefit of PMGKY from another state?
The Central Government has introduced the one-nation-one ration card policy. Hence, if you have Ration card in Odisha and you are living at Telengana, then you can also avail this benefit.
In the second wave of COVID-19, is Government has announced this scheme again?
Yes, duriong second wave of COVID Pandamic, the Govenment has announced 3 months of Ration Free of cost.