TPCODL Odisha's new electricity connection application form 2022. Apply online for domestic, business, farming new electric connection and get instant approval, I bond, and electric meter free of cost. In this post, you will learn the steps to get a new domestic and commercial electric connection for your home and business in Odisha.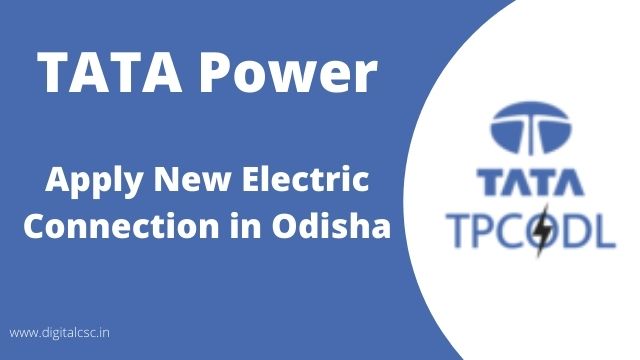 TP Central Odisha New Electricity Connection
The Tata Power Central Odisha Distribution Limited is now accepting online application forms for the new electricity connection. All the families who still don't have an electricity connection should apply online at the www.tpcentralodisha.com web portal. In this post, you can get the complete step-by-step procedure; I bond form, 1 unit electricity cost in Odisha, new connection price, and lots more.
TP Central Electricity Connection Overview
| | |
| --- | --- |
| Application for | Odisha New Electricity Connection-2022 |
| State Name | Odisha |
| Name of the Company | Tata Power |
| Mode of Application | Online |
| Application Fee | Rs.35 or Rs.75/- |
| Website | www.tpcentralodisha.com |
Required Documents for New Connection Application
The following documents are needed for the fresh connection.
Land Documents like Pata Proof of Promises (mandatory)
Occupancy or Authorization (mandatory)
Treasury challan
Aadhaar card
Land Record (Dallil)
Ration Card
Passport
Application Fee
The Odisha electricity department charges the inspection fee for every new form. The application fee for Domestic users and Commercial or Businesses is different. If you are applying for your home, then your application fee will be Rs.34/-. While the application fee for the Commercial and Retail shops, the application fee is Rs.75/-.
The Fee Structure for the new residential Domestic single-phase 1-KW electric connection is as follows:
| Name | Value(₹) | GST(₹) | Total(₹) |
| --- | --- | --- | --- |
| New Meter Cost | 1271.00 | 229.00 | 1500.00 |
| Service Charges | 1500.00 | 270 | 1770.00 |
| Security Deposit | 551.00 | 0 | 551.00 |
| Processing Fees | 50.00 | 09.00 | 59.00 |
| Inspection Fees | 30.00 | 0 | 30.00 |
| Sub-Total | 3402.00 | 508.00 | 3910.00 |
All the payments are accepted in online mode. Below I have explained how you can create challenges for the whole process.
Also Check: Odisha Ration Card List 2022
Steps to Apply New Electricity Connection TPCentral Odisha
First of all, visit the Official Web Portal of Tata Power Central Odisha Electric Distribution.
Secondly, click the "New Connection" link from the bottom.
Now on your screen, you will face an Online registration form.
Here fill in all your details like Communication Address, Installation address, connection type, etc.
Now download the Application form from the given link. Fill out the application form as per the instructions.
Prepare the Affidavit cum undertaking on Rs. 10/- Non-Judicial Stamp paper.
After that upload all the required documents, including the challan receipt.
Finally, submit the Application form and take a printout of the reference receipt for further communication.
TPCODL Application Forms
How to Create Challans Online?
The application fee can be paid online through Odishaonline Portal. Just do all the process.
Firstly, visit the Official website of electricity Odisha.
Now from the main menu, select the e-payment link.
Here click on the New User link.
Now it will ask you to fill e-Challan form.
Select Payment Type "One Time Payment" and fill in all the details correctly.
Next, select your district Electricity head office.
In the Amount section, enter Rs.34 or Rs.75 as per your uses.
Next, you will be redirected to Odisha Online (Treasury) for Payment.
You can use Debit Card/ Credit Card/ UPI/ NetBanking to complete your payment.
Finally, after payment, take a printout of the Challan and note down the Challan number.
Important Links
Also Check: Odisha Dhana Mandi Farmer List 2020- Check your Token Status Online
FAQ
What is the total cost for a new Connection?
You have to pay a total of more than Rs.3200/- for domestic and more than Rs.4000/- for commercial connection.
How many days does it take for the approval of Odisha New Electricity Connection?
The official takes 2 to 3 days for verification. However, the meter installation takes up to 2 months.
How can I pay the electric bill?
You can pay for your electricity by using the Online link.
How to Make a complaint about electricity?
You can make the electric connection by visiting the complaint section of the Tata Power official portal. Or you can call 1912 from your registered mobile number.
Which number we should use to pay TPCODL electric bill online?
Use your Customer ID to pay your electric bill online. Your consumer ID will look like 305S0507458
Coal Shortage in India
Electricity Supply after the Pandemic is at a critical level. TPCODL (Tata Power) warned the whole country about Consumption.
October 27, 2021