Co-Win Portal Vaccine Registration 2021 is now going on. Book your slot at cowin.gov.in site and app to get your vaccine at the nearest vaccination center. In this post, we have explained complete details of Citizen Registration and Appointment for Vaccination through Cowin.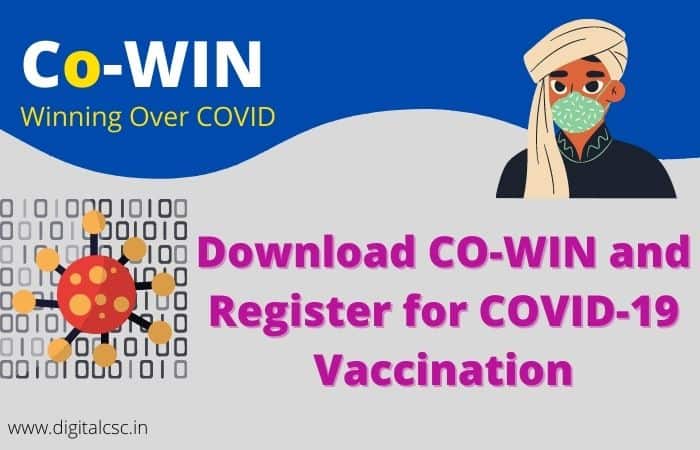 World's biggest vaccination drive has been started in India from January 2021. Till now more than 35 Millions of people has been partially vaccinated. For the smooth conduct of the whole drive, the Government of India has developed a software, website, and Mobile Application called Co-Win. This new mobile app and website will allow people to register and book a slot for the vaccine. If you have not yet registered yet for vaccine, follow the whole process.
What is Co-Win.gov.in Portal and How it works?
The full form of Co-Win is Winning Over Corona Virus. It is a web portal and Mobile Application developed to track, keep the record of India's Vaccine drive. It was launched and managed by the Ministry of Health and Family Welfare Department, Government of India.
The Cowin App will provide you the correct information about the Vaccination center, vaccination timing, nurse name and the doctor's name. Also, the app will store the complete information about the people taking Vaccines from the center. So, if you are willing to take the Corona vaccine, you have to register your name in the app.
About the Cowin Portal and Application
| | |
| --- | --- |
| Name of the Apk | Co-Win App 2021 |
| Full-Form | Win Over Corona Virus |
| 18+ Age Group Registration | January 2021 |
| Launched by | Health Ministry |
| Inaugurated by | PM Narendra Modi |
| Objective | Covid-19 Vaccination |
| 18+ Age Group Registration | 28th May 2021 |
| 18+ Age vaccination start date | 01 May 2021 |
| Available on | Google Play Store, Apple App Store, Jio Phone |
| Version Code | 33.0 |
| Download Link | Click Here |
| Register Online | Click Here |
Latest Co-win Vaccine Updates 2021
Vaccines Available in India
Drugs Controller General of India has approved 4 vaccines in India. They are as follows:
COVAXIN
Covishield
Sputnik-V
Upcoming Vaccines
Steps for Beneficiaries register for Co-Win App
The Cowin Application consists of 6 tabs of registration. They are as follows:
Beneficiary Registration
Session Allocation
Vaccination
Acknowledgment
AEFI Reporting
Reports in the Dashboard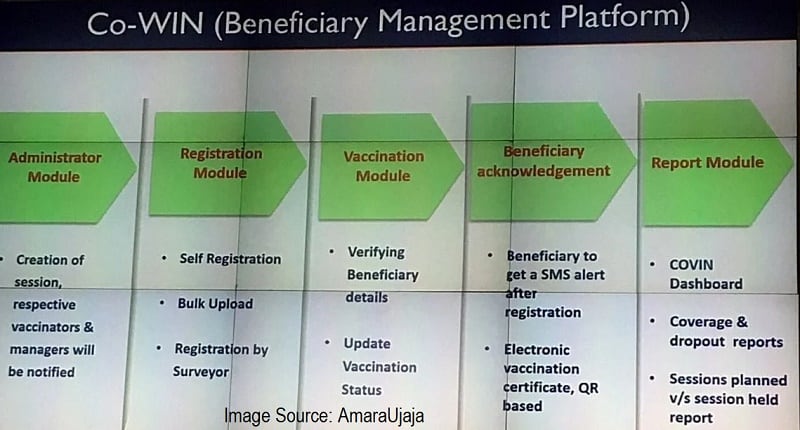 Beneficiary Registration: Under Beneficiary Registration, every normal person can register for vaccination. They have to fill in their personal detail, mobile number and email id, etc.
Session Allocation: Here, you have to book the appointment slot for the Covid Vaccination. Here, you can choose your appointment date and time as per availability.
Vaccination: On the chosen date and time, just visit the vaccination center with the valid ID proof and take your vaccine.
Acknowledgment: After successful completion of the vaccination, you can see your acknowledgment receipt in this section.
AEFI Reporting: AEFI stands for National Adverse Events Following Immunization. Here you will get your complete AEFI report.
Reports in the Dashboard: Your final report and current status will be visible in the Dashboard section.
Co-win Registration Required Documents
Aadhaar Card
Passport
Visa Card
Bank Passbook
Job card
Government Photo ID card
How to Register and Book Slot for Vaccine online?
Step-1: First of all, you have to install the Cowin Apk from your Mobile App Store. (Link is available in the Above box)
Step-2: Next, you have to register yourself using the mobile number.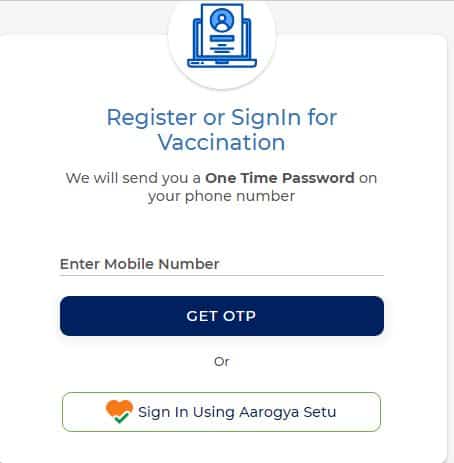 Step-3: Do verify your Mobile with the mobile OTP.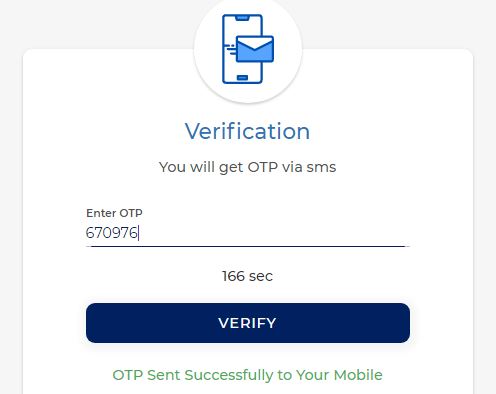 Step-4: Now, select a valid personal Photo ID Proof Document and enter the ID proof number in the specified space.
Step-5: After that, fill in your name, date of birth, and Gender. Click the Register button.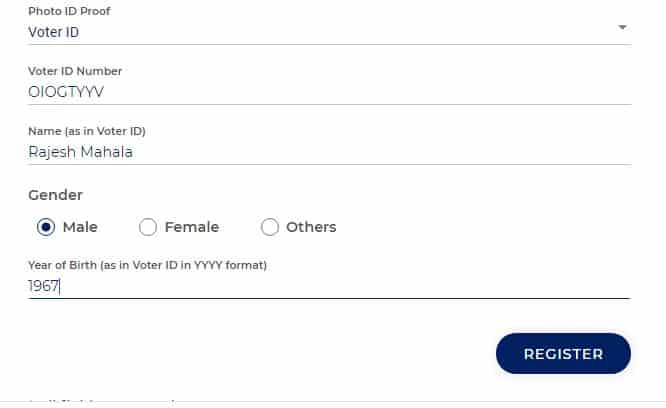 Step-6: Once you complete the filling of the application form, you will be redirected to the dashboard page. Here you just click on the Schedule button.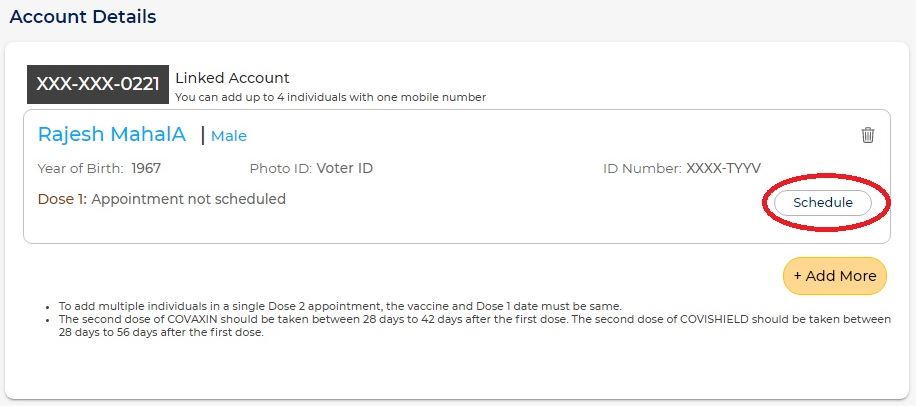 Step-7: Once you click on the Schedule, the system will ask you to enter your local PIN Code. Click on the search button. It will show up all the Vaccination centers with an available slot.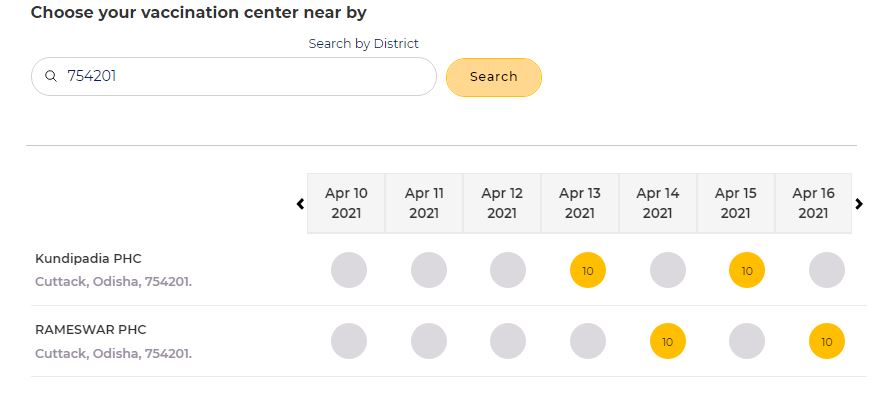 Step-8: Here, choose a suitable date and time as per your choice and click on the Confirm button.

Step-6: After slot booking, you will receive a confirmation SMS on your mobile number.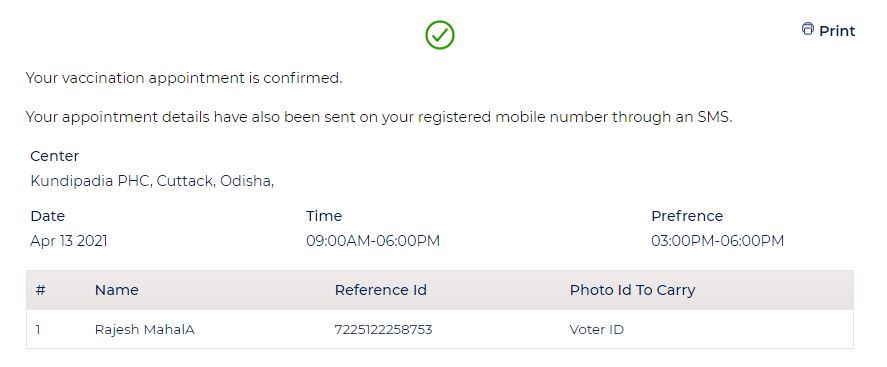 Step-7: Visit the Vaccination center before the specified time. Show the confirmation SMS to the authority.
Step-8: Verify your Identity by showing the ID Proof and OTP from your mobile phone.
Step-9: Doctor will inject the vaccine into you. Your date will be uploaded to the server.
Step-10: You will receive another SMS for the second dose of the vaccine.
Step-11: You have to stay in the hospital for half an hour to monitor the side effect
Covid 19 Helpline Number
FAQ
How to Register name in Co-Win App?
You can visit www.cowin.gov.in to register for the vaccination.
Do I need to pay any fee for the Vaccine Registration through Co-Win P?
No, you do not have to pay any Application fee for the Vaccine registration.
How to Register vaccine Quickly?
You can join the telegram channels available on www.under45.in above45.in to get slot availability.
How to Download vaccine Certificate online?
You can download your Vaccine certificate online by login into your Co-Win Account.
How to Link Passport with Vaccine Certificate?
You can visit the dashboard section of the Cowin app. Click on the Link Passport link. After that, enter your Passport details. Click on the Link button.
How many people can register using one Mobile number Co-Win Portal?
Maximum 4 people can do the registration using one Cowin ID or Mobile Numer.
Conclusion
Be aware of fraud and fake Cowin-App. Always follow the Government website with a .gov extension. Do the Cowin App Registration only on the authorized App.
Share this post and create awareness among your friends and Families. Be a good Citizen of India. Stay Healthy and keep Social Distance. Thank you. Jai Hind.