Odisha Dhana Mandi Farmer List- Check food Odisha Token list 2021-22
Odisha Dhana Mandi Farmer List 2021, Check farmer Registration Number, food Odisha token list 2021 District, Block, Village wise brought you by Odisha Food Odisha.
Food Odisha Dhana Mandi Farmer List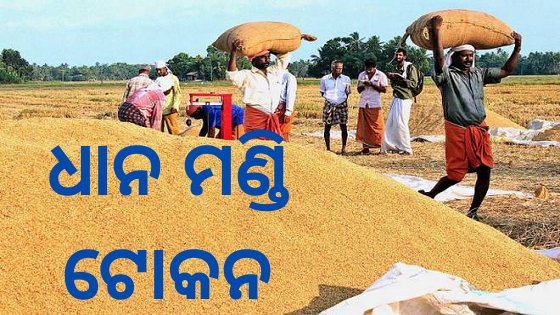 The central Government of India and the State Government of Odisha together took the initiative to purchase Rabi and Kharif Season crops through Dhana Mandi and Society. For which the Society or Mandi is now accepting the offline application form. Every farmer of Odisha should Download the application form online and submit it to your nearest Paddy Procurement Centre or Society office.
All the Society/Dhana Mandi registered farmers can Check their Farmer list, Token Number, Serial Number for selling their Crops with extra Subsidies.
Overview Paddy Procurement Process 2021
| | |
| --- | --- |
| Name of the Scheme | Paddy Procurement System (PPS) |
| State Name | Odisha |
| Application Mode | Online and Offline |
| Application Start Date | 15-July-2021 |
| Last Date of Application | 16-August-2021 |
| Token Generation Date | October 2021 |
| Paddy Procurement Start | 11 November 2021 |
| Last Date of Procurement | 31 March 2022 |
Odisha Advance Paddy Procurement Token
The Odisha State Government has made massive preparation for the procurement of Kharif Paddy. In 2021. 14 Lakh 97 thousand farmers already have registered for the selling of their crop.

Quantity per Acer
As per the bytes of Food Supply and Consumer Welfare Department management director Biswajit Dash, this year, a farmer can sell 19 Quintals Rice per Acer Irrigation land and 12 Quintals Rice per Acer Non-Irrigation land.
| Per Acer | Quantity |
| --- | --- |
| Irrigation | 19 Quintals |
| Non-Irrigation | 12 Quintals |
Pricing of Rice per Quintal for 2021 (MSP)
Everyone gets worried about the pricing. It's very usual. Because a farmer always wants to get a fair price for his one-year hard work and labor. So, the Government has decided to pay the new Minimum Support Price (MSP) rate to the farmer. The pricing of FAQ quality Rice is set to Rs.1868/- whereas the pricing of Grade-A Rice is set to Rs.1888.
How to Check the food Odisha token list 2021-22?
This year the Government will purchase by issuing an Advance token. The farmers will receive the food Odisha Token before seven days of the Paddy collection. The Food Department will send the procurement data, token number, and crop Quantity to the Farmer's Registered mobile number.
Also, the farmer token list will be available on your nearest Paddy Procurement Centre notice board. Apart from this, you can visit the Food Odisha Official portal to find your token list and name.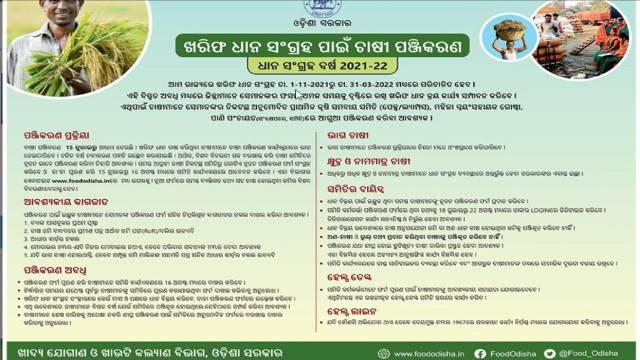 Visit the official Food Odisha Portal Farmer list page.
Now click on the Farmer registration Status Direct Link
After that, select your District followed by the Village name.
Here, you can see your PACS Name and Secretary Name.
Steps for the Farmer to Prepare their Paddy
Farmers are requested to make clean of their Rice Crops
Make packets of 50 KG or less than 50 Kg of each Crop Packet.
Use Plastic or "JhotaAkha" for Crop Preparation.
Keep your Packet in a safe and secure place.
Wait for the Token from your Dhana Mandi.
When you receive the token, visit the Crop Collection Centre in time with your Valid Id Proof and Token Message.
How to Download Farmer Registration Form?
First of all, visit the Agrisnet Odisha Official Website, Direct Link.
Now select your District, followed by Block, Gram Panchayat and Village.
After that, choose the status of the Drop Down.
Finally, click the Search Button to see the complete farmer list of your Village.
Use Ctrl+F from your keyboard to find your Name from the list.
To Print the application form, click on the Left side application Number.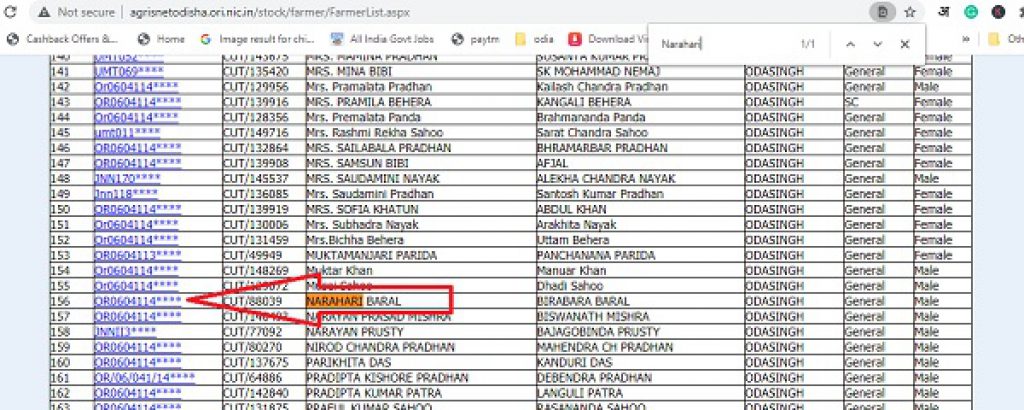 FAQ Related to Food Odisha token list 2021
What is the minimum per Quintal MSP for Kharif Crop?
The government of India declared that the Minimum Support Price for Kharif Crop will be Rs.1868/- per Quintal crop.
When I will get the food Odisha token for Crop Selling?
All over India, the collection of Kharif/Ravi crops has been started with the help of the Token system. However, some people have not yet got their tokens. The Government declared that they will receive their token soon.
How to Check Farmer list in Odisha?
Visit the
Food Odisha
or agrisnetodisha Government website and select your District, Block, Society name, and Village. Now you will get the Farmer list.

What to do if I don't get Token after registration?
Those farmers who don't get Token even after registration should immediately make a call on the 1967 toll-free number and register a complaint.
What to do if my Paddy is not taken after getting token through SMS?
After getting an SMS, if the Paddy Procurement Centre refuses to buy your paddy, then quickly call on the 1967 toll-free number and file a complaint against the PPC center.
How to file any complaint regarding Dhana Mandi?
For the Grievance purpose, the Government of Odisha has opened a e-abhiyog portal for citizens. You can visit the portal by using
this link
. Then Register your Complaint there.
Farmers are getting Token through SMS
Now farmers are getting token numbers to sell their crops. In the SMS, you will receive the token number, farmer registration number, and the scheduled date and time for the pickup.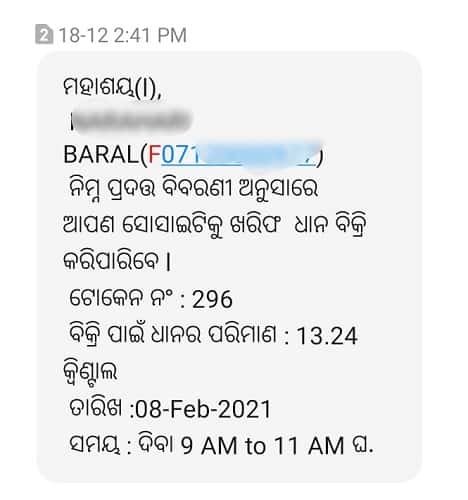 You can collect your physical token 1 day before the scheduled time. Visit your society office and ask for the token.
Food Odisha token list Helpline Number
Toll-Free Number: 1967
Email: [email protected]