Presenting the Odisha Dhana Mandi Farmer List for the year 2023-2024. Now, you can easily verify your farmer registration number and access the Food Odisha token list for the year 2023-2024. This information is categorized by district, block, and village for your convenience. All of this is made available to you by Odisha Food Odisha.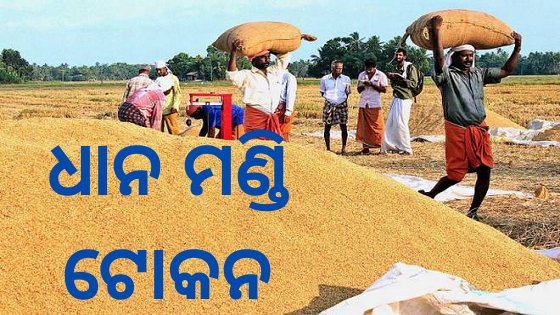 Topics Covered in this Post
Odisha Dhana Mandi Farmer List 2023-24
For all the farmers who are registered with the Society/Dhana Mandi, an opportunity awaits. You can now conveniently review your farmer list, access your Token Number, and identify your Serial Number. This information is vital for those who wish to sell their crops while benefiting from additional subsidies.
| | |
| --- | --- |
| Name of the Scheme | Paddy Procurement System (PPS) |
| State Name | Odisha |
| Application Mode | Online and Offline |
| Application Start Date | 15-July-2023 |
| Last Date of Application | 16-August-2023 |
| Token Generation Date | October 2023 |
| Paddy Procurement Start | 11 November 2023 |
| Last Date of Procurement | 31 March 2024 |
Odisha Advance Paddy Procurement Token
The Odisha State Government has taken extensive measures to ensure the smooth procurement of Kharif Paddy for the year 2023-2024. An impressive level of preparation has been undertaken. Notably, over 15 lakh farmers have already completed their registration for the purpose of selling their crops.

Quantity per Acer
According to the statements provided by, the Director of Food Supply and Consumer Welfare Department management, this year's guidelines dictate that a farmer is eligible to sell up to 19 quintals of rice per acre of irrigated land and up to 12 quintals of rice per acre of non-irrigated land.
| Per Acer | Quantity |
| --- | --- |
| Irrigation | 19 Quintals |
| Non-Irrigation | 12 Quintals |
Pricing of Rice per Quintal for 2023-2024 (MSP)
| A- Grade | Price |
| --- | --- |
| A- Grade | ₹2203/ Quitals |
| Common Grade | ₹2183/ Quitals |
Concerns about pricing are quite natural, especially for farmers who invest a year's worth of hard work and effort. Recognizing this, the Government has taken steps to ensure that farmers receive fair compensation for their labor. The new Minimum Support Price (MSP) rate will be provided to farmers. Specifically, the price for FAQ (Fair Average Quality) Rice is fixed at Rs. 2183/-, while Grade-A Rice commands a price of Rs. 2203/-. This initiative aims to address the farmers' aspirations for just remuneration.
How to Check the Food Odisha token list 2023-24?

This year, the Government introduced a new approach to procurement. By issuing an advance token, the process is streamlined. Farmers will receive the food Odisha Token a week prior to the commencement of paddy collection. To facilitate this, the Food Department will transmit procurement data, token numbers, and crop quantities to the mobile numbers registered by the farmers. This innovative step ensures enhanced efficiency and convenience in the procurement process.
Furthermore, the list of farmer tokens will be prominently displayed on the notice board of your nearest Paddy Procurement Centre (ସମିତି). Additionally, you can access this information by visiting the official Food Odisha portal, where the token list and corresponding names will also be available for reference. This ensures multiple avenues for farmers to conveniently access their token information.
Visit the official Food Odisha Portal and navigate to the Farmer List page.
Click on the direct link for Farmer Registration Status.
Choose your District from the provided options, and then select your Village name.
On this page, you will find details about your PACS (Primary Agricultural Cooperative Society) Name and the Secretary's Name associated with your registration.
Steps for the Farmer to Prepare their Paddy
Farmers are kindly advised to ensure the cleanliness of their rice crops.
Divide the crops into packets weighing 50 kg or less for each packet.
For crop preparation, use either plastic bags or "JhotaAkha."
Safely store your prepared packets in a secure location.
Await the token notification from your Dhana Mandi.
Upon receiving the token, promptly visit the Crop Collection Centre with your valid identification proof and the token message.
FAQ Related to Food Odisha token list 2023
What is the minimum per Quintal MSP for Kharif Crop?
The government of India declared that the Minimum Support Price for Kharif Crop will be Rs.2203/- per Quintal crop.
When I will get the food Odisha token for Crop Selling?

Across India, the collection of Kharif and Ravi crops has commenced using the Token system. While some individuals are still awaiting their tokens, the Government has assured that those yet to receive their tokens will obtain them shortly.
What to do if I don't get Token after registration?
Farmers who have registered but have not received their tokens should promptly call the toll-free number 1967. By doing so, they can register a complaint and seek assistance regarding their token issuance.
What to do if my Paddy is not taken after getting the token through SMS?
Upon receiving an SMS, if you encounter a situation where the Paddy Procurement Centre declines to purchase your paddy, it's advisable to immediately call the toll-free number 1967. By doing so, you can lodge a complaint against the PPC center and seek necessary resolution or guidance.
How to file any complaint regarding Dhana Mandi?
For the Grievance purpose, the Government of Odisha has opened an e-abhiyog portal for citizens. You can visit the portal by using this link. Then Register your Complaint there.
Farmers are getting Token through SMS
Farmers are now receiving token numbers for the sale of their crops. The SMS notification will include the token number, your farmer registration number, as well as the designated date and time for the crop pickup.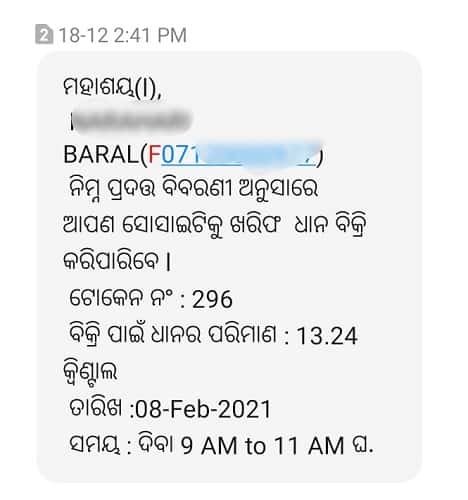 You can collect your physical token 1 day before the scheduled time. Visit your society office and ask for the token.
Food Odisha token list Helpline Number
Toll-Free Number: 1967
Email: [email protected]