New CSC Center apply: Common Service centre is one of the biggest missions under the Digital India Scheme. Now anyone from the rural area to the urban area can start their own business at their home location with a small investment package.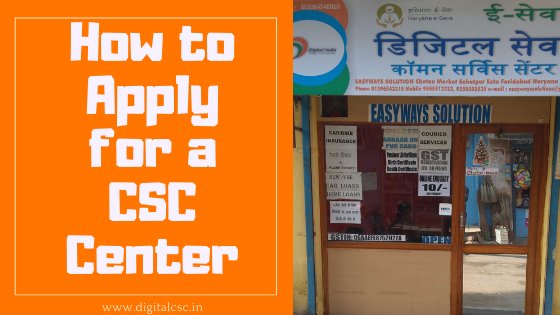 Why Should you Apply a new Common Service Center (CSC) online?
Common Service Cente(CSC) is one of the dream projects of the Central Government of India under the Digital India Scheme. The Government of India wants to hunt Two birds in one shot. This means that the government wants to achieve two tasks in one investment. 
The first is to provide employment to the youth and secondly to provide the common people with all the government facilities like banking, insurance, GST and lots more.   So the Government is inviting people of India from the rural and the urban area to start their business with their own investment and deliver all the schemes of the Central Government and State Government with a minimal good and effective income.
Documents Required for new CSC Center apply
Aadhaar Card Original Copy
KYC Documents (Aadhaar Card, PAN Card, Voter Identity Card, JOB Card, etc.)
VID Number from Aadhar
Bank Account Number
Cancelled Cheque
Required equipment for CSC application
As the name itself suggests, Digital Seva CSC is for bringing the digital revolution to all sorts of people. The government gives the right preference to digitally educated people and technically advanced places for allotting the CSC. If you are looking to open a center at your location, ensure that you have below mentioned equipment.
Digital Device:– There are no fixed criteria for which type of digital devices. But desktop computers are preferred. Anyone with having Laptop can also apply for CSC. The screen size should be medium to big. 500 GB hard disk and 1 GB ram are the minimum criteria. As per the previous notification, Windows XP and the above operating system were allowed. But as Microsoft has withdrawn support on Windows XP and Windows 7, we suggest using Windows 8 and beyond for safe and secure working. Minimum 2 Digital device is required.
Digital accessories:– Device is not enough at Digital Seva CSC; a centre operator/supervisor requires a printer for printing the certificate, acknowledgement number, and payment receipt. The scanner is a must for scanning the documents for further upload on the website. Photocopier machine for copying the form in case of hard copy sending after application. It is advisable to purchase printer cum scanner cum photocopier machines. As two digital devices are mandatory, applicants should also have two sets of accessories.
Storage devices like pen drives, external hard disks are required. If your digital device has an inbuilt webcam, it's okay. Otherwise, an external webcam is necessary.
Power backup:- Uninterrupted power supply through electricity is a must. A supervisor needs to have at least 4 hours of power backup through online UPS, offline UPS, Generator, or any other electrical sources in electricity tripping.  
Internet connection:- Internet is the backbone of CSC. All the equipment and staff cannot work if the internet is not working. It sends and receives data from the websites and enables all digital transactions. A broadband connection or wireless connection with a minimum of 128 KBPS is necessary. Just like you require internet for Digital Seva Registration, it is a must for providing online services to customers.
How to become VLE Agent?
Previously a person does not require any special certification for applying for CSC VLE, but now the process has changed. The government has introduced the concept of TEC (Telecenter Entrepreneur Course) before you Apply for CSC online. Anyone interested in applying for VLE must pass this certification course.
Eligibility criteria for CSC VLE
Must be Indian by citizenship and must possess valid identity proof like voter id, Passport, Aadhar Card, etc. 
The minimum age is 18, and there is no maximum age limit. However, if anyone is facing difficulty reading, writing, speaking, and understanding due to age-related issues, their application will be summarily rejected by the competent authority. If you are beyond 60, the probability of application acceptance is low. 
The minimum education qualification is 10th from an authorized examination board. There is no percentage passing criteria for the VLE application. Besides the 10th certificate, basic knowledge of computers and their application is mandatory. Computer education certification is not compulsory, but it is desirable. 
A bank account in any scheduled bank or post offices is mandatory. Pan card is also necessary because it keeps tracking all the income you are earning from the CSC.
Photos of selected locations from inside and outside, the image are required to ascertain that the applicant has the needed infrastructure for the CSC centre. 
You require uploading all those information and documents at the VLE CSC registration link.
Related Content
All about TEC and Its certification for new CSC Center apply
This is a certification course designed and developed by CSC academy. It works on enhancing the knowledge and functioning of CSC. People get in-depth knowledge about all the services offered at how to provide the best people-centric services.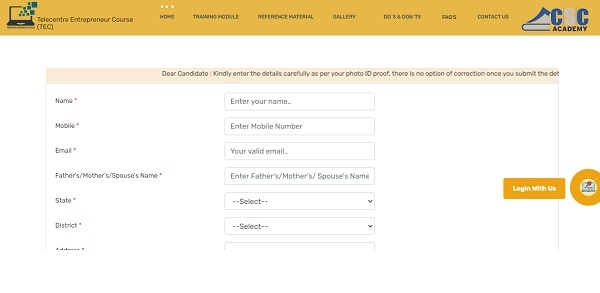 Visit the given link and look for an online section.
Click on the section, and an online application form will appear on your screen. Enter all the required information and attach photographs.
The next step is to pay the registration fee. After fee payment, you get access to 10 training modules. You get access to that training module once you have a username and password. 
One by one, you are required to pass all the training modules, and after passing all, you will get a TEC number. That number is required for applying at the VLE CSC registration link.
How to Apply for a new CSC Center online?
For, new CSC Center apply Visit the link – https://register.csc.gov.in/register. It gives two types of application category.
Application for TEC number holder
Self Help Group Application
Let us do the elaboration of each procedure.
Application for TEC number holder
Once you have obtained the TEC number after completion of all the modules, you are eligible for application under this category. 
Step-1: First of all, Visit the official website https://register.csc.gov.in/register
Step-2: On top, there is an option, apply. Click on the drop-down box, and you will get the "New registration" section.
Step-3: Select the option "New VLE registration," and an online application form will appear.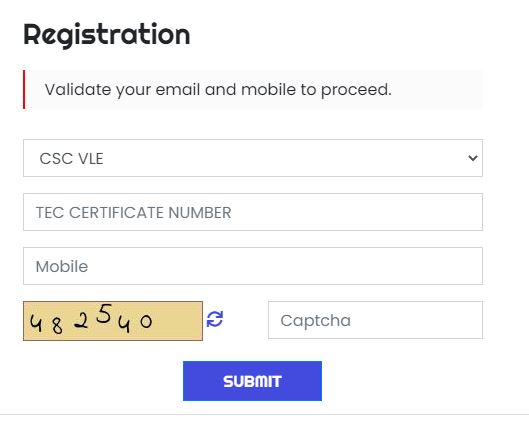 Step-4: Enter the TEC number, Mobile number, and Captcha code and press the enter button. Make sure you have used the same mobile number and email id for Digital Seva Registration and TEC registration.
Step-5: The system authenticates your TEC number and matches it with the given mobile number. Now you need to enter required information like personal information, banking information, documents number, physical infrastructure details, and others. Make sure to enter all the information as mentioned in the available documents. 
Step-6: The online form is easy to understand and fill. Read all the sections carefully before pressing the final button. The next step is to review the entered details. Have a look at the application and match it with available documents. Press on the final submission.
Step-7: You will get a notification on your registered mobile number and email id about the form submission after Digital Seva new CSC Registration.
Self Help Group Application
An individual can not apply under this category. Here 10 to 25 people make a group and try to help each other and other people. Taking loans from banks becomes easy, and the government also supports these groups in the form of subsidies, donations, and others. Big national and international nongovernmental organization gives amount to them for further spent on needy people. 
There is a separate Apply for CSC procedure for SHGs. At the time of application select, "SHGs group application" and then click on proceed.
Here, you do not need to have a TEC number. All other steps are the same as an individual applicant.
Enter the group name and its details. Submit all the required documents. Additional certification of SHGs is needed in case of applying under this category. 
Press the submit button after previewing. A unique application number will generate, and you will get in through a message and registered email id. Once the application is accepted, you may run Digital Seva CSC.
Steps to check CSC VLE application status
Once you applied under your relevant category. You require to wait for some days in order to have some updation. Here is the step to check application status.
Visit the official website- https://register.csc.gov.in/
Under the Apply menu, you will get the sub-menu of " Status Check." 
Click on the status check and enter the application number.
Also, enter an alphanumeric Captcha and press submit.
After that, you can see your New CSC Centre Apply status.
For an individual CSC VLE applicant, a TEC number is mandatory. And you get that number only after completing all the training modules.
Points to Remember about new CSC Center
TEC registration is not free of cost. There is a charge of Rs. 1479.72. You have the option to pay through credit card, debit card, online mobile wallet companies, net banking, and UPI. 
Once you fail in the TEC, you do not get the TEC number, and you can do the test after some days only. 
No training is required for VLE and its registration at the VLE CSC registration link. Fulfilling eligibility criteria and TEC certification, and zeal to serve the poor and needy people, is a must. 
CSC registration is free of cost. It means you only pay Rs. 1479.72 in the complete process of becoming CSC VLE.
In case your CSC application is rejected due to reasons like document mismatch and others. You have the option to apply again.
CSC registration is not for a lifetime. Once you get approval on your application, it is only valid for one year. Then, you are required to register for Digital Seva Registration. 
How to verify your CSC credentials?
You have the option to check your entered details under the section " View Credentials" Tab. Visit the official website- https://register.csc.gov.in/. Look for the tab and enter CSC ID, Captcha, and press the agree the button. Click on submit, and the system will display all the details. 
New CSC Centre Apply (Old Process)
First of all, visit the Official CSC Registration Web site 

https://register.csc.gov.in/

Now you will have to start your new CSC registration process by selecting "CSC VLE" from the drop-down.

Now you will be asked to verify your mobile number and E-mail Id by entering it in the appropriate box. 

In the next step, you have to generate a VID number from UIDAI's Aadhar website i.e http://uidai.gov.in/

Now in the next step, you have to enter your generated VID, Name, Gender, Date of Birth, State, district, Location type, and the Authentication type and have to click on the Submit button. 

After successful Biometric verification using Aadhar, you have to Upload your photo (Less than 20KB), in the Kisko name, use your CSC point's name and fill in all the required details. 

Now set your CSC point's Latitude and Longitude using the Google map shown on that page.

Next, you need to enter your PAN card number along with the bank account details like IFSC code, Account Number, and a Cancelled Cheque ( Between 80KB), etc.

Now Upload any KYC document like Aadhar Card, PAN Card, Voter ID card, or JOB Card.

Finally, Submit your New CSC Center application by clicking Submit Button.

An Application number along with a receipt will be generated and you can take a Print out of this receipt for your further communication. 

Now you have to wait for some days until any further notification.

You will receive your CSC Center approval or rejection through E-mail.

If your application gets approved, you have to visit the DIstrict CSC Manager for further Process.
Digital Seva Support
TEC related issues:-
Email id:- [email protected]
Call:- Mr. Varun Chauhan – (+91 9625679885)
Mr. Deepak Sharma – (+91 7800080439)
Customer care toll-free number:- 1800 3000 3468
Location: New Delhi
CSC VLC related
Email id:- [email protected]
Toll-Free-1800-3000-3468 (9:30 am to 6:00 pm)