Apply pan card NSDL: Friends, if you go to your nearest shop to make a PAN card, then you will say that you will get a PAN card in 15 days. But do you know that you can apply for your PAN card yourself at NSDL and within 1 hour you can get a copy of your PAN card sitting at home.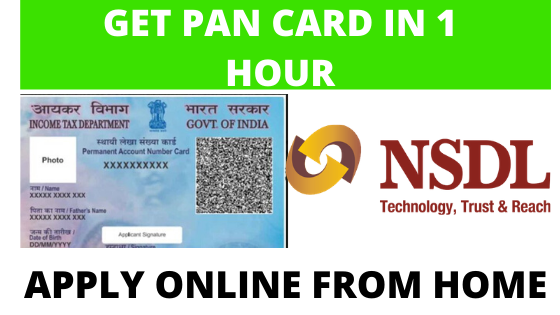 Generally getting a PAN card is a long process in India, You need to provide proper supporting documents for Identity proof, Date of Birth proof, Address proof, etc. If any documents found a mistake, then your PAN application will be rejected.
Today, I am going to tell you a process where neither you need to upload any documents nor fear of rejection. So let's get started.
Topics Covered in this Post
Apply PAN Card NSDL
Friends, you know that UTIITSL is the PAN card issuer authority in India and you apply at UTIITSL by uploading the supporting documents. This process takes a long time to approve your PAN card.
Nowadays the Government of India has added a new way to issue the PAN cards. You just need to authenticate your Aadhaar Card with NSDL and your work is done. NSDL will process your PAN card within 1-2 hour and you will get your PAN card through E-mail.
Documents Required to Apply PAN card NSDL
Aadhaar Card Number
A Valid E-mail ID
Aadhaar Linked Mobile Number
Important Information
Note here that you can not apply a Minor's (18>) PAN card using this process. You have to send all the documents
PAN Application fee
Fee For Digital PAN card Copy Only

Fee For Both digital and Physical Copy

How to Apply Voter Id card Online in India?
Steps to Apply for Card at NSDL
First of all, visit the Apply Online Link which is given above.
Now select Applicant Type as "New PAN- Indian Citizen (Form-49A)
Also, select the Category as "Individual"
Next, fill your First Name, Date of Birth, Mobile Number and E-mail ID correctly.
After filling all the details you will get a Token Number just Note down that number and click on Continue to PAN Application.
In the next screen, a form will appear and you need to select the option " Submit digitally through e-KYC and e-sign (Paperless).
If you need a Physical PAN card, then select Yes Option in the required question and then enter your first 4 digits of your Aadhaar card.
Now fill all details correctly as per the requirements and click on Next.
Next, fill your income details and Address details and click on Next
Now fill Area Code, AO code, range Code, and AO Number of your locality. You can find these numbers by clicking the link in the above box.
Now Pay the PAN Application fee as per applicable by using Paytm or Debit Card.
Finally Authenticate your Aadhaar using Aadhaar OTP with NSDL.
Your Application is now completed.
After 1-2 working hours you will get your digital copy of your PAN card in your E-mail Id.