PM Kisan Status Check 9th installment is now out. Farmers from all over India can check their Application status online. Complete guide is described here.
On 09th August 2021, Prime Minister Shri Narendra Modi issued the Pradhan Mantri Kisan Samman Nidhi Yojana's 9th installment money. Those who are eligible for the Rs.2000/- financial aid should check their Payment status using the following process.
PM Kisan Samman Nidhi Yojana 2021 Latest Updates
Today (09th August 2021) the Government transferred the Rs.2000/- Cash for the PM Kisan 9th installment.
On Eid al-Fitr day, 14th May 2021 PM Modi settled the 8th installment money.
On 25th December 2020 Government released the 7th installment amount.
Between the farmer's protests, Pradhan Mantri Narendra Modi is going to transfer Rs.18,000 Crore to the bank account of 9 Crore farmers of India.
On the eve of the birth anniversary of our former Prime Minister Shri Atal Bihari Vajpayee, PM will release the money by pressing a button.
He will have the talk with six sate's farmers of the country. During this event, all the MLA's, MP's and BJP office bearers will remain present.
The money will be transferred to the farmer's bank account within 2-3 hours. Hence, Beneficiaries can check their bank account after three hours.
If you don't get money in your bank account, then you should follow this article.
Kisan Samman Nidhi Installment Dates
1st Installment: 01 February 2019
2nd Installment: 02 April 2019
3rd Installment: 01 August 2019
4th Installment: 01 January 2020
5th Installment: 01 April 2020
6th Installment: 01 August 2020
7th Installment: 25 December 2020
8th Installment: 14 May 2021
9th Installment: 09th August 2021
PM Kisan Status Check 9th installment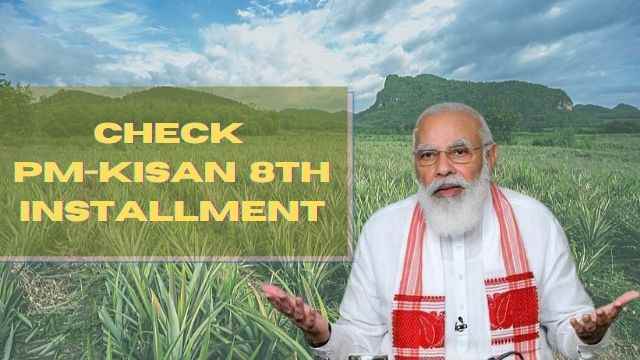 The PM Kisan 9th installment beneficiary status checking process is very simple and easy. You can use your Aadhaar Number or Registered Mobile Number or Bank account Number to check application status.
First of all, visit the Pradhan Mantri Kisan portal.
Now click on the Beneficiary Status Checking link.
After that, it will ask you to enter your Aadhaar Card Number.
After filling in Aadhaar number Click Get Data
Now you can see your PM Kisan Samman Nidhi Beneficiary Status link.
Alternatively, you can select the Account Number or Mobile Number to see the Beneficiary Details.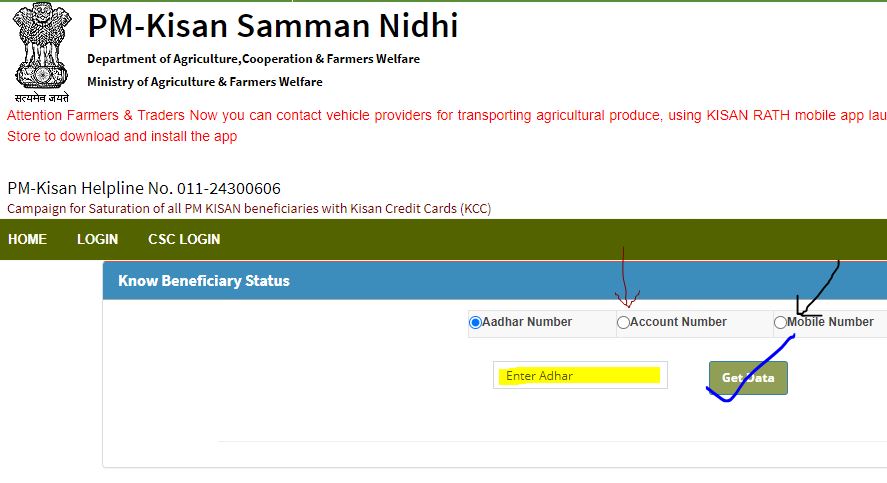 Kishan Samman Nidhi Yojana 2021
India's major economy depends upon farming. Farmers are the backbone of the human world. So, the financial condition of farmers should improve. Therefore, the Government launches various welfare schemes.
The Pradhan Mantri Kisan Samman Nidhi Yojana (किसान सम्मान निधि योजना) is one of the historical schemes launched by the Government of India.
Benefits of PM Kishan Samman Nidhi Scheme 9th Installment
In order to deliver financial help to the farmers of India, the Narendra Modi Government announced the Kishan Samman Nidhi Yojana.
Under this scheme, the government will provide three installments of Rs.2000 to the farmers every four months. That menace, the government will pay a total amount of Rs.3000 in the bank accounts of the farmers in a year.
Also Read: Pradhan Mantri Yojana New List 2020 (कोरोना वायरस समय का लिस्ट देखे)
Overview of Pradhan Mantri Kisan Samman Scheme
| | |
| --- | --- |
| Name of the Scheme | PM Kisan Samman Nidhi Yojana |
| Government | Central Government of India |
| Beneficiary | Farmers of India |
| Who can Apply | Small and Marginal Farmer |
| Installment Amount | Rs.2000 |
| Current Installment | 9th |
| Total Settlement Amount | ₹ 6000/ Year |
| Official Portal | http://pmkisan.gov.in |
Benefits During COVID-19 Crises
As you all know, the dangerous COVID-19 crisis landed in India in March. Hence, the Government declared the Nation Wide lockdown. In view of the need for money from the farmers, the government released the sixth installment of the Kishan Samman Scheme month ago. Which helped farmers to sustain 1 month without worry.
दोस्तों अगर आप ओडिशा से है और Odisha PM किसान योजना के लिस्ट देखना चाहते हो कृपया इधर क्लिक करे
PM Kisan Important Link
PM Kisan Samman Nidhi Yojana Eligibility Criteria
पीएम किसान योजना consists of some eligibility criteria. They are as follows:
The Applicant should be a domicile of India
The farmer must have cultivated land in their name.
The beneficiary should not have any Institutional Land.
Any of the family members should not hold any constitutional post.
Candidate or his family should not be retired or working Central or State Government employees
Must not have paid income tax last year.
All Doctors, Engineers, Lawyers, Chartered Accountants, and Architects registered with Professional bodies are not eligible.
Documents Required to Apply Pm-Kisan Nidhi
Aadhaar Card
All the Land Paper/ Land Pata Copy
Voter ID card (जरुरी नहीं है)
First Page of the Bank Account Passbook showing Account Number
Recent Passport Size Photo
Recent Popular Searches: How to apply for a Driving license in India?- Step by Step Procedure
How to Apply Kisan Samman Nidhi online?
Now any small and Marginal farmer of India can apply online the PM-Kisan Yojana scheme without visiting any Common Service Center (CSC).
There are three stages of Apply Kisan Nidhi online. These are:
Kisan Registration
Online Application Form Fill Up
Application Fee Payment
Hence, Apply Kisan Nidhi online by following the above stages.
Step-1: First of all, visit the Kissan Samman Nidhi Yojana Official Website www.pmkisan.gov.in.
Step-2: Next, Click on the Farmer's Corner and then New Farmer's Registration Direct Link.
Step-3: Then you will be navigated to the PM-Kisan Yojana Registration page.
Step-4: Then, the system will ask your Aadhhar Card number. Just enter your card number.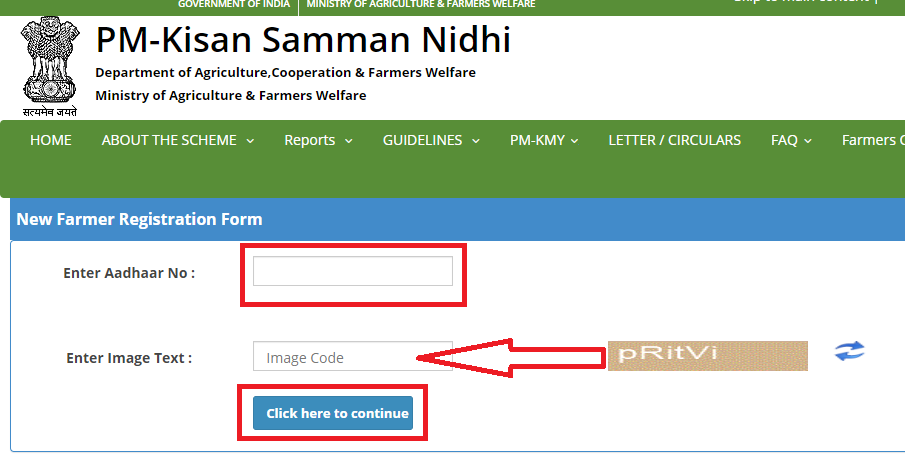 Step-5: Next, a pop-up will display in front of you asking you that "Record not found with given details. Do you want to register on PM-Kisan Portal ?". You have to choose the Yes option.

Step-6: Now fill the online application form and fill all details like Land Record, Full Name, etc. Once your application form fills up will over, click on the Save Button.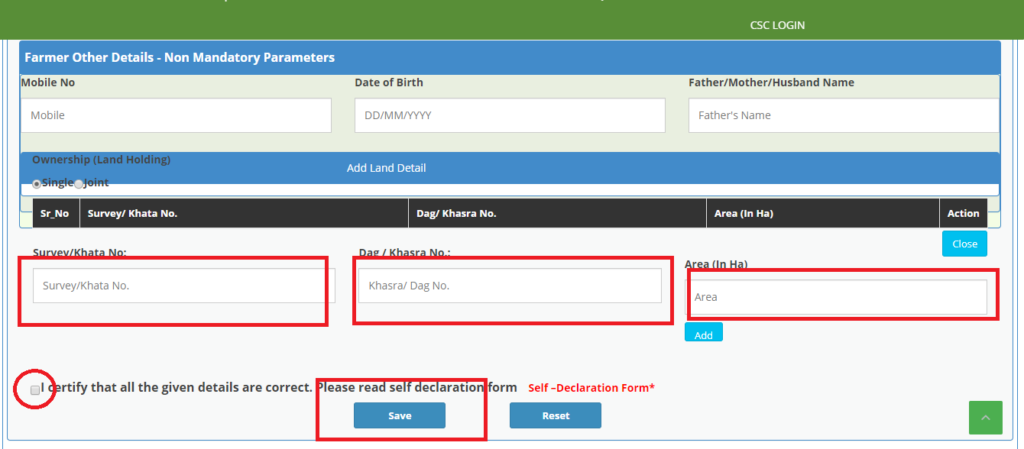 Step-7: After completing the online application, visit your nearest CSC outlet. Ask them to complete your application fee.
Also Read: Labour Card, its Benefits and Apply Online
Edit Aadhaar Failuer Record
The applicant, whose Aadhaar Authentication was failed, can edit their application by using this link. They can check their failure reasons and action needed for their application.
After clicking the above link, enter your Aadhaar number followed by the security captcha. Click on the search button to see the status.
Also Check: Jana Aushadhi Sugam App launched: Medicines home delivered by "Swasth Ke Sipahi"
Download PM Kisan App
Nowadays, farmers are using smartphones for more productive cultivation. They can get the weather report, farming techniques, and much more. Therefore, the Agriculture Department has launched the Pradhan Mantri Kisan App. With the help of this app, the farmers can know their Kisan Nidhi Beneficiary status, Apply PM Kisan scheme, Download the Kisan Credit Card form, etc.
For Pradhan Mantri Kisan KCC loan Form Click Here
PM Kisan Portal: pmkisan.gov.in
The Government of India has launched an official Kisan portal for online Applications, Beneficiary status, Edit form, etc. This website was developed and designed by the National Informatics Center or NIC. You can access the Pradhan Mantri Samman web portal at www.pmkisan.gov.in. Previously, another website www.pmkisan.nic.in was live. But now only gov.in extension is working.
Updates about pm Kishan.nic.ni
After launching the scheme, the Central Government asked all the states to provide the Farmer list. But some state governments are not providing the farmer list. So the Government now accepting the online Application form for the new registration of Small and Marginal farmers.
Kisan Samman Help line
If you have any doubt or have some query about PM Kisan Samman Nidhi, you can either read faq page or file complaint at the PM Kisan Portal.
E-Mail Support: [email protected]
Customer Care Number: 011-24300606, 155261
Feedback/Resolution Page: Click Here
State Wise Complaint Registration E-Mail List: Click Here
FAQ