What is your age? If 17+ years old, then use the steps to apply for a new Voter ID Card online using nvsp, or eci Voter Portal application form 2022. Before going further, let's check whether you are eligible for applying for a voter card or not using the Free Age calculator.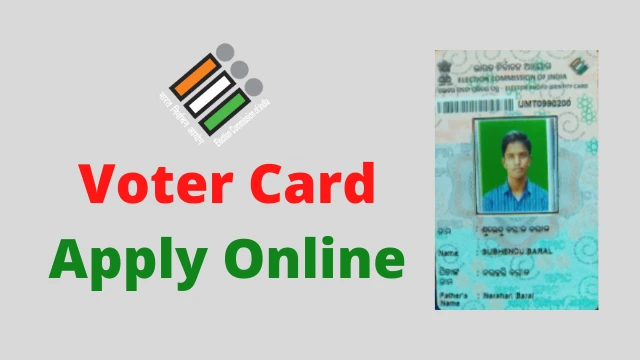 Topics Covered in this Post
What is Voter ID Card in India?
The Voter ID card also known as Elector Photo Identity Card is an identity document issued by the Election Commission of India. This card is mostly used for casting votes in the local and assembly elections.
Now the question is Who can Apply for this card? As per the constitution of India, when a child attends the age of 18, he or she gets the right to cast votes. Hence, the ECI generally issues a physical PVC card to all of them.
What information does the card consist of? Well, The Voter Identity Card in India consists of the Voter's Name, ID Card UAN Number, Father/Mother's name, Sex, Date of Birth or Age, Address, Constituency name, and electoral registration officer Signature. All the information's printed in English and in the regional Language. Below we have provided a sample Voter card photo.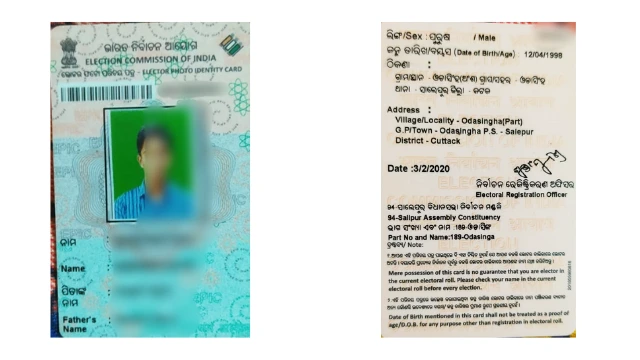 How to Apply for a new Voter ID card in 2022?
There are two methods available for getting enrolled in the Voter Identity card.
Offline
Online
Let's begin with the offline process. Here, you need to carry your physical documents, and photos and fill out the application form using pen and paper at your nearest Tahasil office. They will verify your details and will issue the card after some months. Hence, we don't recommend this method.
The second and the easiest method for applying for a Voter ID card using the online method. There is no paperwork, or physical document needed and no office visit is required. Just need to follow the instructions.
Documents required to Apply Voter Id Card
You need to upload the following documents along with your online application form:
Passport Size Photo (Scan Copy)
Aadhaar Card
Age Declaration Form (Click Here to Download)
Address Proof (Any One Documents from the below)

Indian Passport
Driving License
Bank/Kissan/ Post Office Current Pass Book
Ration Card
Income Tax Assessment Order
Rent Agreement
Water Bill
Telephone Bill
Electric Bill
Gas Connection Bill
Post/Letter/Mail Delivered through the Indian Post Department

Date of Birth Proof (Any One Document)

Mark Sheet of class 10 or 8 or 5
Birth Certificate
Indian Passport
Driving License
PAN Card
Aadhaar Card issued by UIDAI
Steps to follow for new voter id online application
The voter Card online application is available through two web portals:
voterportal.eci.gov.in (Recommended)
www.nvsp.in
Here, we will go through voterportal.eci.gov.in. Because it follows the easiest steps for the online application. So, let's begin:
Account Registration/Login
Step-1: For new voter Card Registration, you need to visit the official Voter portal site by Clicking Here.
Step-2: If you are new to this website then click on the Create an Account option. A new account registration form will pop up on your screen. Else, you can use your credential for login.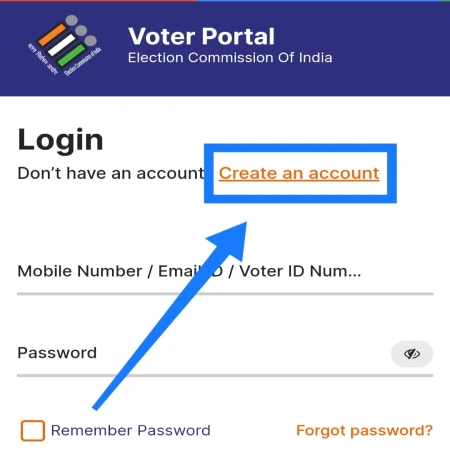 Step-3: You can create your account using either an E-mail or mobile number. If you already have an account, then try to log in with your details.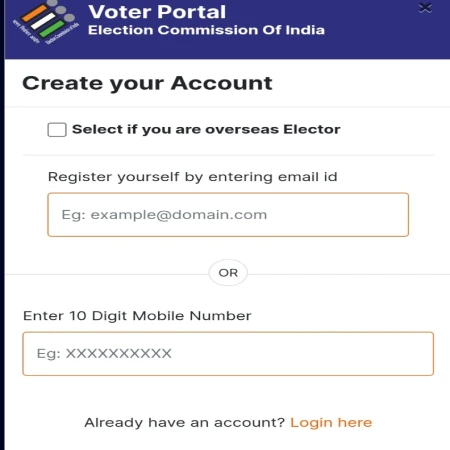 Fill out the Voter ID Application Form
Step-1: Once you do the login, you will be at the voter portal's dashboard page. Firstly, click on the New Voter Registration link.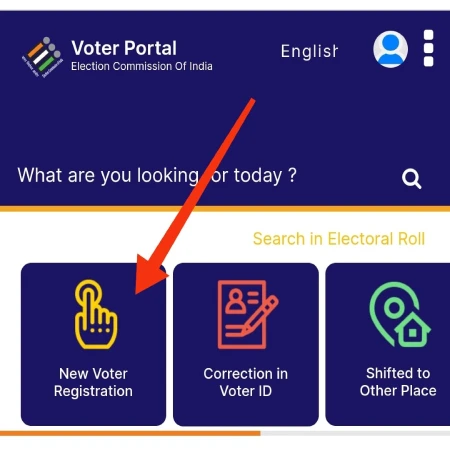 Step-2: Now start filling in details like First name, Last Name, State/UT, and Gender, and click Submit button. On the next screen, you will meet the Voter Assistance.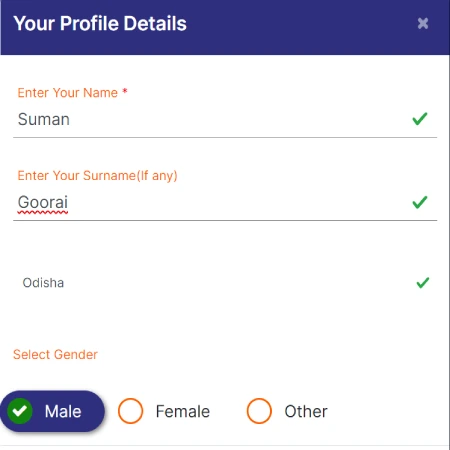 Step-3: Next, choose the option "I am applying for the first time" and click the submit button. Then choose I am an Indian citizen.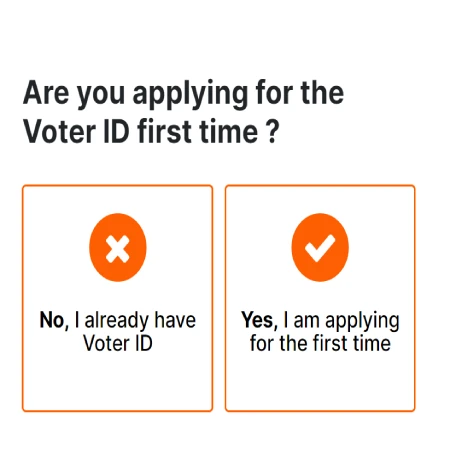 Step-4: In the next step provide your Birth details such as Place of Birth, State of Birth, District, and Complete date of birth details. Also, choose and upload a relevant supporting document and age declaration form in the specified field.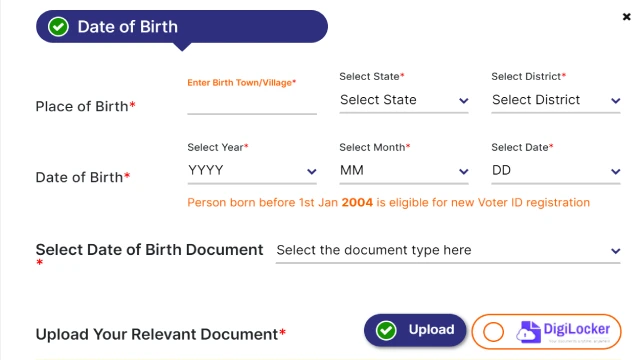 Step-4: Next, you need to upload your photo in the specified box and click on the Save and Continue button. Remember, the photo that you will upload in this section will appear on your Voter ID card and your photo size should be 3.5cm x 4.5cm.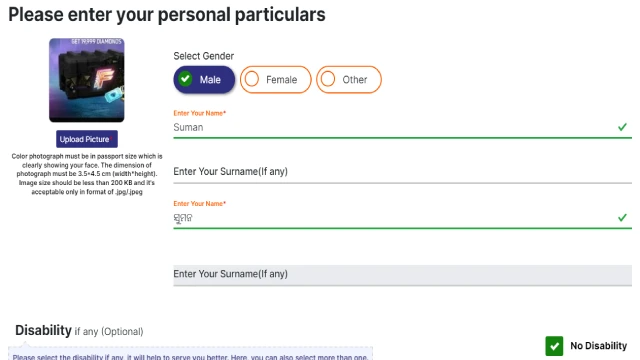 Step-5: Now, it will ask you to fill in your gender, name (both in English and regional language), and disability details. Then click Save and Continue button.
Step-6: Then enter your father/Mother/Husband's name in their appropriate place. Also, choose the relation with them.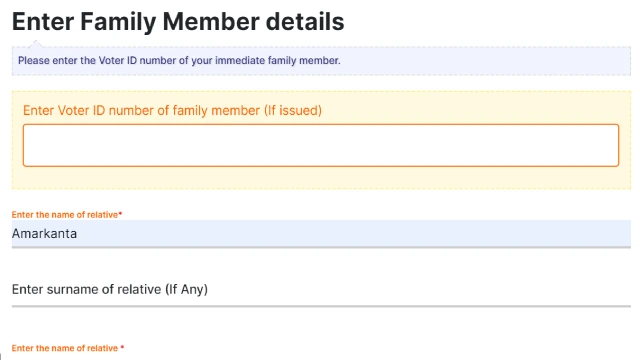 Step-7: Next, provide your complete address along with the constituency details. Also, upload the Address proof in the specified box.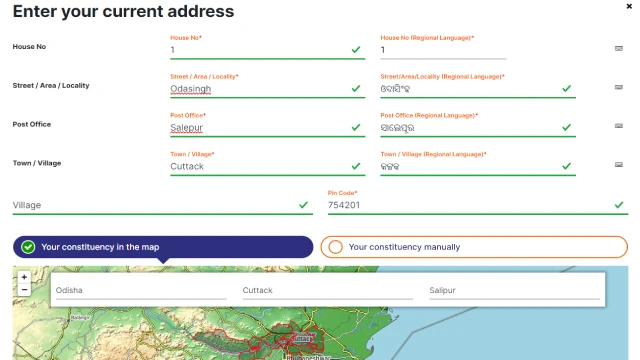 Step-8: Finally, fill out the Declaration form and Submit the form-06 after verifying all the details. The system will generate a reference ID for your future Tracking.
How to track new Voter Card Application Status?
Once you apply for the new Voter ID card online, you will get a Reference ID. You have to use this reference ID for your application tracking. Follow the below-stated steps:
To track your Voter ID Application status, you need to open the Voter Portal and log in using your existing User ID and Password.
Now click on the Three Dot icon from the User Option Dropdown. There you will find the 'Track Status' link.
Next, Paste your Application reference number and click the Track Status Link.
On the next screen, you will see the status of your Voter ID Card Application status.
New Voter ID Apply using www.nvsp.in portal
The first thing you should know is that nvsp.in the portal is another official. Here, you can search for Voter Card, Download E-Voter Card, make changes to your voter card, and also new Voter Identity card registration. Follow up the below-described steps:
Step-1: First of all, you visit the National Voter Service portal using. www.nvsp.in and click on "Login/Register" and then "Create an Account".
Step-2: Now enter your mobile number and click on the Send OTP button and verify your mobile number, also remember to choose the I don't have EPIC number option.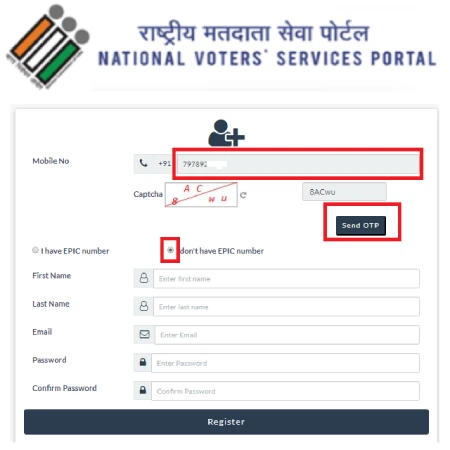 Step-3: Once you verify your Phone Number, fill in your First name, Last name followed by your E-mail ID and set a strong password. Then Click the Register Button.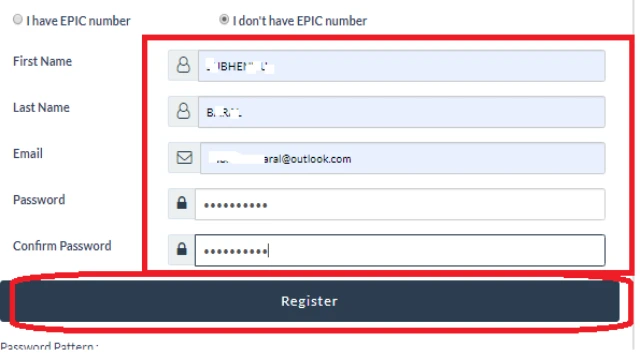 Step-4: Next, you will navigate to Login Page and use your Mobile Number and Password to log in.
Step-5: After that, you have to select Fresh Inclusion/Enrollment from the ECI Dashboard page and select "I reside in India" and your resident state and click on the Next Button.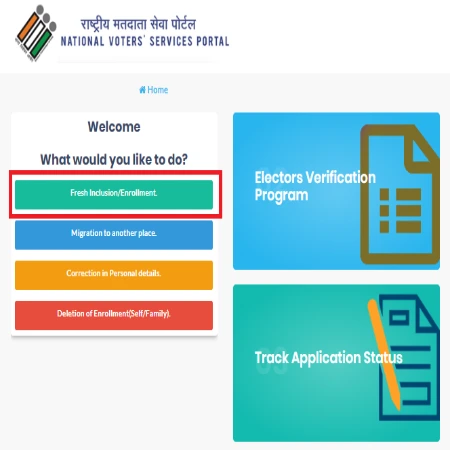 Step-6: On the next page, a form will appear and you have to fill in your correct address details in that form and select your address proof Documents from the drop-down, and upload the Document in the Appropriate Place.
Step-7: Enter your correct Date of Birth followed by the Place of Birth and the State of Birth and upload the age-proof document from your system.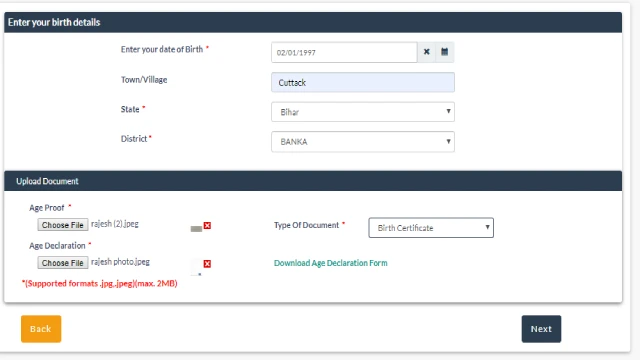 Step-8: Next, you have to select your Parliament Assembly and click on Next and then enter your personal details like Full Name, Gender, Parent's Name. Also, upload your recent Passport Size Photo.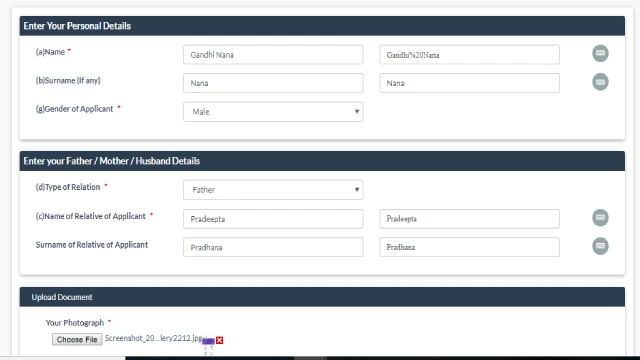 Step-9: Enter the Place on the Declaration page, and click on Next to Preview your application.
Step-10: Finally, preview your application and click on the Submit Button.
Benefits of Voter ID Card
It shows that you are a citizen of India.
Also indicates that you have attended the age of 18.
The Voter Card gives you the right to Cast the vote in your local, Constitutional elections.
Used as Address Proof, Date of Birth Proof, and Identification proof.
helpful for opening a bank Account.
Buying property and Related works
FAQ
What is the difference between NVSP and Voter registration portal?
Well, both NVSP and the Voter Registration portals can be used for new Voter ID registration. However, the nvsp is the official portal for downloading EPIC cards and performing many other tasks.
How to download my digital EPIC card online?
The new digital EPIC card is available through nvsp.in the portal and click the EPIC download button. The System will redirect to the login page. Now there will be an option for downloading e-voter cards.
My Status is showing BLO appointed. Who is that BLO?
After applying the Application form, you will find a status that ECI has appointed a BLO for verification. BLO may be the local Aasha workers, Sarapanch, RI etc. They will come to your home for document verification.
What is the cost of applying for a new Voter card?
The new EPIC card application fee is absolutely Free of cost.