If you are looking for the latest updated Jio Phone Recharge Plans for July 2022, well, you have reached the perfect place. This quick guide can help you to find the newly updated Jio Phone Prepaid Data and Voice call plans for your handset.
The Jio Phone is the only solution for Reliance to cover all the featured phone users. Hence, they are offering affordable plans along with several benefits. If any family member loves using a keypad handset, then the Jio Phone option is best for them.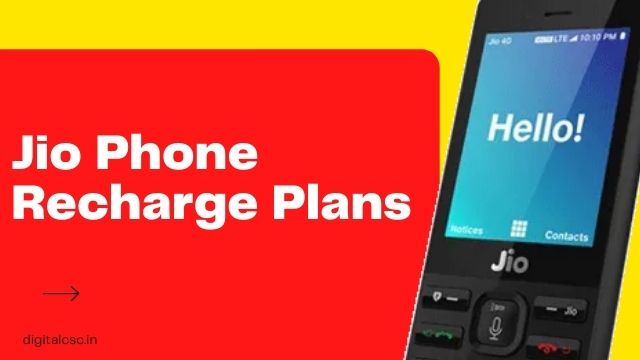 Recently Jio has updated its plans and pricing for Jio Phone users. So, if you have a Jio Phone handset, you must keep the new pricing and benefits in your mind.
You may be interested in
Topics Covered in this Post
Jio Phone Recharge Plans September 2021
The Jio has introduced seven new 4G plans for Jio Phone users. If you have inserted your Jio SIM in the device, then you have to make recharges with the following plans. There is no need to Recharge with Rs.99/- Prime membership plan.
| Plans | Data | Validity | Other Benefits |
| --- | --- | --- | --- |
| Rs.39 | 100MB/Day | 14 Days | JioTV, Jio Cinema, Jio News, Jio Cloud |
| Rs.69 | 500MB/Day | 14 Days | Jio App All Subscription (No Jio Savana) |
| Rs.75 | 100MB/Day +200MB Add on Data | 28 Days | All Apps are included |
| Rs.125 | 500MB/Day | 28 Days | App Subscription Free |
| Rs.155 | 1GB/Day | 28 Days | Free Jio App |
| Rs.185 | 2GB/Day | 28 Days | Free Access to Jio Apps |
| Rs.749 | 2Gb/ Day for 28 Days | 365 Days | JioTV, Jio Cinema, Jio News, Jio Cloud Free |
All the above JIO Phone Recharge Plans are valid only for Jio Phone users. If you recharge any Data plan, then you will get Unlimited Voice calls to any network across India. Let's analyze all the plans in detail.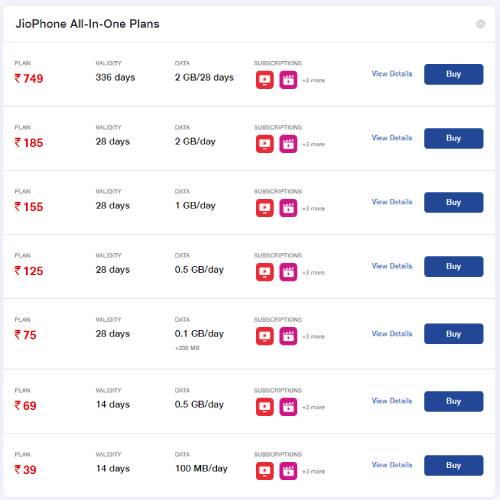 Also Read: Vidmate Online JIO Phone App 2022 Download Free
Jio Mobile Rs.39/- Plan
Jio Rs.39 prepaid recharge plan is valid for Jio Phone users only. Recently, the operator has introduced this plan. When you make a recharge, you will get 100MB per day (Total 7GB) 4G high-speed data balance along with unlimited voice calls to any network. The validity of this plan is 14 days. No SMS balance is available under this scheme.
Jio Rs.69/- Prepaid Plan
This is also a 14 Days validity plan. When you recharge with Rs.69/- top-up, you will get a flat 500MB per day internet balance and unlimited voice calls. You will not get any SMS balance in this plan. However, you can avail free Jio Apps & other subscriptions.
Rs.75 Jio Phone Recharge Plan
The Rs.75/- prepaid Jio recharge plan is widely used and the most popular. Most Jio Phone users like to recharge their phones using this plan. Because this plan offers 100MB daily 4g high-speed data and 50 days free SMS for 28 days, also, you can get unlimited access to Jio Tv and other Jio App access.
Apart from this, Jio gives an additional 200MB of Free extra add-on data for 28 Days.
You May Like Hotstar Premium Account Free 2021
Jio Rs.125 Plan
The Rs.125/- plan is the second most popular plan. The user gets 500MB 4G data per day and 300 SMS for 28 Days in this scheme. Unlimited voice calls along with the Jio App subscription are included in this pack.
Rs.155/- Prepaid Plan
In Rs.155 top-up voucher, the user gets 1GB per day data and 100 SMS/day to Indian numbers. You can make uninterrupted voice calls to any network. There will be no IUC charges.
Higher Value data Plan Rs.185
If you consume more data daily, then you should opt for Rs.185 Jio Phone plan. Using this plan, you can get 2GB of data per day and 100SMS per day. The validity of this plan is 28 days.
One Year Rs.749 Plan
If you are looking for a long-term JIO Phone Recharge Plans, then go for Rs.749 Plan. In this scheme, you will get 2GB of data per day for 28 days and unlimited voice calls to any network with a validity of 336 days. After 28 Days, you will get an additional 24GB Data balance. Also, you can get Jio Tv, Jio Cinema, and other apps for Free.
Jio Phone Data Booster Recharge Plans
When your FUP daily data limit gets over, you can make additional Data Booster recharge to continue enjoying data services. Follow the below table to know the benefits of Data Add plans.
| Plans | Data Balance | Validity |
| --- | --- | --- |
| Rs.22 | 2GB | 28 Days |
| Rs.52 | 6GB | 28 Days |
| Rs.72 | 500MB/day | 28 Days |
| Rs.102 | 1GB/Day | 28 Days |
| Rs.152 | 2GB/Day | 28 Days |
Frequently Asked Questions
How to make Jio Phone Recharge?
If your Jio Phone Plan validity is ended, you can make your Jio Phone Recharge through My Jio App, PhonePe, Paytm, Google Pay, Mobikwik, Freecharge, or Amazon pay app. Else, you can visit the
nearest retailer
to complete your Recharge.
Can I use the Jio Phone recharged plan on a smartphone?
No, all the Jio Phone plans work on Jio Phone Devices. If you insert the SIM card into a Smartphone, you have to make recharge with a separate Smartphone plan.
Can I make an advance recharge for another month?
Yes, you can make an advance recharge before the end of the validity of the current month.
How to make one month of Free Jio Phone Recharge?
You can make one-month Jio Phone recharge using different earn money offers. Currently,
Freecharge is offering
up to Rs.1000/- scratch card offer for any Prepaid recharges.
Jio Phone Customer Care
If you need any help regarding Jio Phone, you can reach out using the following contact number.