Odisha State Scholarship Portal new student Registration for both Prerana and Medhabruti Scholarship is now available. Register your name and apply for all Odisha Government Scholarships online through scholarship.odisha.gov.in.
ST & SC and MBC Welfare Department of Odisha has launched a post-matric scholarship for OBC, SEBC, EBC, SC, and ST students. Those students continuing their post-matric studies should apply online for the Odisha State scholarship 2020-2021. Here in this post, you can get a to z information about all the latest Odisha Scholarships offered by the State Government.
Topics Covered in this Post
Odisha State Scholarship Portal 2022-2023 scholarship.odisha.gov.in
Everyone likes scholarships. Students get excited when they get a scholarship. Whatever the prize may be, it creates motivation and fills lots of energy. Recently, the Chief Minister of the state, Odisha Shri. Naveen Patnaik launched the state-owned State scholarship portal. The main intention of the yojana is to provide financial aid for the Economically weaker students.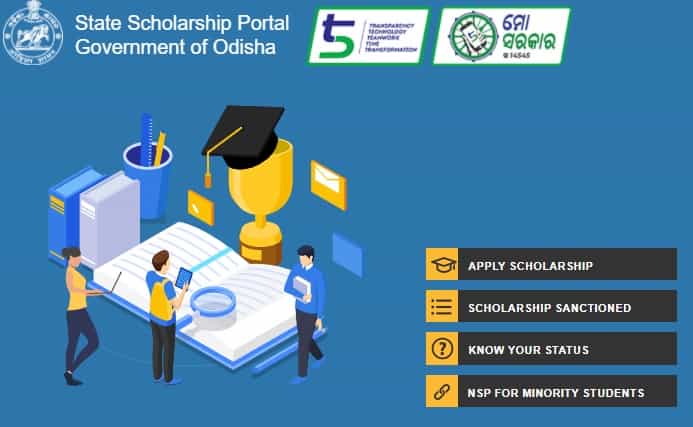 On 27th October 2020, the CM virtually inaugurated the State Odisha Scholarship portal. You can access this portal by using scholarship.odisha.gov.in. Here on this portal, the Government brought together 21 distinct major scholarships under one platform. Now students can check their eligibility by entering their details. Also, they can apply for the scholarship by using one user ID and password.
Short Overview
| | |
| --- | --- |
| Name of the Scheme | State Scholarship Scheme |
| Launched by | State Government of Odisha |
| Type of Scholarship | Post-Metric |
| Academic Year | 2022-2023 |
| Beneficiaries | SC/ST/OBC/SEBC/EBC Caste Students |
| Ongoing Scholarship | Kalia Scholarship |
| Official Portal | scholarship.odisha.gov.in |
Benefits of Odisha State Integrated Scholarship Portal
The integrated Scholarship portal for Odisha's state will offer lots of benefits to the students of Odisha. The portal is well designed, and more than 21 scholarships are integrated. Now students do not need to visit the individual scholarship portal to submit their application. They have to register themselves in the single doorway and apply all the whole list of available scholarships.
All the scholarship offers minimal financial support to the students. Using this amount, students can pay their college dues, purchase essential books, pay the hostel fees, and clear the Tuition dues. This scholarship amount will motivate them to score good marks in the examination.
Read More: TPCODL Odisha New Electricity Connection Application Form 2020
Departments Available in the State Scholarship Portal
Currently, the official portal consists of six state Government department scholarships. In the latter days, you can avail yourself all of most of the Ministries' scholarships.
Agriculture and FE Department
Higher Education Department.
Labour and ESI department
School and Mass Education Departments
Skill Developments and Technical Education Departments
ST and SC & MBC Department
Available Scholarship Schemes
Now the below-stated scholarship programs are available under ST and SC Welfare Department. Soon, other department scholarships will be available in the portal for the students.
Gopabandhu Bruti
Senior Merit and Technical and Professional and PG merit e-Medhabruti
Fakirmohana Vasa Bruti
Children of Building
Junior Merit
Primary Merit (Class – 3 to 4)
Primary Poverty cum Merit Poverty (Class 3 to 4)
Upper Primary (Class 5 to 6)
NRTS Scholarship (9 to 10)
Upper Primary Poverty cum Merit Scholarship (Class 5 to 6)
Pathani Samanta Mathematics – 1 (Class – 6 to 8)
Pathani Samanta Mathematics – 2 (Class – 9 to 10)
Pathani Samanta Mathematics – 3 (Class – 11 to 12)
Merit-cum-Poverty Stipend
Sudakshya for Girls Child
BOC Scholarship
Merit Scholarship
Post Matric Scholarship
Banishree – A Scheme of Scholarship for Students with Disability
Pre-Matric
Prerana Scholarship Scheme 2022-23
The Prerana Scholarship scheme 2020-21 has been merged with the State Scholarship portal. Now all the fresh and renewal Prerana students have to shift from the old to the new portal. As per the latest notification, from the academic year 2020-21, post-metric scholarships for all the eligible students studying inside or outside Odisha will be invited to the Odisha State Scholarship portal instead of the Prerana portal.
Hence, all the eligible students need to register themselves as fresh candidates. Even if you hold a Prerana ID, you have to create a new ID. After registration, you can get a new Scholarship Portal ID.
Must Read: Odisha Dhana Mandi Farmer List- Check food Odisha Token list 2020
List of Required Documents
Before applying for any scholarship, please keep the following documents ready with you.
Aadhaar Card
Passport Size Photo
Bank Passbook Front Page
Caste Certificate
Resident Certificate
Income Certificate
Matriculation Certificate
Last Passed Marks or Certificate
Special Category Certificate (If any)
Valid E-mail Id
Mobile Number
How to Register in Odisha State Scholarship Portal?
The SC and ST scholarship portal helps you to fill online applications for the economically weaker section students. You can register yourself by using the following steps:

Step-1: First of all, navigate to the Odisha State Official Scholarship Portal by using the following link i.e.: https://scholarship.odisha.gov.in/website/home
Step-2: Now, you will reach the Home Page of the site. Click on the "Registration" button from the Top Menu of the Site.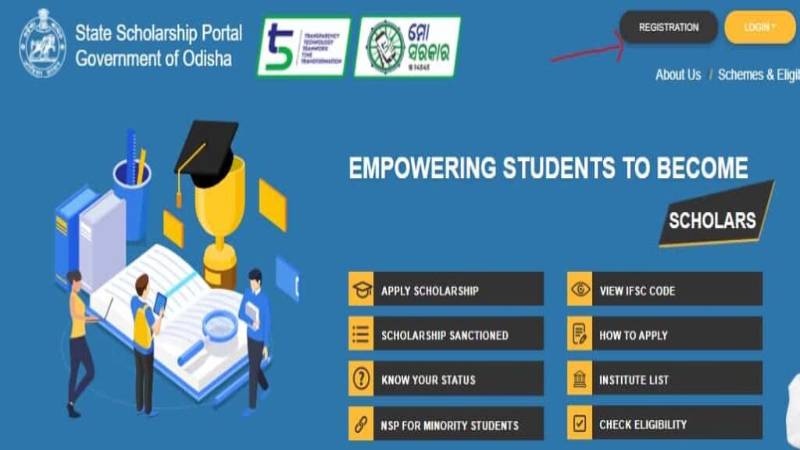 Step-3: After that, the system will ask you to read and agree to the above statements. You can click the check box and press the "I Agree".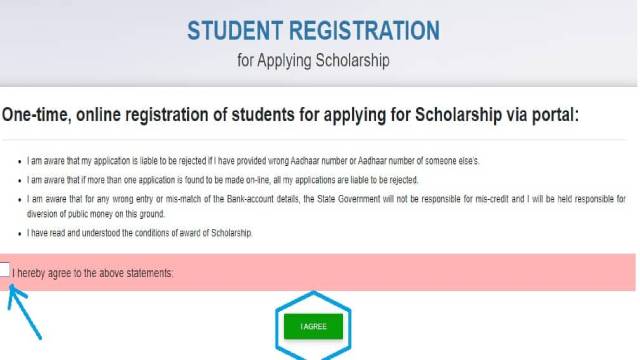 Step-4: Now, on your screen, you will see the beginning of the application form. Here you enter your Aadhaar Card Number and then click the Verify Button.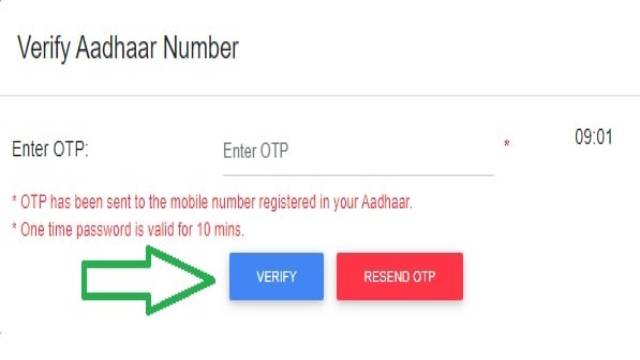 Step-5: Aadhaar will send you an OTP. Enter the OTP and again click the Verify Button. The Odisha State Scholarship will fetch your First Name, Last name, Date of Birth, Gender, and Alternative Phone Number from your Aadhaar Card number.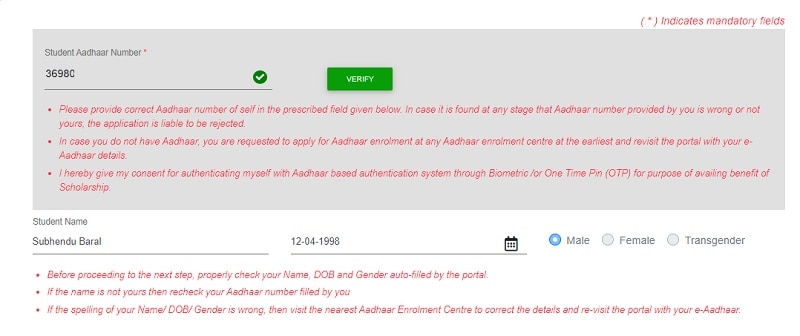 Step-6: Next, enter your mobile number, Email Id, and choose a strong password. Click the "register" button.
Step-7: Here, your registration process is completed. You will get a confirmation message in your registered mobile number and Login details through Email.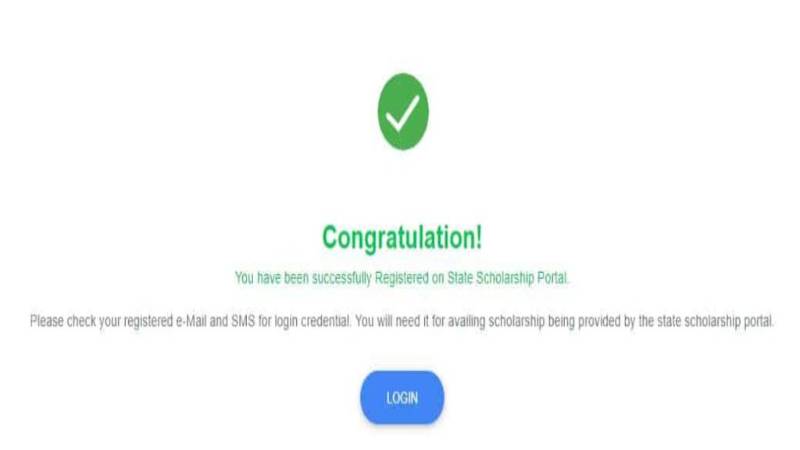 How to apply for a Scholarship through the state Odisha Scholarship Portal?
After completing registration, you have to visit the Official Portal again.

Now click on the Login >Candidate's Login button.

After that, use your Aadhaar Card and Password for the Portal Sign In.

Once you login into your account, you can see this type of Dashboard.

Here you can see all the lists of Applied Scholarship, Applied Scholarship, and Approved Scholarship lists.

To Apply for a new scholarship, you just click on the 

"Schemes & Eligibility" link

Now you can see the list of Eligible scholarships. 

Choose the Scholarship name and click on the 

"Apply Now" 

button

.

Now a pre-filled application form will appear on your screen. Just Verify all details If anything is not filled fill them.

Next, Fill in all your Academic carrier performance details.

After that, fill in bank account details correctly.

Finally, upload your photo and documents and press the submit button.
Also Check: Food Odisha Ration Card List 2020
FAQ
Get More about Biju Krushak Kalyan Yojana (BKKY) Get Up to Rs.7 Lakh Health Insurance
How to give Feedback about Scholarship?
You can give feedback about state scholarships using the direct feedback form. Just visit the Feedback Direct Link. Use the feedback form and press the submit button to register your complaint.
Help and Support
You can get in touch with state Portal by using the following contact number:
See the latest: Balaram Yojana 2022 [Odisha] Apply Online for Free Loan