Pradhanmantri Gramin Ujala Yojana 2021(PMGUY): Get LED bulbs Free
Pradhanmantri Gramin Ujala Yojana 2021: Application form (प्रधानमंत्री ग्रामीण उजाला योजना एलईडी बल्ब फ्री पंजीकरण अभी करे), (PMGUY) eligibility criteria, Rural Ujala Scheme application status, led bulb yojna online Registration, Apply online now.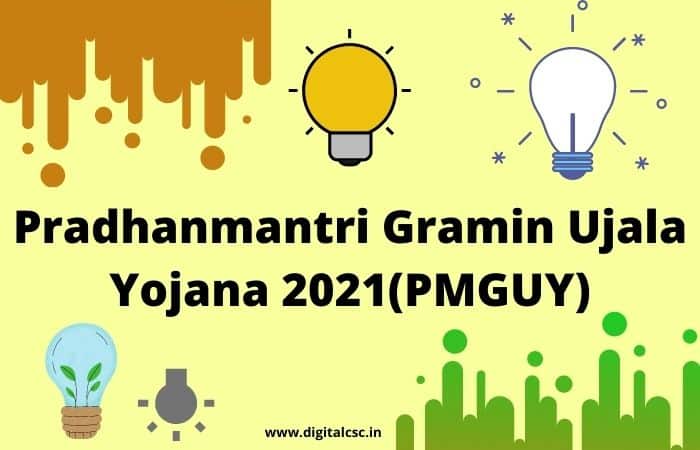 After 100% electrification, now it's the time for 100% LED bulb roll out. Hence the Government is taking various welfare schemes for the people of India. This week the Government of India is going to launch a new LED Bulb Distribution scheme name "Pradhanmantri Grameen Ujala Yojana." Here in this post, you will get to know complete details about the PMGUY scheme.
PMGUY (Pradhanmantri Gramin Ujala Yojana) 2021 Latest News Updates
Under the rural Ujala Scheme, the Government will distribute around 60 Crores of LED bulbs to 15 Crores families. This will provide a huge decrease in their monthly electric bill.
The Government will roll out this scheme in a phased manner, starting from the year 2021.
Each and every family can avail themselves of a maximum of 3-4 LED bulbs.
The cost of each LED Bulbs will be Rs.10/-
PMGUY Scheme 2021 Apply Online
Government-owned Energy Efficiency Services Ltd. (EESL) is going to launch the PMGUY scheme. The PMGUY yojana is also known as Pradhanmantri Gramin Ujala Yojana. In the first phase, the scheme will be rolled out in 5 cities of India. Gradually, the authority will add new cities to the scheme.
Also check:
Benefits of Pradhanmantri Gramin Ujala Yojana 2021
Under the PMGUY scheme, about 60 crores of LED bulbs will be distributed among the poor and poverty line families. Nearly 20 crores of rural households will get the benefits of this scheme.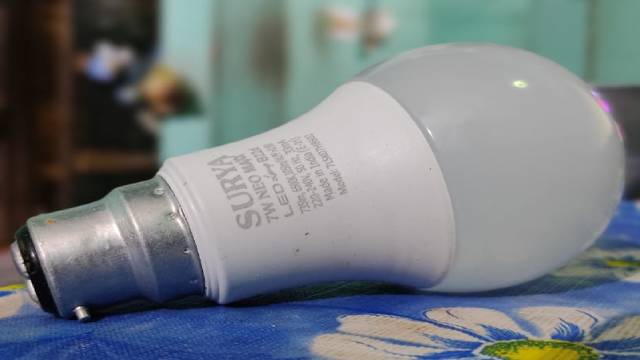 Every BPL and Ration card holder family will get 3 to 4 numbers of 9W LED bulbs. For each LED bulb, applicants have to pay Rs.10/- per bulb.
As per the Government report, almost 100% of families have now connected electricity. But maximum peoples are now still using old type Incandescent 100 Watt Gls Light Bulbs. These bulbs are consuming a high amount of electricity.
People are not purchasing LED bulbs because the cost of a single bulb is around Rs.80/- to Rs.150/-. But under Pradhanmantri Gramin Ujala Yojana, the Government will sell LED bulbs at just Rs.10/-. This will help poor people to test and utilize LED bulbs instead of 100W bulbs.
Overview of of Pradhanmantri Rural Ujala Yojana
| | |
| --- | --- |
| Yojana Name | Pradhanmantri Gramin Ujala Yojana |
| Also Known as | PMGUY |
| Launch Year | 2021 |
| Launched by | Energy Efficiency Services Limited (EESL) |
| Objective | Distribution of LED bulbs |
| Government | Union Government of India |
| Initial launch Cities | 5 Cities of India |
| Official Website | www.ujala.gov.in |
National Ujala Dashboard January 2021
| | |
| --- | --- |
| Total LED Bulbs Distributed | 36,77,82,225 |
| Energy Saved Per Year | 47,763mn kWh |
| CO2 Reduction per year | 3,86,87,847 T |
| Peak Demand Avoided | 9,562 MW |
| Saving per Year | Rs. 19,105 Cr/- |
| Total LED bulbs sold | 163.42 Crore |
Eligibility Criteria to receive LED bulbs
The Applicant must be a resident of India.
The Applicant must have an electric connection.
This scheme is available for low-income families of the country.
Applicant should have to produce the Aadhaar Card Photocopy.
Families should not have claimed any LED bulbs.
The Applicant must belong to a rural area under the PM Gramin UJALA Yojana.
Must see: Vidhwa Pension Yojana 2020 (Widow Pension): Apply Online State Wise
Documents Required
Here are the list of all required documents to apply online
Electricity Bill Photocopy
Aadhaar card
Domicile proof (Voter ID)
Mobile Number
Passport size Photo
Application Form
How to Apply Pradhanmantri Gramin Ujala Yojana online?
Step-1: Firstly, visit the Official Website of National Ujala i.e. www.ujala.gov.in.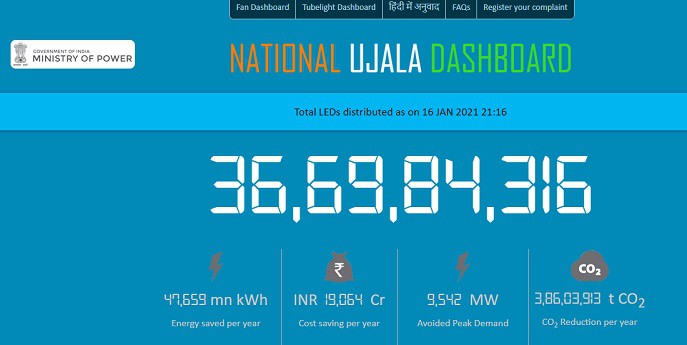 Step-2: Now, click on the New Registration button from the main menu.
Step-3: A new page will open on your computer screen. Now start filling the application form.
Step-4: Fill in all details like Name, Gender, no of family members, address of communication, etc.
Step-5: Once you fill in all your details enter your electricity consumer number in the specified field.
Step-6: Finally, click on the Submit button. Note down the reference number.
LED Bulb Collection Process and Payment
All the applicants have to collect their LED bulbs from the special bulb counters. These counters will be opened at below specified places:
Bharat Petroleum
Hindustan petroleum
Indian Oil Centers
Post Offices
Department of building
Local Electric offices
As per the government rule, these LED bulbs will not be available at retail stores. Only, these specified counters are allowed to sell LED bulbs.
PMGUY Other Information
Under PMGUY Yojana, the Government is distributing free Tube Lights and fans. Till now, more than 72,08,097 tube lights and 23,40,530 fans have been distributed. Due to which the peak electricity demand of 59 MW has been reduced.
Apart from this, EESL company is offering five years of Guarantee on LED bulbs. If the bulb faces any technical glitch, the company will replace the bulb with a new one.
Some Questions Regarding Ujala Yojana
What is cost of LED bulbs?
Under the new Ujala scheme 2021, you have to pay just Rs.10/- per bulb.
Can I purchase the LED bulbs from local markets?
No, you can only purchase the bulbs from the government authorized stores.
Can I return the bulbs after purchase?
No, there is no return policy available under Ujala scheme. You can only replace the bulb in case of not working condition.
How to register any complaint against Ujala?
The beneficiaries can file a complaint regarding their issues by using the following steps:
First of all, visit the official Ujala portal.
Now from the home page, click on the "Register your complaint" link.
After that, you will be redirected to the http://support.eeslindia.org/ portal.
Here, first, select your scheme name as Ujala Scheme.
Subsequently, select district and block name from the drop-down.
Next, enter your mobile number and write down your complaint.
Finally, put your communication address and click the save button.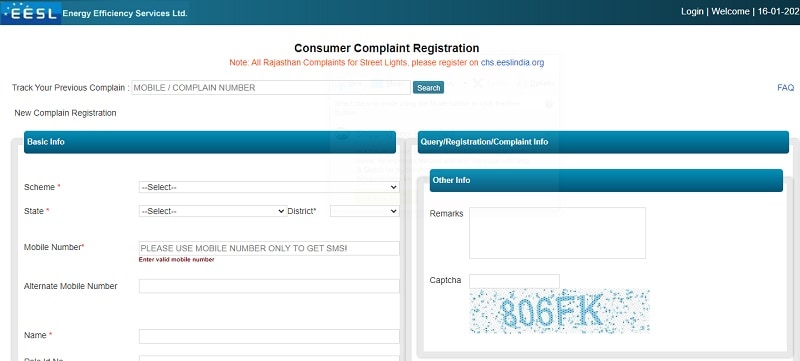 You may read: Nikshay Aushadhi Poshan Yojana for National TB Elimination Program 
Culmination
The Pradhan Mantri Gamina Ujjala Yojana is a game changing scheme for the 100% electrification and energy saving initiative. If you have any doubt or need any clarification put your comment in the below box.