Looking for the upcoming India Vs South Africa 2nd T20 Cricket Match Barabati Stadium Cuttack Ticket? Know the complete steps to get the Stadium ticket online and Offline.
As you know earlier the scheduled match between India vs West Indies was canceled due to 3rd wave of COVID-19. As per the new schedule of BCCI, the 2nd T20 match between India and South Africa will be conducted at Barabati Stadium, Cuttack on 12th June 2022.
If you are very much interested in seeing the live match inside the stadium, then you should grab a stadium entry ticket. Let's start the complete process.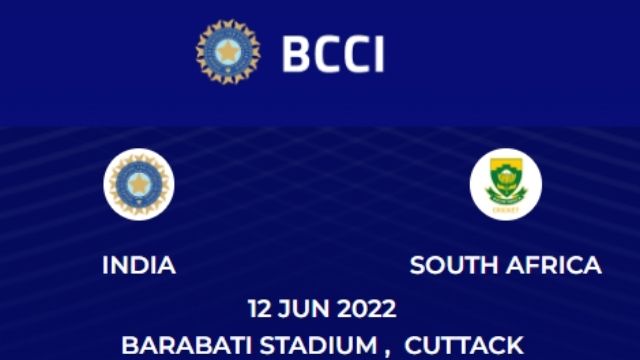 Topics Covered in this Post
India VS South Africa Full Schedule
BCCI has announced the full schedule for upcoming India vs South Africa Paytm T20 trophy. The first match of the schedule will be played in Delhi and the 2nd T20 match will be played at Barabati Stadium Cuttack on 12th June 2022. After that, the remaining three matches will be hosted at Vishakhapatnam, Rajkot, and Bangalore cricket stadiums.
Since the BCCI has allowed using full-strength crowd utilization for all T20 matches. The Odisha Cricket Association (OCA) is planning to host the game with 100% crowd capacity.
About Barabati Cricket Stadium
| | |
| --- | --- |
| Name | Barabati Cricket Stadium |
| Location | Cuttack, Odisha |
| Owned By | Odisha Cricket Association |
| Home Ground | Odisha Cricket Team |
| Established On | 1958 |
| Capacity | 48000 |
| Per Person | 2 Ticket |
How to book Online ticket for the India Vs South Africa T-20 match at Barabati
The 2nd Match between Ind Vs SA will be held on 12th June 2022. For which, the online tickets are now available for booking. You can use the Paytm Insider app, Paytm Mobile App, or Paytm Insider Web portal for instant ticket booking.
Ticket Booking Schedule
| | |
| --- | --- |
| Match Date | 12-June-2022 |
| Online Ticket Booking Start | 01-June-2022(11.00 AM) |
| Offline Counter Ticket | 09-June-2022 |
| Total Ticket for Online | 5000 |
Steps to Book Online Ticket using Insider App
The cricket event match is available for booking on Paytm Insider App. You can follow the steps below:
Step-1: First of all, visit the Paytm Insider Web Portal by Clicking Here.
Step-2: Now you will find out about many upcoming events inside the country. You should click on the location icon from the top right corner and choose Cuttack as your city from there.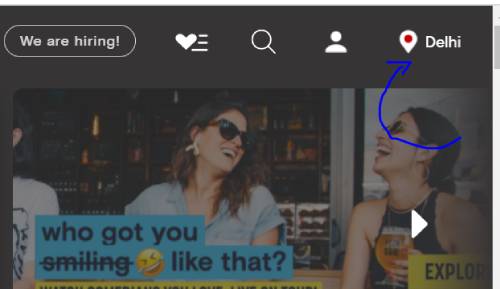 Step-3: Now the upcoming Cricket Match event will appear on your screen.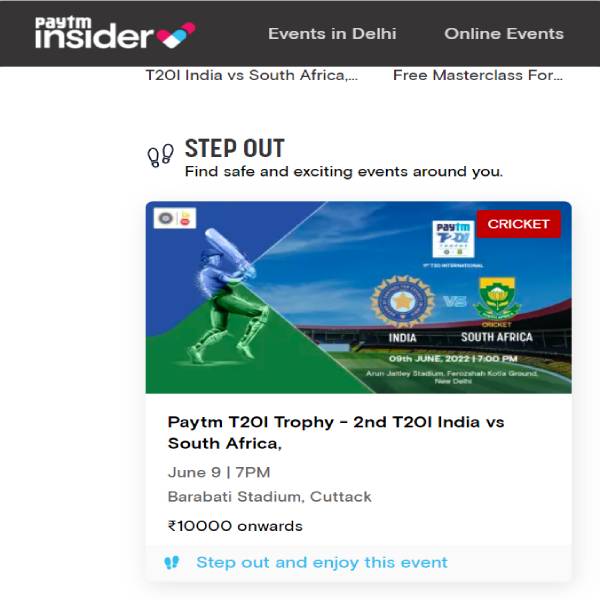 Step-4: Now you will find the event on your screen. Click on the Buy Now Button from there.
Step-5: Now select your preferred seat from the stadium chart.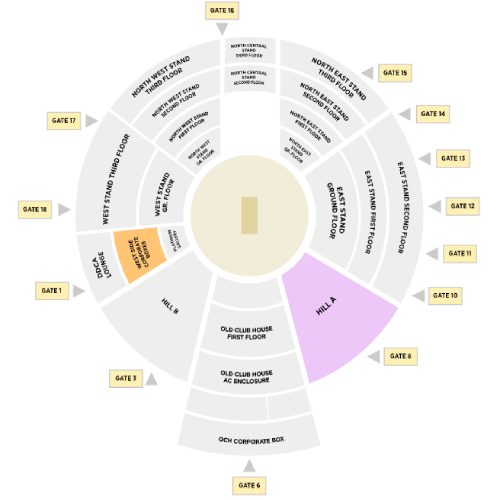 Step-5: Now fill in all your details like Name, Address, Mobile Number, etc, and click on the Continue Button.
Step-6: Next, you will reach the final payment page. Use Paytm Wallet, UPI, Debit Card/Credit Card, or Net Banking for the final payment.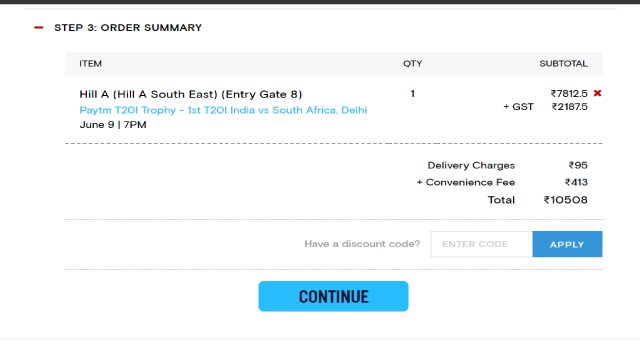 Step-7: Once you pay the entire amount, your ticket will be generated and your seat will be booked for the match day.
Also Find out Related Topic:
Pricing of India Vs South Africa Barabati
| Seat | Price |
| --- | --- |
| Gallary-1 | ₹700+18%GST |
| Gallary-2 | ₹900+ 18% GST |
| Gallary-3 | ₹700+18%GST |
| Gallary-4 | ₹700+18%GST |
| Gallary-5 | ₹900+ 18% GST |
| Special Enclosure | ₹6000+18% GST |
| AC Box | ₹8000+18%GST |
| Pavilion | ₹9000+18% GST |
| Corporate Box | ₹10000+ 18% GST |