Are you looking for the new Delhi Ration Card list 2022? Download the e-ration card online from www.nfs.delhigovt.nic.in and check your current National Food Security Act Card status.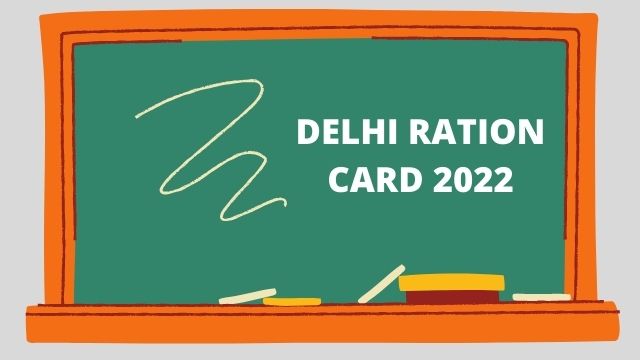 This post will be helpful for you to know your NFSA application Status, Download the new e-ration card, check the newly updated Ration card list, and the latest Delhi food supply department updates
Topics Covered in this Post
Delhi Ration Card List 2022
Under Pradhan Mantri Garib Kalyan Yojana, Union Government is now offering Free Rations to all NFSA beneficiaries. If you are one of them and staying in Capital Delhi, then you should check your name in the new Delhi Ration card List 2022.
You will be happy to know that the Delhi government has released the updated new ration card list on their online portal nfs.delhi.gov.in.Now you can download your E-ration card online with the help of your Aadhaar Card number.
What is a Ration Card?
Friends, as you know, India is a country with a large number of people. It has around 1.4 billion people. Out of 140 Crore population, some of them are rich and some of them are poor. Some of them have plenty of food and some of them don't get food.
Under food security law, the Government is trying to feed every people in India. So the Government is now distributing Rations by issuing Ration cards to the poor.
You will be shocked to know that the Delhi Government and the Central Government are now feeding essential foods like Rice, Sugar, and wheat free of cost. More than 5 crore people are getting benefits under this scheme.
Why was the old BPL card list updated?
The Government of India recently revised the Ration card policy and re-generated the Delhi Ration card List. Also, the old ration distribution model has been changed. Now you can avail yourself of One-Nation-One-Ration card services in New Delhi.
The old ration card model had a lot of corruption. The rations sent to the ration card holders were not reaching. Food dealers were cheating people. So, it was essential for the Government to update and re-launch the Delhi ration card list.
How to Check Delhi ration Card list 2022?
There are three processes to check Delhi Ration card
Ration Card List Circle wise
Ration Card List Aadhar Card wise
Ration Card List by using Name and Father's Name
Check Ration Card List Circle Wise
Step-1: Firstly, Visit the Delhi Food Supply Official Website Clicking Here.
Step-2: Now Click on the e-Ration Card Download from the sidebar.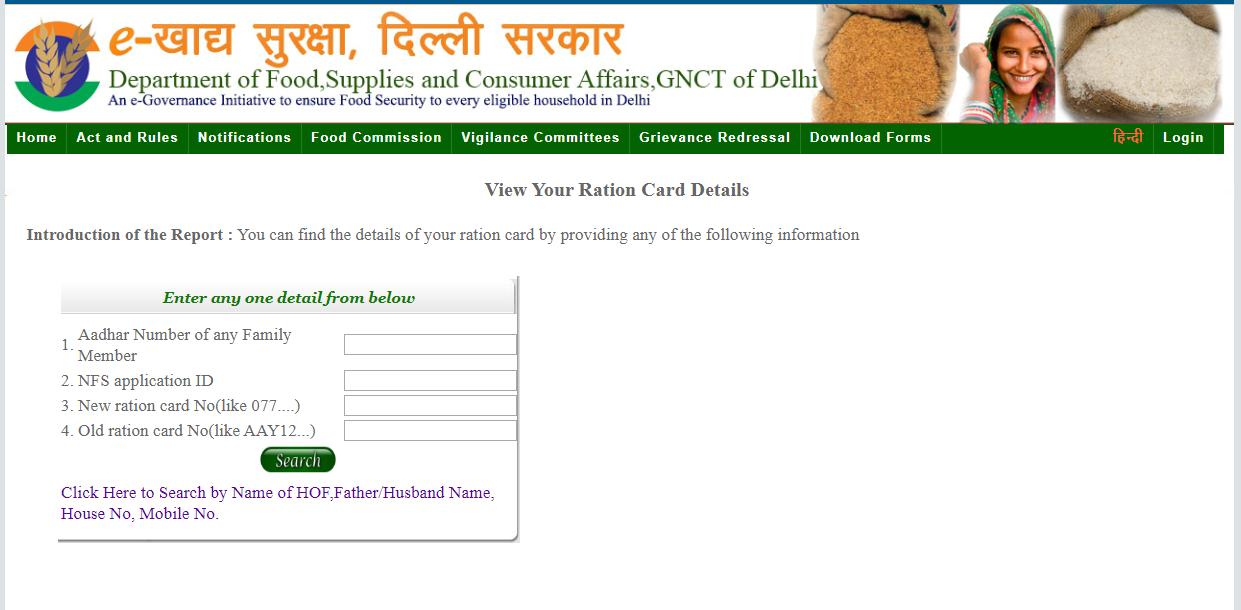 Step-4: Now you will see the Circle List with the number of issued cards. Click on the numbers shown on the right side of your circle.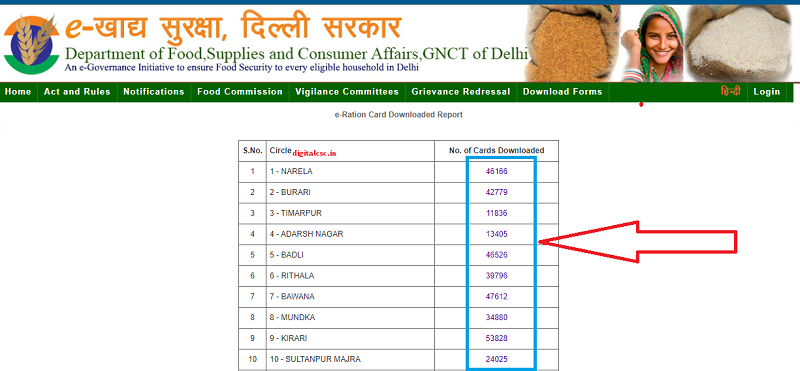 Step-5: Finally, on the next page, you will get the list of Delhi ration Card.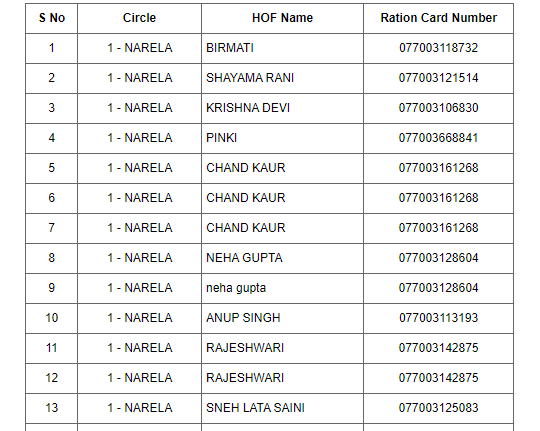 Ration Card list Aadhaar Card Wise
Step-1: First of all, visit the Delhi food supply official website.
Step-2: Now click on the "View Your Ration Card Details Link" else Click Here.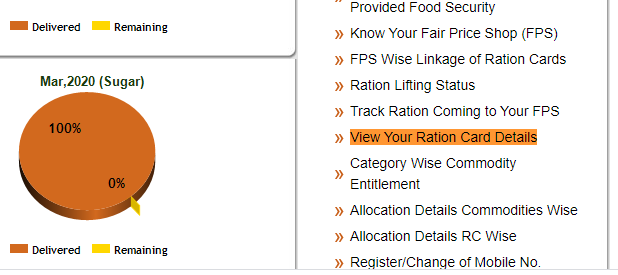 Step-3: Next, fill Aadhar Number of any Family Member, NFS application ID, New ration card No and Old ration card Number.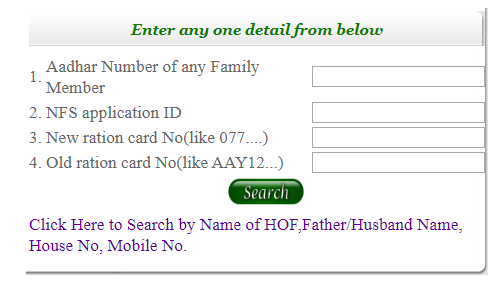 Step-4: Click on the Search button to View your Ration card.
Also Read:
Search Ration Card List by Name
Step-1: First of all, follow up to step-2 of the "Aadhaar Card Wise" procedure.
Step-2: Now click on the link listed below the form.
Step-3: Next, enter your 'Beneficiary's Name', 'Father's/Husband's Name', 'House Number, and 'Mobile Number'.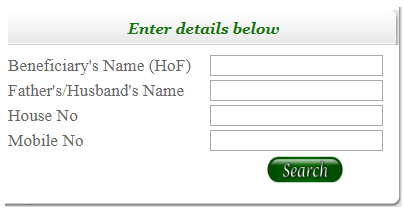 Step-4: Lastly, click on the search button to get your details.
Important Website Links
Delhi E-ration Card 2022
Like E-Aadhaar card, E-Visa there is an electronic digital copy of the ration card generated by the state Governments to the Ration cardholders. These cards can be used at various Government approved ration shops across the country to receive food and essential products at a subsidized price.
How to Download Delhi e-ration card online?
The Delhi Government has issued the e-ration card on its online portal. The online portal link is available in the "Important Link" section.
You have to follow the following simple steps to download the Delhi e-Ration card online.
Step-1: First of all, click on the e-Ration card download link
Step-2: Now you will be navigated to the food Supply official website.
Step-3: Next, you have to enter your "Ration Card No.", "Name of the Head of Family (HOF)", "Aadhaar No. of HOF/NFS ID". "Year of Birth of HOF", and "Mobile No. as given in the NFS Application or Registered later in NFS website".
Step-4: Finally, click on the continue button to Download your Delhi e-Ration card
FAQ
Whether the Ration cards are required to avail of Free Food Grains?
Yes, the Ration card is mandatory to get food products from the Government. Your name should be mentioned in the Delhi ration card list. Otherwise, you will not get any product from your Government Ration shop.
How to apply for a ration card in Delhi?
You can apply for the Ration card in Delhi by visiting your block/MNC office with your Aadhaar Card, Electricity Bill, Annual Income proof and Application form. Otherwise, you can apply through the Delhi Government Food Supply portal online.
What are the eligibility criteria to Apply for Delhi ration Card?
As we discussed above this scheme is only for the poor people of India. So, the family that has a monthly total income of less than Rs.10000 are eligible to apply for the Ration card.at Delhi.
Is the E-Ration card valid to get products from the Ration dealer?
Yes, e- ration cards are valid to receive food products. However, you or your family members have to go to the ration shop and collect the products.