Odisha Farmer Registration 2023-2024: The registration process for Odisha farmers to participate in paddy procurement for the Rice Kharip season of 2023-24 has commenced. Farmers now have the option to complete their registration online, along with the ability to download the new registration application form and the partial farmer form (ଭାଗ ଚାଷୀ ଫର୍ମ) from this platform. Additionally, you will receive comprehensive guidance on how to verify the status of your farmer registration in the Dhana Mandi system and acquire your downloadable Token through a step-by-step procedure.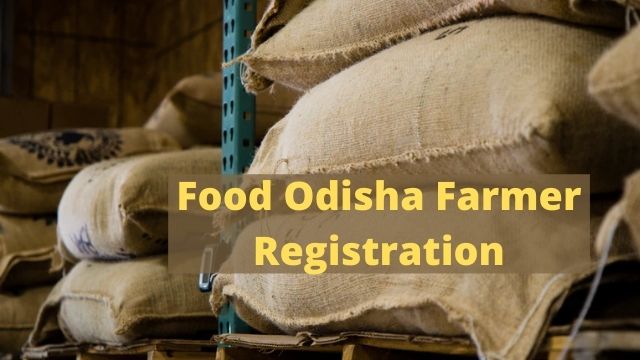 Farmers serve as the vital foundation of the Indian economy. The collective efforts of both the Central and State Governments are dedicated to fostering the growth and empowerment of the nation's farmers. In order to enhance the prosperity and self-sufficiency of farmers, numerous initiatives have been set in motion by the government, with Paddy Procurement standing as a prominent endeavor. Through this scheme, the government procures crops directly from farmers, ensuring them a minimum support price for their produce.
Topics Covered in this Post
Odisha Farmer Registration 2023-24
Guided by the Food Corporation of India, the Food Supply and Consumer Welfare Department (FSCW) of Odisha is set to initiate the procurement of rice and various other crops for the upcoming Kharif Marketing Season of 2023-24. It is now imperative for all registered farmers, new entrants, and partial farmers to complete the application process to obtain the Food Odisha Token number.
In the previous month, the Odisha Food Department issued a notification outlining the comprehensive procurement process. The notification also provided details about the application dates and timings. In this article, we aim to provide you with an in-depth understanding of all the relevant information. So, let's commence with the details.
Update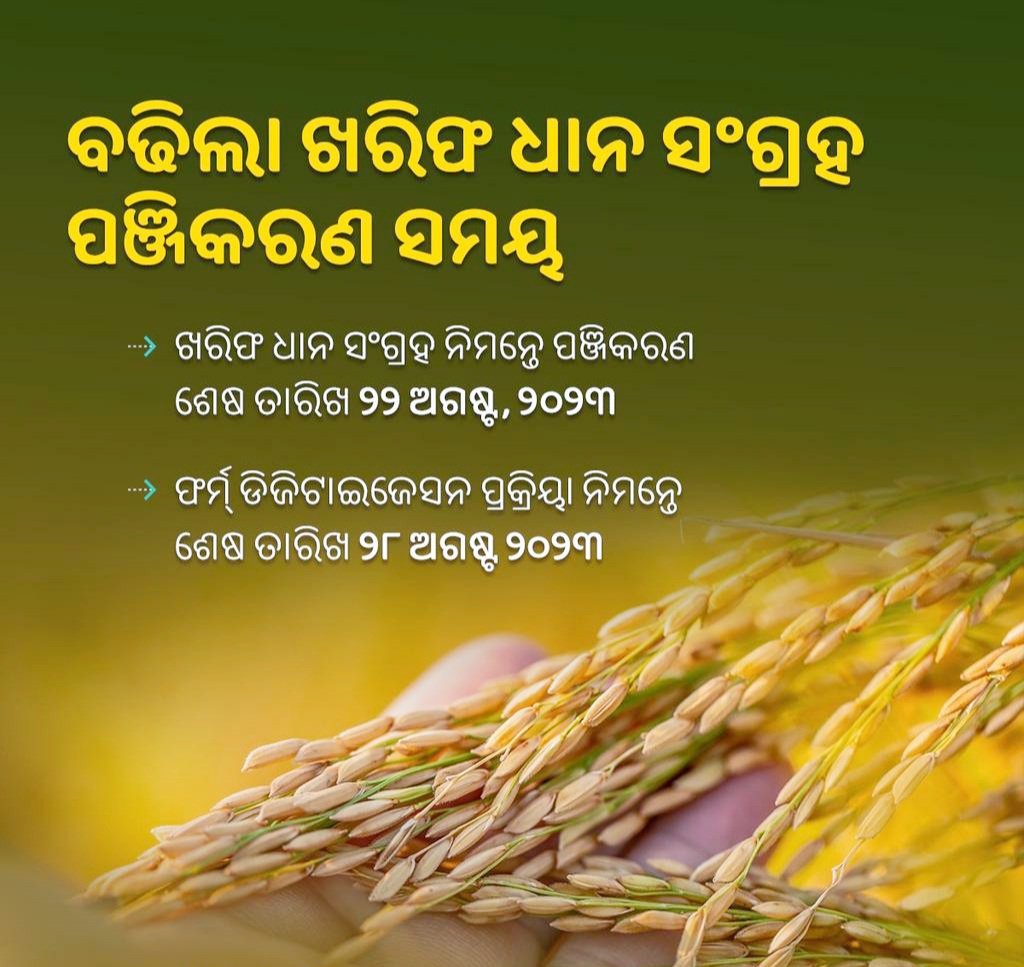 Society Paddy Procurement 2023-2024 Overview
| | |
| --- | --- |
| Scheme Name | Society Paddy Procurement |
| Financial Year | 2023-2024 |
| Season | Kharif Marketing |
| State | Odisha |
| Crop Name | Rice |
| Application Start Date | 15-July-2023 |
| Last Date of Application | 28-August-2023 (Updated) |
| Token Generation Date | 15-October-2023 |
| Procurement Start | 11-November-2023 |
| Last Date of Procurement | 31-March-2024 |
| Official Website | www.foododisha.in |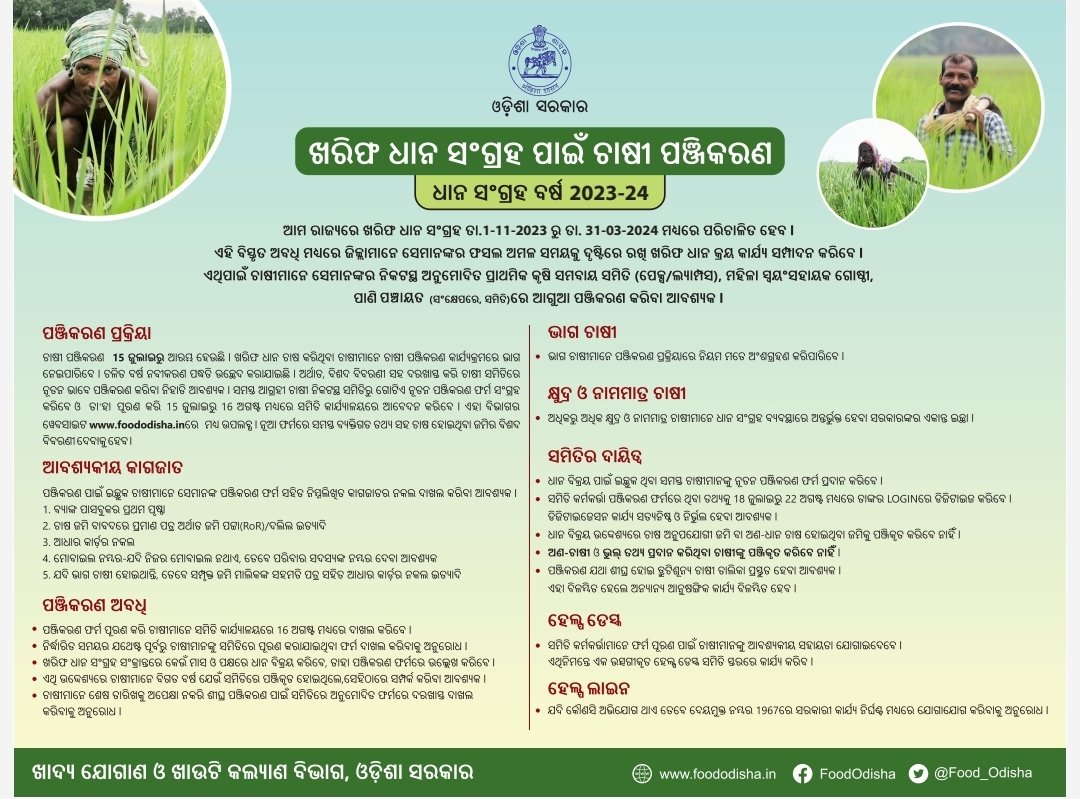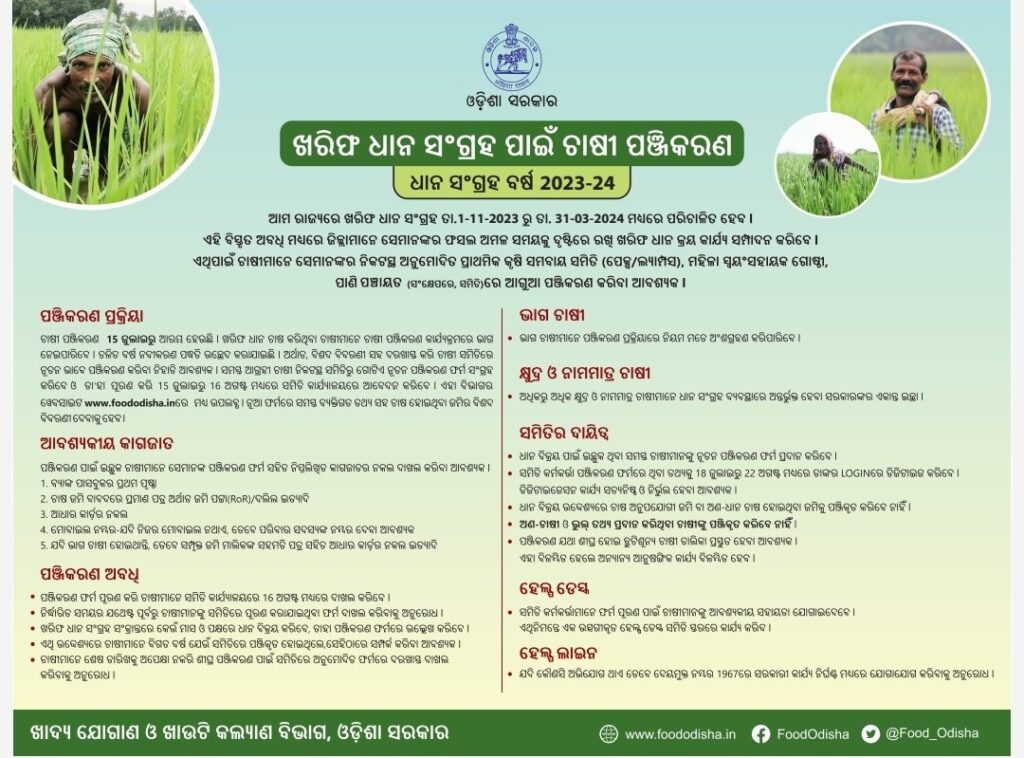 Dhana Mandi Odisha Registration Process

The Odisha Government has recently issued an extensive notification outlining the paddy registration procedure. Notably, for this year, there will be no renewal of prior applications. Instead, every farmer is required to undergo a fresh registration process. To facilitate this, farmers need to visit their nearest Society office or Water Panchayat office to collect the application form.
Else, you can download the application form from here and take a printout of the Application form. After that, you have to fill in all your details, such as land details, plot number, owner name, etc.
Once you fill in the application form, you have to submit the application form and the supporting documents.
Essential Documents
Photo Copy of Bank Passbook's First Page
Cultivation Land Proof or ROR copy
Aadhaar Card Photo Copy
Mobile Number for Communication
ଭାଗ ଚାଷୀ ଭାଇ ମାନେ ଜମି ମାଲିକଙ୍କ ଆଧାର କାର୍ଡ ର ନକଲ ସହିତ ସହମତି ପତ୍ର
Important Downloads
FAQ
How to register for Kharip MSP Dhana selling form?
The Kharip Dhana Mandi application started on 15 July 2023 This year, there will be no renewal. You have to apply for a fresh application form.
Do I need to pay the application fee for FSWC registration?
No, there is no application needed for the registration.
When will my Token be generated?
Your Dhana Mandi Token will be generated 1 month before your selling date
What will be the MSP for rice?
The minimum support price of Rice is Rs.2300/-(Tentative) per quintal. However, it may increase in December.
When will I receive the payment for the sold rice?
You will receive the payment within 7 days of selling.
Can I register for Odisha Dhana Mandi Paddy selling registration online?
No, the online registration online application is not there till now. You can do registration through offline mode only.
Help and Support
If you need any help or support, you can call on the 1967 helpline number.