Good News for Pensioner. Now every EPFO user can generate Jeevan Pramaan Patra and Digital Life Certificare online from your home. In this post,you will get to know the complete procedure of online and doorstep certificate generation.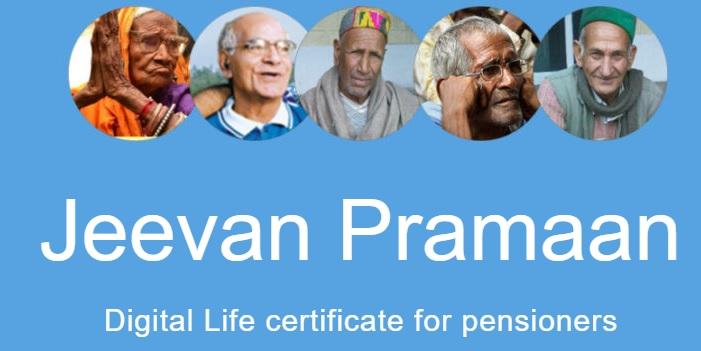 As per the previous notification of EPFO, the pension beneficiaries are compulsory to submit the Jeevan Pramaan Patra certificate. Earlier, they were facing lots of problems to generate and submit their Life Certificate.
During the Corona Virus Pandemic, the Government of India took disciplined action for the 67 lakh EPS pensioner. Now all old age, widows, children Pensioners can submit their Jeevan Pramaan Patra by using Aadhaar Authenticated Digital Life Certificate. Else they can visit their nearest Post Office to generate their 1-year life Certificate.
Topics Covered in this Post
What is Jeevan Pramaan Patra or Life Certificate?
The Jeevan Pramaan Patra in other word it is known as Life Certificate. It is a certificate is issued by Pension Disbursing Agency India. This certificate states that the Pensioner is alive and he or she is getting the actual pension amount issued by Government.
The Digital Life Certificate of Pensioner validity is 1 year. So the pensioner have to renew their Certificate every year. Usually, the people renews in the month of November.
Requirements Jeevan Pramaan Patra Download
Ways to Generate Life Certificate of Pensioner
There are several ways to generate the Jeevan Pramaan of Pensioner. The easiest ways are:
Book Doorstep Request DLC through India Post
Downloading Jeevan Pramaan Mobile/Desktop Application in your Device
Downloading Umang Android App
Visiting Digital CSC Centre
Below I will show you the procedure by using which you can download Jeevan pramaan patra online. Also, I will mention the Post Office Digital Lifre Certificate Generation prcess.
Book Doorstep Request DLC through India Post
Looking at the COVID-19 pandemic situation, Postal Payments Bank has started Door Step Digital Life Certificate verification process. Now IPPB and non PPB user can place request online. Follow the steps to place a online request.
First of all, visit the official IPPB website i.e www.ippbonline.com
From the Main Menu navigate to Services>Digital Life Certificate
Now click on the "Book Doorstep Request through India Post" Direct link.
On the http://ccc.cept.gov.in/covid/request.aspx page, fill up all the details like Name, Address, Postal Code.
After that, click the "Request OTP button and Verify your Mobile Number.
Finally, you will get "Request Ref No" for the further uses.
Now your local Post master will visit your home with Bio-Metric device for Aadhaar Arthentication.
Downloading Jeevan Pramaan Patra Using Mobile/Desktop Application in your Device
Firstly, visit the Jeevan Pramaan Patra Official Website i.e https://jeevanpramaan.gov.in/
Here click on the Download Link from the Main menu.
Now enter your E-mail ID and Verify with the OTP to receive the Android/Desktop Application Download.
Once you receive the Application download link, open it in your default browser and Install it on your Mobile/Desktop.
Simultaneously, Plugin the Bio-Metric Device into your computer and Install the respective RD service software. (Ex: For Morpho device, install Morpho SCL RDService App where for Mantra Device, install Matra RDService Software in your Device)
When you will open the app, this will look like this.
Enter operator Aadhaar Number, Mobile Number followed by E-mail Address, and click on the Submit Button. (Operator may or may not the Pensioner)
Now, verify your mobile number and E-mail Id with the help of OTP.
After that scan the operator finger with the help of the Bio-Metric device.
After successful registration, the application will restart.
Then, enter the pensioner Aadhaar number followed by Mobile number and Email.
Authenticate the pensioner using Finger Print scanner.
Now enter your name on your Aadhaar Card, PPO Number, Bank account number.
Finally, again scan the pensioner Finger using the device.
It will take a little second for processing. Now your Certificate will be generated.
You can download your Digital Jeevan Pramaan/ Digital Life Certificate from the E-mail address.
Jeevan Pramaan Patra Umang Android App
Firstly Download and install Umang Android App from Google Play Store.
Register yourself using your mobile number or if you are an existing user then log in to your account.
Now navigate to All Services>Jeevan Pramaan link from the bottom menu.
Here you can see two choices one is Generate Life Certificate and the second one View Life Certificate. 
Click the Generate Life Certificate link.
A new Aadhaar Aurthenticate page will be opened.
Now fill the pensioner's Aadhaar Number followed by Mobile Number and click the Generate OTP button.
Enter the OTP and other details like PPO number, Bank Account number etc.
After that, use your Bio-metric RDServices for Aadhaar Verification.
Finally, you  can submit the application. Your Digital Life Certificate will be sent to your E-mail Address.
This is how you can Generate your Digital Life Certificate for Pensioners. If you still have questions, kindly follow our FAQ section or put your comment in the Comment section below.
FAQ Section about Digital Life Certificate