Using the Seva Sindhu Portal, you can avail yourself of doorsteps Karnataka Government services like income certificate, E-Pass, Caste Certificate, Residence Certificate, and others. If you need complete details about the Service Plus Portal, then keep reading all the information here.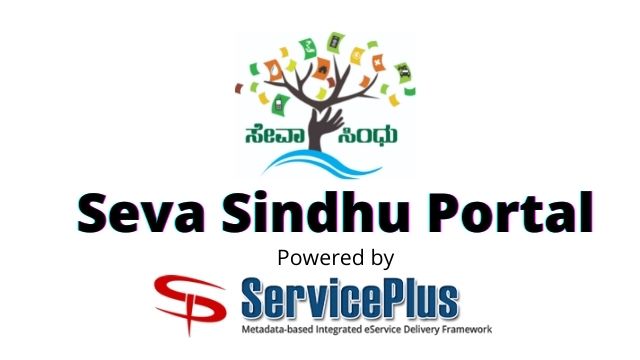 The Seva Sindhu Service Plus Portal is accessed through sevasindhu.karnataka.gov.in, and the Karnataka Service Plus application is available at serviceonline.gov.in/karnataka/. On this website, Karnataka State residents can avail themselves of all-in-one online Government Services such as COVID-19 e-pass, Birth Certificate, Death Certificate, Resident Certificate, Caste Certificate, etc. We will discuss all the Available services information in the latter part of this post.
Topics Covered in this Post
Karnataka Seva Sindhu Portal: Avail Government Services Online
A common person always needs various certificates, Government Documents, or testimonials. For which you do not have to visit so many Government Offices. The Government of Karnataka has developed an all-in-one online service portal called Seva Sindhu for the citizens. Now everyone can avail themselves of Government to Citizen documents online easily.
How is the Seva Sindhu Portal helpful for People?
The Seva Sindhu website is hosted in sevasindhu.karnataka.gov.in Sub-Domain. It is developed and managed by the IT Department, Government of Karnataka. All the state government services are now easily available for the people of Karnataka. Departments such as Road Transport Corporation, Department of Labour, Minority Welfare Department, Health and Family Welfare, Revenue Department, Excise Department, Agricultural Marketing, and the Education Department's all services are now integrated with one portal.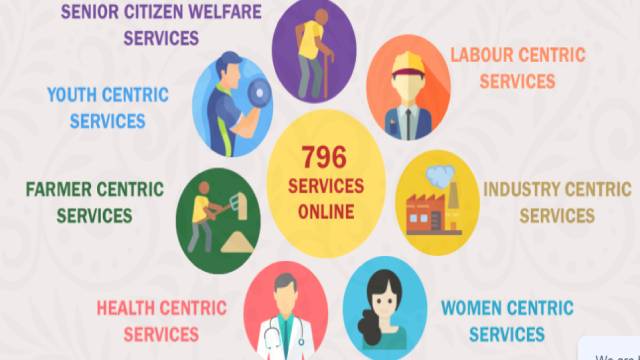 Also, anyone who wants to travel to any part of the state during the Corona Virus lockdown can apply the COVID-19 e-pass online through Seva Sindhu Service Plus Portal.
The Karnataka Government announced to provide a cost-effective, seamless process, time-saving, accountable, and transparent Governance. They Claim that this portal will help people to do their multi-task just in one click.
Also Read:
Overview of Karnataka Service Plus Portal
| | |
| --- | --- |
| Name of the Website | Seva Sindhu Portal |
| Launched by | Government of Karnataka |
| Last Updated on | 11-February-2022 |
| Beneficiaries | People of Karnataka |
| Managed By | Service Plus India |
| Official Website | sevasindhu.karnataka.gov.in |
| Service Portal | serviceonline.gov.in/karnataka/ |
Services offered under the Seva Sindhu Portal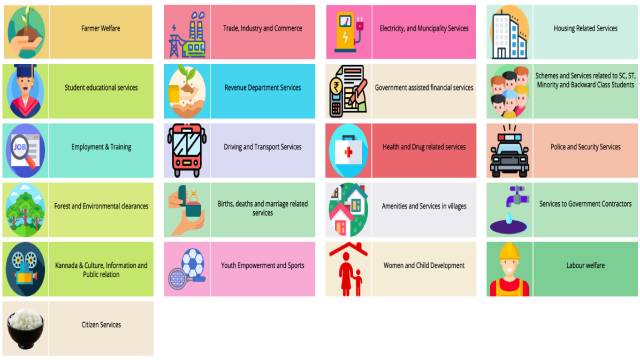 The State Government has integrated all the schemes and services in the Seva Sindhu Portal. The List of available services along with the department name is mentioned below:
Newly Added Services
Agriculture and Marketing Deparment
NPK Mixture Fertilizers
Manufacture insecticides License
Grant Importers, Stockist, Ginner, Crushers, Broker, Hamali, Exporter, Grant Commision-Agent License
State/Central/Private Warehouse, Spot Market, Consumer Market Application
Raitha Sanjeevini Application
Trade Poultry and Livestock Feed License
Ayush Department
Issue of Non conviction certificate
Performance certificate Issue
Backward Classes Welfare Department
Post-matric and Pre-Matric Scholarship to BC Students, NT/SNT Students, Nursing Scholarship
Vidyasiri –Food and Accommodation
D.Devaraj Urs Prathibha Puraskara and Foreign Scholarship
Defence Force Training
Pre-examination training for BC Students
Bangalore Development Authority
Possession Certificate for Sites and Flats
Application for new e-Khata, and Transfer of Khata
BESC and CESCL Electricity Department
Name, Tariff, Load Enhancement Services
Complaint Related Services
BMTC
Bus Passes for Students, Physically Challenged, PUC
Institution Registration
Bangalore North University
Migration, Degree, Provisional, Certificate Application
Verification of genuineness of mark card
BBMP
Building License Issuance
Sanction of Building Plan in sites up to 2400 sq. Ft
Commencement Certificate for residential Dwelling houses
Occupancy Certificate for residential Dwelling houses
Cauvery Niravari Nigam Limited
Contractors Enrollment/Renewal
Work Done Certificate
CM Relief Fund
Application Relief Fund for Treatment
Distress or affected by Disaster Application
Except for these services, you can avail of 11 More department services.
Drugs Control Department
Electrical Inspectorate
Empowerment of Differently Abled and Senior Citizen
Food And Civil Supplies Department
Health And Family Welfare
Information and Public Relations
Kannada & Culture Department
Karnataka State Department of Agriculture
Public Instruction Department
Transport Department
Youth Empowerment & Sports Department
How a citizen can Register in Seva Sindhu Portal?
Step-1: First thing you need to Do, open the official Web portal on your Device.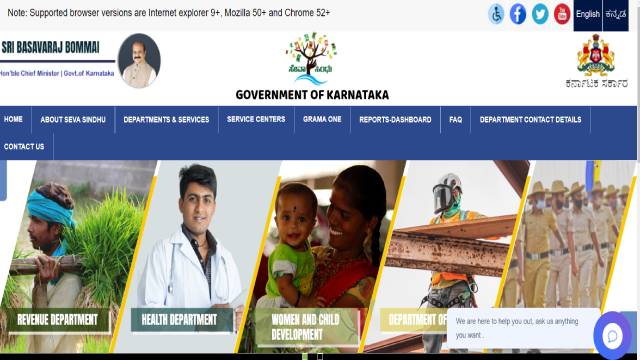 Step-2: Now, the browser will land you on the home page of the Portal. Click on the "New User Registration" button.
Step-3: Then, you will be redirected to the serviceplus.gov.in website.
Step-4: There, the system will ask for your Aadhaar Number. (Before Proceeding further, note that Your Mobile Number is Registered with Aadhaar is with you.)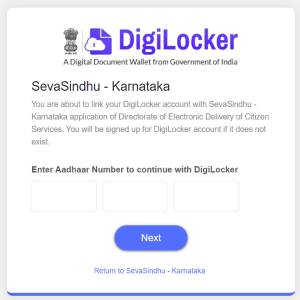 Step-5: Verify your Aadhaar Number, Mobile Number, and E-Mail Id using their respective OTP.
Step-6: Once you Verify your Account, set a Strong Password and Click on the Save Button.
This is how you can create your Seva Sindhu Account Online. After doing the registration, you can log in to your account. The official portal will look like this. You can avail yourself of any services from the left side menu.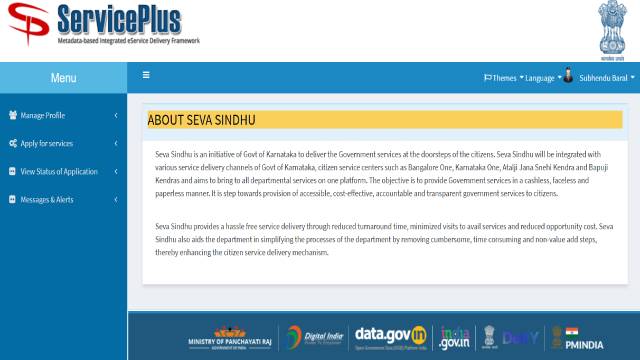 Commonly Asked Questions
Which Department services are Available in Seva Sindhu Web Portal?
As per the Karnataka Government, in Seva Sindhu Web Portal you can Avail almost all Ministry's Work
In which Language Seva Sindhu Web portal is available?
The web-portal sevasindhu.karnataka.gov.in is available in two different languages. One is Kannada (Default) and the second one is English.
Can I register for Covid-19 in Seva Sindhu App?
Yes, Now Government of Karnataka is now asking all the migrant and foreign visitors must have to register themselves at sevasindhu.karnataka.gov.in
How to Check Application Status through Seva Sindhu Site?
To check your application status, you need to first visit the official website. Then click on the
Check Application Status link
. After that, enter your application number. Finally, click on the check application status.
Do I need to provide Aadhaar information for the registration?
Yes, you have to enter your Aadhaar number for the registration. After that, the system will verify your Aadhaar number through OTP.
Help and Support
If you need any help or Support about Seva Sindhu Portal services or Applications, you can reach out using the Following contact number.
8088304855
8088304855
6361799796
9380204364
9380206704