Are you a parent of a daughter? Facing financial problems for your daughter's marriage. Don't Worry. Shadi Anudan Yojana Apply is launched only for those people of Uttar Pradesh. Here are the details of UP Shadi Anudan yojana.
Dear fellow friends of Uttar Pradesh, I am happy to inform you that the Government of Uttar Pradesh recently launched a Public welfare scheme Shadi Anudan Yojana to help poor and daily wage families. Under this scheme the UP Government will pay a small financial help of Rs.51000/- for the marriage of their daughter. You may continue reading this post for the brief details of the scheme.
Shadi Anudan Yojana Apply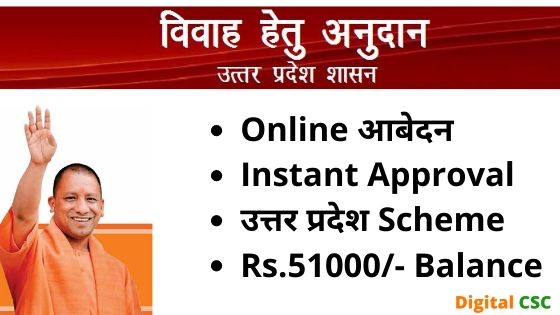 The Chief Minister of Uttar Pradesh Yogi Adityanath recently announced a special financial help package for the people of SC/ST/ Minority/ General Under Middle Class. This scheme's name is Shadi Anudan Yojana 2020. Under this scheme the Poor and under middle-class people whose daughter's marriage is going to happen will be given financial help. The lump-sum amount is Rs.51000/-
Eligibility Criteria of Shadi Anudan Yojana
Must be a Citizen of India and Uttar Pradesh
The candidate must have a Bank Account in Centralized bank
Applicant's family income must come under the Poverty line. That is the Annual income should be below Rs.46068 for Rural area and Rs.56460/- for the Urban area.
Must have a Caste, Resident and Income Certificate from your nearest Tahasil
Physically Handicapped, Old Aged People, widow, and Samajwadi Pension holder don't need any Certificate.
The application must be filed before 90 days of marriage.
Only two Daughters from one family can avail of this scheme.
Daughter's age must be over 18 years
Required Documents for the Application
All the applicant have to submit their online application by uploading the following documents:
Aadhaar Card
Marriage Proof
Income Certificate
Caste Certificate
Resident Certificate
Bank Account Passbook
Passport Size Photo
How to Apply online Shadi Anudan Yojana?
As I mentioned above, all the citizen of UP can apply for this scheme. So, first of all, you have to prepare all the above documents and follow the below steps:
Step-1: Firstly, visit the official Website of Shadi Anudan Portal. (The webportal Link is mentioned above)
Step-2: When you will reach the home page, you will see some important links. You may click on them to read the details description of this yojana.
Step-3: Now Click on the link from the left side as per your caste.
Step-4: In the next step, an application form will appear. Here you have to fill your details like पु़त्री की शादी की तिथि, Address, आवेदक का नाम,  पु़त्री का नाम, Caste, जाति -प्रमाण पत्र संख्या, आवेदक के पिता/पति का नाम, etc. Apart from these, you will also have to upload the. पहचान पत्र की फ़ोटोकॉपी, आवेदक का फोटो, पु़त्री का फोटो, पु़त्री की उम्र सत्यापित करने के लिए प्रमाण पत्र की फ़ोटोकॉपी,  आय-प्रमाण पत्र की फ़ोटोकॉपी and  बैंक पासबुक की फ़ोटोकॉपी.
Step-5: After filling and uploading all the documents, you have to fill the captcha and re-check all the details.
Step-6: Finally, Submit the Application. Note down the application number.
How to Generate Password for Shadi Anudan Yojana?
Step-1: First of all Click on the Password Generate Link from the above Box.
Step-2: Now another form will appear in your screen. Fill all the details like Marriage Date, Bank Account Number and Application Number.
Step-3: Finally Click on Generate Button to Generate the password. Now you will receive your Password in your Registered Mobile Number.
How To Print Application Form?
Step-1: To print your Shadi Anudan Yojana Application, you have to Come back to the home page of the website and click on आवेदन पत्र प्रिंट (आवेदन पत्र पुनः प्रिंट करने हेतु यहा क्लिक करें).
Step-2: Enter your application Number, followed by Bank account Number and Application Password.
Step-3: Finally click on the Login Button to Print your Application.
You can also the same steps to check your application status.