Free Fire 26/1 Republic Day Event 2021: Get Free Characters, Gun Skin
Free Fire 26/1 Republic Day Event 2021. Here get all tips to get Free characters including Chrono Character, Gun Skin, Weapon royal voucher, Valentine AK skin, Incubator voucher, Gun Crates
Free Fire's most awated Indian Republic Day event is now live. Here, in this event you will get many rewards like Chrono Character, Kapil Character and Jota Character, two diamond voucher and lots more. You just read this post slowly and learn how to claim all the reward simultaniously.
Republic Day 26/1 Event 2021: Free Fire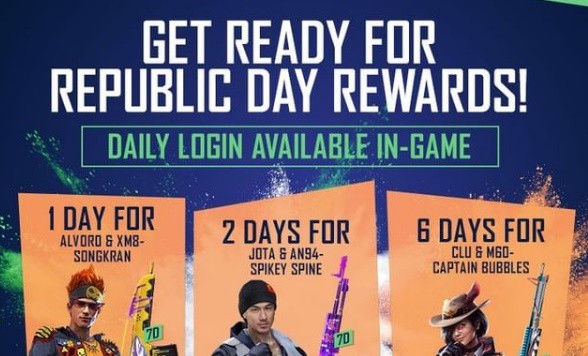 The mobile e-gaming platform Garena two days ago reveled the short details of Free Fire 26/1 Republic Day Event. After that, the Free Fire lovers are eagerly waiting tp\o participate in the special Indian event.
The 2021 special Indian Republic Day 26/1 event will be held on Free Fire. This event will start on 25th January 2021 and will continue till the 6th of January 2021. During this event, you can claim more than 15 premium rewards like ……If you want to claim rewards, then you have to perform some tasks. Below we have clearly described the schedule of this event.
Republic Day Event Quick Overview
| | |
| --- | --- |
| Event Name | Republic Day Event 26/1 |
| Game Name | Free Fire by Garena |
| Event start Date | 25 January 2021 |
| Peak Event Date | 26 January 2021 |
| Event End Date | 6 February 2021 |
| Top Reward | P90 gun Skin |
| Available in | Google Play Store, Apple App Store |
ou may interested: Xnxvideocodecs.com American Express 2020W Free Download Android
26/1 Event Objective
Garena Free Fire introduced a new event called Republic Day Event. This is not a global event but a regional event. Only Indian server players can avail of this benefit. The event was declared by Free Fire on the 23rd of January 2021. But gamers can start collecting rewards from 25th January 2021. The main objective of this event is to provide a test run of premium characters and accessories.
Important Info: All the characters, skin, gun that will get during the Republic Event, will not able to keep it for a lifetime. You have to spend diamonds to acquire them.
Rewards Available in Free Fire Special Republic day
Once you navigate to the reward section, you will see more many more rewards. You will see many characters and rewards. You have to complete some missions. We have described all the details with the mission tasks.
First Day (25th January 2021) Mission and Rewards
Alvaro character: You can claim the Alvaro character for free for 7 days after First Day Free Fire Login.
XM8-Abyssal skin: After First Login, you will also get XM8- Abyssal Skin(damage+range+magazine).
Second Day (26th January 2021) Mission and Rewards
Jota character: Sustained Raids
AN94 -Spikey spine: Ratyeoffire+ Rangte+ Magazine
Incubator Voucher: Play 1 Match
2 Diamond Royal Voucher: Play 1 Match
6 Guncrate of justice, 1 Fighter AK gun box: get a BOOYAHB
Third Day (27th January 2021) Mission and Rewards
Crono character: Time Turner
M1014-waster land skin: Damage +, Rate of fire -, Range ++
Fourth Day (28th January 2021) Mission and Rewards
Kapila Character: Healing Song
P90 the Punisher skin: Damage +, Rate of fire ++, Reload speed-
Fifth Day (29th January 2021) Mission and Rewards
Luquata character: Hat Btrick
Scar-mystic seeker: Rateoffire++,Range+,Accuracy-
Sixth Day (30th January 2021) Mission and Rewards
Clu character: Tracking Steps
M60 -captain bubble: Damage+,Range++, Reload Speed-
Also Check: How to get the DJ Alok character for Free: January 2021 Garena Free Fire
Seventh Day (31st January 2021) Mission and Rewards
Wolfraha character: Lime Light
AWM -Duke swallowtail: Rate of fire ++, Reload speed-, Magazine+
The 2nd part of the mission starts from 25th January and will continue till 2nd February 2021. Gamers can collect tokens for completing some mission. Here you will get the following rewards on completion.
P90 gun skin
Level 6 cards
Gold royal voucher
Weapon royal voucher, etc.
Must Check: 5 Best Characters in Free Fire: All you need to Know
How to Claim free character in the 26/1 Republic Day event?
Gamers can participate in the 26/1 Gaming event by following the below steps:
Step-1: First of all, open Free Fire App on your mobile phone.
Step-2: Now click on the Calender Icon from your Dashboard page.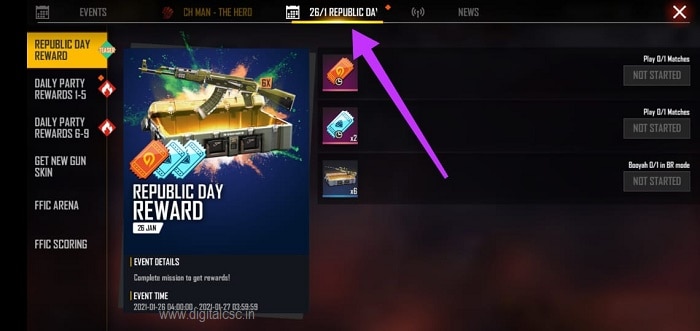 Step-3: After that, click on the 26/1 Republic Day Event from the top menu.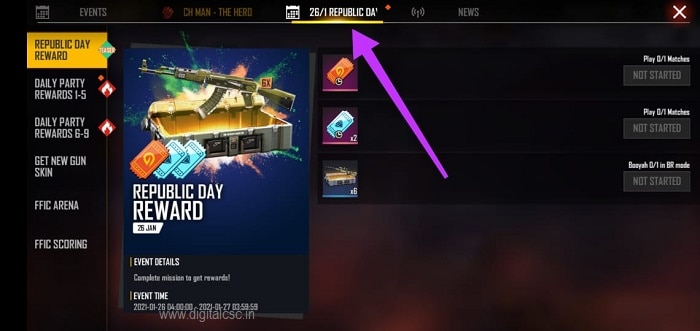 Step-4: Now, you will reach the event section of your Game.
Step-5: Choose your Character and Click on the Claim button to Avail the reward.
You may Read: Free Fire Diamond Hack 2021- Get Unlimited Free Diamond without TopUp