The new Odisha Ration Card list 2021 has been released. Now the beneficiaries can check the newly updated PDS ration card names, village, and block-wise through www.foododisha.in and PDS Odisha Portal.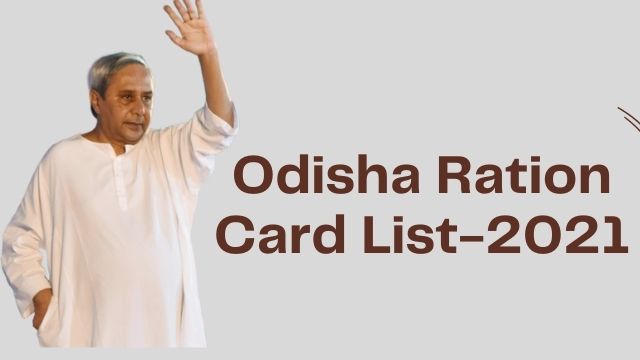 Ration cards are an essential document for every poor people in India. Under the National Food Security Act, the Central Government is providing subsidized essential food grains. As per the law, the Centre will procure and fund the scheme, and the State will distribute the rice grain through Public Distribution System. Hence, the State Government of Odisha has identified all the lower-income families and has issued the Ration card.
Topics Covered in this Post
Odisha State Ration Card List 2021
In Odisha, Food Supply and Consumer Welfare Department are responsible for the procurement, distribution, and issue of new Ration Cards. Our previous post explained how to apply for a new ration card in Odisha online. If you are a new Ration cardholder or don't know whether your name is listed in your village ration card list, let me tell you that the Odisha Government has developed a citizen portal. They can see the district-wise, block-wise, GP-wise, Village wise and ration shop-wise Ration card list 2021.
In this post, I will be explaining the procedure to check and see the complete PDS Card list online through the Food Odisha Portal.
Short Overview of PDS Odisha Ration Card 2021
Program Name
Odisha Ration Card List 2021
Distributed Under
National Food Security Act
Managed by
PDS, Odisha
Benefits
Subsidized Food Grains
Cost of Food Grains
Rs.1/-
Quantity per head
5kg Grains
Official Website
www.foododisha.in
www.pdsodisha.gov.in
Latest News Updates from PDS Odisha
Under Biju Swasthya Kalyan Yojana, all the Ration Card Holders will get Rs.15 Lakh Free Health card
During the second phase of lockdown, the Government will distribute an additional 5Kg of free ration and wheat to all the PDS cardholders.
Due to the COVID-19 lockdown, Central Government and Odisha state Government decided to provide free Ration, Daal, Wheat, and Kerosine.
All the existing PDS ration cards 2018 & 2019 holders will get Rs.500/- from the ration shop.
The OTPDS Ration Card List 2019 is now updated. Everyone can check their current status from this page.
Odisha Ration Card Block and Village Wise List
After a considerable debate and discussion in the parliament, the Union Government re-launched the India ration card list 2021. In the new list, most of the fraud and in-eligible Ration cardholder names are removed. Again, the Ration card list is now available in digital form. In this post, we have described the procedure to check your name in the new Food Odisha list 2021.
How to check the new Ration Card List 2021 Online?
First Step: First of all, you have to Visit Food Supplies and Consumer Welfare Department's Official Website. i.e: https://pdsodisha.gov.in/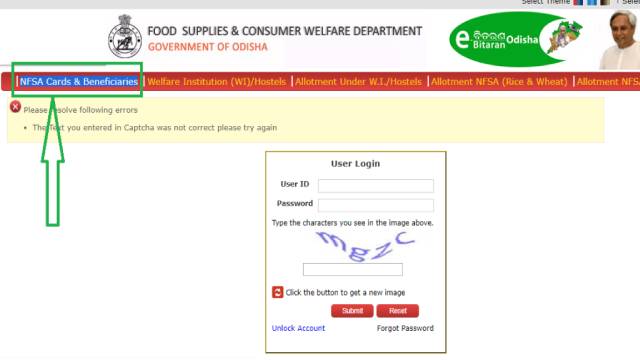 Second Step: After that, select your District name and Block name from the Drop Down option.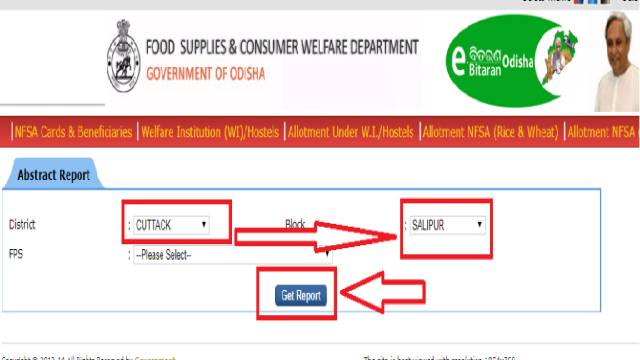 Third Step: If you want to get Ration Card List Blockwise, then Click on the Get Report button as shown in the above figure or if you're going to get the Ration Card list Village wise, then follow the next step.
Fourth Step: After that, select your local PDS Dealer's name from the FPS dropdown and click on the Get Report button.
Fifth Step: Lastly, you can see your village-wise 2018 to 2020 Ration Card List.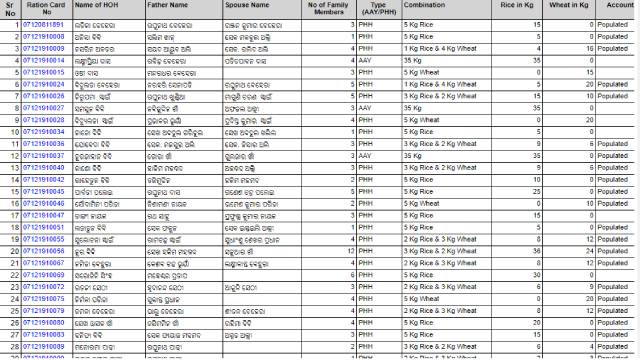 FAQ
Can a Government Employee avail of the benefit of the Odisha Ration Card?
No, any State or Central Government employee can not avail of the Ration card benefit.
How many maximum Ration cards can a family hold?
As per the rules and regulations, a family can hold a maximum of 1 Ration Card.
Where can we use the PDS Ration card?
As I stated earlier, you have to use your NFSA Odisha Ration card to collect Daily essential products from the PDS center. Apart from this, you can use the Ration or BPL card as an identity card. In some cases, you can produce this card as your Address Proof. Last but not least, you can avail all Governmental 
Garib Kalyan Yojana benefits
 by showing this Food Odisha Card. Again, you can use this card as your identity proof, address proof during PAN card apply, Driving License Apply, CSC Center apply and Bank account opening, etc.
Can I make changes to the entered details on the Ration card Application?
Yes, you can edit your Ration card details by submitting an application form at Food Office.
Is Aadhaar Card ink mandatory for Ration card users?
Yes, the Aadhaar card link with Ration Card is mandatory for Ration card users.
How to check Odisha Ration card list 2018, 2019, and 2020?
You can check the Odisha Ration Card 2020, 2019, and 2018 list by visiting the official portal http://www.pdsodisha.gov.in.
Why do Poor people look for a PDS Ration Card?
You must know that Ration cards are significant cards for Below poverty line people. As a result, the Government of Odisha uses this card to supply essential daily needs like Rice, Sugar, Wheat, and Kirosin, etc. The Ration card is the identification card for the people below the poverty line. The government of Odisha identifies these people and delivers goods through a local dealer.
Food Odisha Important Link
If you have any doubt, you can follow the below video and complete your work.
NFSA Food Odisha Helpline/ Customer Care Contact
If you have any doubt or have any questions to ask, please contact Odisha Ration card Department Helpline number.
Email: [email protected]
Office Address: Food Supplies & Consumer Welfare Department,
Odisha State Secretariat,
Sachivalaya Marg,
Unit-2, Bhubaneswar.
Odisha,
India.