Madhu Babu Pension Yojana 2021: Now you can apply for all the pensions of Odisha state through online SSEPD portal under MPS. If you need any information related to the pension of Odisha, you can get it from this page.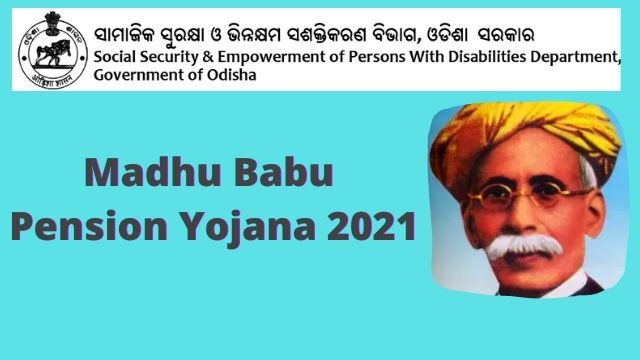 Topics Covered in this Post
Odisha Madhu Babu Pension Yojana 2021
In 2008, the Government of Odisha merged the Old Age Pension Scheme and Disability Pension scheme. A new pension, Yojana, was started called Madhu Babu Pension Yojana. This scheme is managed by the Social Security and Empowerment of Person with disabilities Department, Odisha.
Under this scheme, citizens of age group 60 and above, widow, and Physically challenged will get Rs.500/- every month. If you think any family member is eligible to avail of the pension benefits, follow the below guidelines.
Also See:
Eligibility Guidelines
Beneficiaries must be a domicile of the Odisha State.
For Old Age pension, the Applicant's age must be atleast 60 or above.
For the Widow Pension Scheme, the Applicant's Age must be at least 18 years.
For the Physically Handicapped person, there is no age restriction.
Annual family income should be less than Rs.24000/-.
They should not be getting any Central Government or State Government Pension.
Applicant should not be getting any State/Central Government Pension.
If any person has AIDS, then they are also eligible to apply.
Benefits of Madhu Babu Pension Yojana
All eligible beneficiaries will get Rs.500/- Pension every month.
If the age of the applicants is 80 years old or above, then they will get Rs.700/- Cash Benefits.
The BDO will appoint a DSSO officer and he will distribute the Pension amount on 15th of every month.
If the beneficiary is unable to reach the panchayat office for many reasons, then the officer himself will go to his house and provide the pension amount.
Required Documents
To apply Madhu Babu Pension Yojana online, you have to upload the following Scanned copy:
Age Proof( Aadhaar Card/ Date of Birth Certificate/ Matric Certificate/ PAN Card)
Residential Proof (Voter ID Card/ Resident Certificate/Electricity Bill/ Phone Bill)
Aadhaar Card
Income Certificate (Issued by Tahasildar)
Thumb Impression/ Signature
Passport Size Photo
Other Supporting Documents like HIV AIDS Proof/ Physically Disability Certificate/ Widow proof, etc.)
How to Apply Madhu Babu Pension Yojana online?
Under the Digital India Initiative, the ministry has set up a common application portal. Here, the applicant self can apply any pension online or by visiting nearest Digital Seva Kendra. Here we have explained the online application procedure.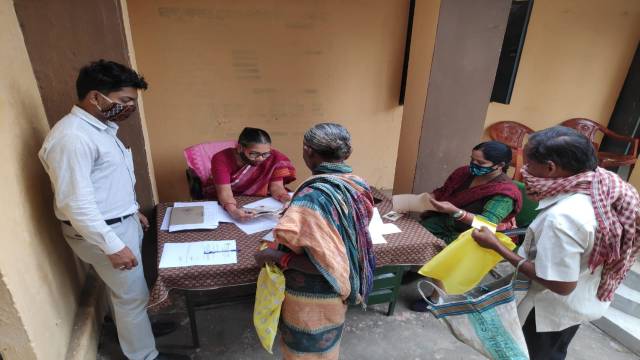 Step-1: Firstly, visit the SSEPD Official Web Portal i.e: ssepd.gov.in
Step-2: Now, click on the Pension Scheme Link from the Home Page.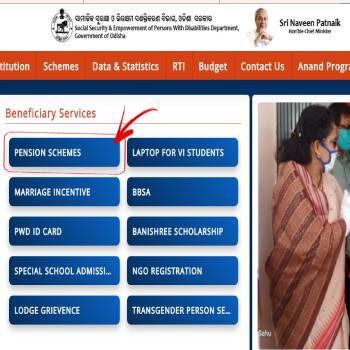 Step-3: After that, it will navigate you to the application form selection page. Now select Madhu Babu Pension Yojana from the First Drop Down menu. Then Click Proceed.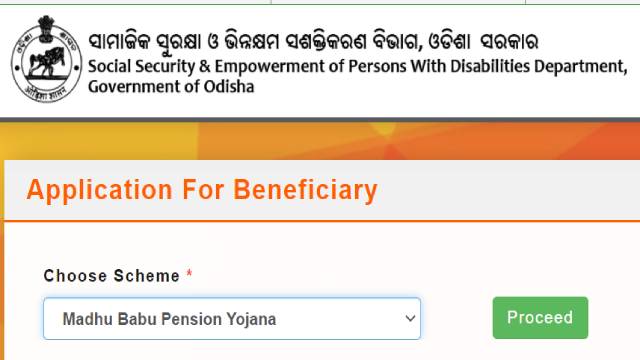 Step-4: Now, the Pension Application Form will open. Choose the pension type, enter your details like applicant name, father's name, age, date of birth, Aadhaar card number, mobile number and address.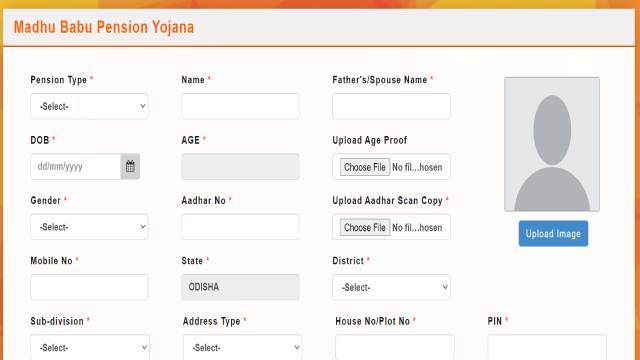 Step-5: Upload all the scanned documents and Photos in the specified field. After that, Submit the Application.
After Completing the Registration, you will get a Reference Number along with the Application form. Take a printout of the form and submit it at your Panchayata Office by attaching all the uploaded Documents.
Track Application Status
Once you Submit the Application form, you can track the Application status using the following Steps:
Visit the Official Website.
Click on the Pension Schemes Link.
Now Choose "Track Madhu Babu Pension Yojana" from the Menu.
After that, Click the Track Button.
Next, a new screen will appear. Paste your application Number and Click Search.
Finally, you will see your Application Status on your Screen.
Post You May Read: Biju Krushak Swasthya Kalyan Yojana
FAQ
How to apply Old Age Pension in Odisha?
The Old Age Pension Yojana in Odisha is now Madhu Babu Pension Yojana. You can Apply Online through SSEPD Portal.
Is there any Application fee for the online application?
No, It is absolutely Free
How many days it takes for approval?
Usually, the application takes 15 days to 30 days for Approval.
What to do if my Application is rejected?
If your application gets rejected, you have to see the cause of rejection. Then try to re-apply with the appropriate supporting documents.
What to do if I do not get any response regarding my Pension Application?
If you do not respond to your Application, you can call the helpline number and ask for help.
Support and Helpline
Address: SIDR Building, CAPITAL HOSPITAL CAMPUS UNIT – 6, BHUBANESWAR – 751001
Helpline: 18003457150
E-Mail: [email protected]