Odisha government has announced the Balaram Yojana 2021 for landless farmers. Now everyone can avail of instant Farmer loans from the nearest Co-Operative Bank without any interest. Check now the eligibility criteria, benefits, who can apply, and how to apply the form.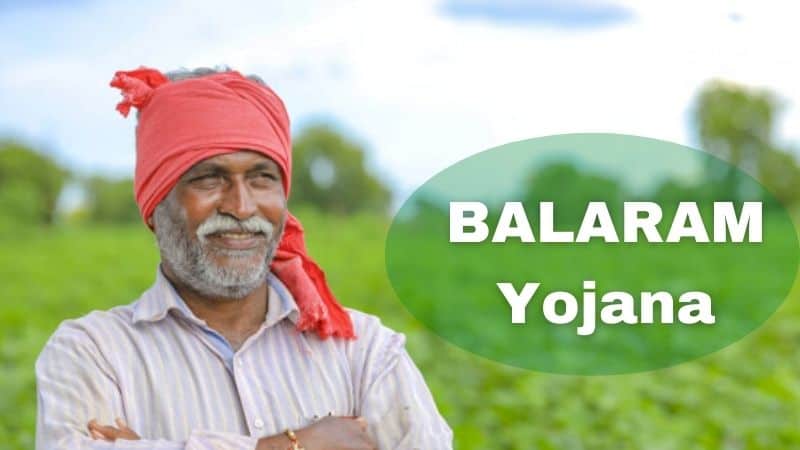 Odisha government keeps on bringing one or the other scheme for the farmers every time. Last year, the Kalia Yojana scheme was issued to help all small and medium category farmers. But there are many such farmers in the state who do not have their land, but they work as tenant farmers with some other big farmers. To provide some assistance to these farmers in this corona pandemic, the Government of Odisha has started a new scheme called the BALARAM scheme.
New: Food Odisha Farmer Registration 2021 for Paddy Selling
Topics Covered in this Post
What is Balaram Yojana in Odisha?
Balaram Yojana has been launched by the Department of Agriculture and Farmers Empowerment, Government of Odisha for the farmers in view of Corona Pandemic. The word BALARAM Stands for Bhoomihina Agriculturist Loan And Resources Augmentation Model. Under this scheme, the Government of Odisha will distribute Rs.1040/- Crore of Agriculture loan to 7 LakhUnique farmers.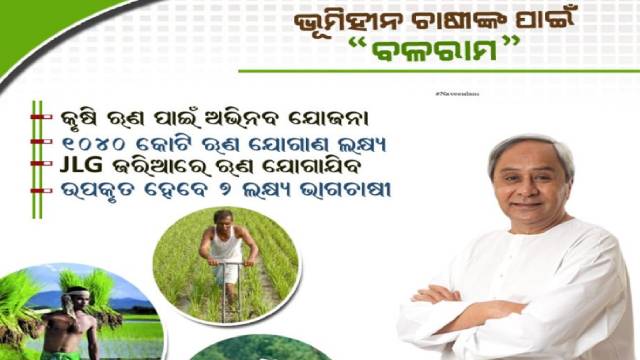 From 02 July Onwards, all the landless farmers can fill the application form and submit it at the block level Agriculture Office, Society Office, and Co-Operative Banks. All the loans will be distributed through Joint Liability Groups (JLG). The Government has notified that the Agricultural Technology Management Agency (ATMA) will make all the arrangements for this scheme at the ground level.
Also Read:
Balaram Yojana Basic Information
| | | | | |
| --- | --- | --- | --- | --- |
| Name of the Scheme | BALARAM Yojana-2021 | | | |
| Type of Scheme | Odisha Government Scheme | | | |
| Launched by | Agriculture and Farmers Empowerment | | | |
| CM Naveen Patnaik | CM Naveen Patnaik | | | |
| Announced on | 02-July-2020 | | | |
| Mode of Application | Offline | | | |
| Objective | Offer Agriculture Loans to Farmer | | | |
| Official Website | www.agriodisha.nic.in | | | |
Benefits of Balaram Scheme
The Main Objective of the BALARAM Scheme is to provide Cash to landless Farmers of Odisha.
During COVID-19 pandemic, there will be no shortage of money. Farmers can continue their work without any break.
Also, the farmers can utilize this Loan amount to create jobs and business.
National Bank for Agriculture and Rural Development (NABARD) will manage all the financial loans and Credits.
You Can Read: How to Check Odisha Ration Card List 2021 Online?
Eligibility Criteria
Following are the eligibility Criteria of this scheme:
The applicant must be a permanent resident of the state Odisha
Landless Farmers are eligible are eligible to Apply
The Farmer must have registred their name in the Agriculture Office
Required Documents
Aadhaar Card
Electricity Bill
Landless Declaration form
4- Passport size Photo
Bank Passbook
How to Apply Balaram Yojana?
The Balaram Yojana is an Agriculture Loan scheme. So, you have to visit the society office and then nearest bank along with the above Documents. .
First of all, fill the Application form and submit it at your Society office.
The Secretary will verify all your details. They may ask you to submit some additional details. Full fill all the details.
After that, they will give an Authorization letter.
You carry the letter and Submit it to your Bank.
The Bank manager will ask you for some details.
Finally, your loan under this scheme will be approved.
Also Read: PM-SYM Pension Yojana 2021: See Here
Important Link
FAQ
When will the Balaram Yojana will be launched?
The Balaran Yojana has been launched. Now Farmers can start applying this scheme
Weather all Farmers are eligible to Apply Balarama Scheme?
No, all farmers are eligible to apply this form. Only Landless farmers of Odisha are eligible to get the benefits of this scheme.
Are the Kalia Yojana Beneficiaries eligible for Balaram scheme?
No, Kalia Yojana Beneficiaries are not eligible for this scheme. Only Landless Kalia Yojana Beneficiaries are eligible.
What is the application fee for BaliaYojana?
There is no application fee required for Balia Yojana.
How Balaram Yojana is different from Kalia Yojana?
Kalia Yojana offers financial Assistance every nominal and landless farmers, where the BALRAM Yojana is a loan offering scheme.
Help and Support
For any help or support you can reach at the following Address
Final Notes
Balaram Yojana is a good initiative by the Odisha Government for the development of landless farmers.
If you find anything helpful, then share this post with your fellow. Lastly, put your question and feedback about this scheme in the comment section.
You May Like to Read: How to Pay Pauti in Odisha Online